Two groundbreaking books on Vietnamese American literature released in one year!? Here DVAN founder Isabelle Thuy Pelaud, author of This Is All I Choose To Tell: History and Hybridity in Vietnamese American Literature, expresses her excitement over the publication of Michele Janette's My Viet: Vietnamese American Literature in English, 1962-Present. "It could not have been planned better," Isabelle writes. So literature aficionados and creative writers rejoice.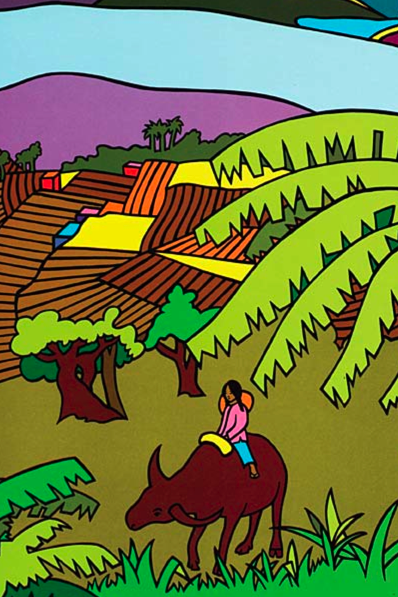 This is the year Vietnamese American literature solidifies its place in the academic literary curriculum.  A few months after the publication of my own book of literary criticism, This Is All I Choose To Tell: History and Hybridity in Vietnamese American Literature, comes out this anthology titled My Viet: Vietnamese American Literature in English, 1962-Present. Timing is perfect and these two books complement each other wonderfully. It could not have been planned better. I will definitely teach this new anthology, edited by Michele Janette, in my Vietnamese American literature class this year and maybe every year until the end of my career. It promises to be a canonical book.
In the Introduction, My Viet provides a brief recent history of Vietnam (something that is difficult to do in light of the many versions and perspectives), a simple but effective framework to organizing Vietnamese American texts, and very carefully well selected excerpts of texts. In the first part of the book titled "Tales of Witness," Janette selected pieces that tell the history of Vietnam and Vietnamese Americans, particularly the resistance to French colonization, the Vietnam War, life there after the war, the American experience and finally the return to Vietnam. These include short excerpts from Nguyen Thi Thu-Lam's Fallen Leaves, Nguyen Cao Ky's Twenty Years and Twenty Days; Truong Nhu Tang's A Vietcong Memoir; Tran Van Dinh's No Passenger on the River; Le Ly Hayslip's When Heaven and Earth Changed Places, Duon Van Mai Elliott's The Sacred Willow, Jade Ngoc Quang Huyng's South Wind Changing, Kien Nguyen's The Unwanted, Andrew Lam's Perfume Dreams, Andrew Pham's Catfish and Mandala, and more. These stories in this first half of the book share certain themes but show a wide range of perspectives that reflect different politics, times of arrival, gender and identity (i.e., mixed race).
The second part of the book traces what Janette calls "Tales of Imagination," with excerpts of fictions and poems that are not centered on the Vietnam War. The books covered include Tran Khanh Tuyet's The Little Weaver of Thai-Yen Village, Lan Cao's Monkey Bridge, Truong Tran's placing the accents, Mong Lan's Song of the Cicadas, Barbara Tran's In the Mynah Bird's Own Words, Monique Truong's The Book of Salt, le thi diem thuy's The Gangster We Are All Looking For, Linh Dinh's All Around What Empties Out, and Kim-An Lieberman's Breaking the Map, as well as Aimee Phan's story "Visitors," and more. The editor writes that these texts "demonstrate the full flowering of Vietnamese American literature in English and are among the best contemporary writings of any category." The distinction between the two parts of the book is important, as even many current reviewers still read Vietnamese American literature primarily in relation to the Vietnam War and privilege memoirs over fiction. Janette underscores this point by starting the compilation with works from 1962 rather than from 1975, when the War ended. The careful selection of excerpts reflects Michele Janette's comprehensive research on the subject and her welcome desire to make visible the diversity and wide range of genres produced by this population.
As a whole, My Viet offers the only existing overview of the body of literature by Vietnamese American authors from 1962 to the present. It is a real gift to Vietnamese Americans whose voices and stories are still very much under-represented, misrepresented, little understood and not studied nearly to the extent it deserved.
_____
Isabelle Thuy Pelaud is an Associate Professor of Asian American Studies at San Francisco State University, and founder of the Diasporic Vietnamese Artists Network (DVAN). She is a critic of Vietnamese American literature as well as an author of essays and short stories. She was born in Tours, France, and lives in San Francisco. In January 2011, Pelaud released the first book devoted to Vietnamese American literature, this is all I choose to tell: History and Hybridity in Vietnamese American Literature (Temple University Press.)
Michele Janette is Associate Professor and director of Women's studies at Kansas State University.  She specializes in Vietnamese American literature and film. Her wider interests include contemporary American literature, Asian American literature, cultural studies, and feminism. She wrote an article on the way Tony Bui's film Three Seasons encourages viewers to look in new ways at Vietnam, and one that explores the trope of irony in Lan Cao's Monkey Bridge as a form of guerilla tactic. Janette earned her bachelor and doctorate degrees in English from Yale University. She received a Rockefeller Humanities Fellowship to support this anthology of Vietnamese American literature. To order the book, go here.
_____
Please take the time to rate this post (above) and share it (below). Ratings for top posts are listed on the sidebar. Sharing (on email, Facebook, etc.) helps spread the word about diaCRITICS. And join the conversation and leave a comment! Who should we be reading? What else should we be looking at?