diaCRITICS was tickled to see this yearbook prank, by eight Vietnamese American teenage girls in California, make international news! First of all, it's not every day that a culture jam goes viral. As a tactic, culture jamming sometimes uses mass media to produce satirical commentary or to react against social conformity. In this case, eight graduating seniors in San Jose, California—all with the popular Vietnamese surname Nguyen—coordinated their yearbook photos (via matching dresses and hair) and their yearbook quote(s) to satirically comment upon the conformity (and family relationships) expected of them as Nguyens. Through this elaborately schemed joke, they insist they know "what you're thinking" and that "we're not related" to their classmates at Presentation High School in San Jose. Not only do all the yearbook recipients have the joke in hand, the incident went viral on Facebook, where it was then picked up by the Daily Mail in the U.K. Not a bad legacy for your senior year, ladies! And since approximately forty percent of Vietnamese have the surname Nguyen/Nguyễn, perhaps you'll inspire others, if not Bao Phi, to continue the cause of differentiating Nguyens/Nguyễns around the world.
Do you enjoy reading diaCRITICS? Then please consider subscribing!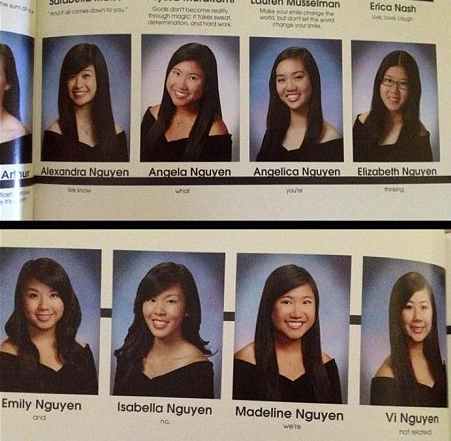 Most people look back at their senior year quotes and cringe, but not these witty young ladies.
Eight girls from Presentation High School in San Jose, California, used their yearbook to make fun of the fact they all share one of the world's most popular surnames: Nguyen.
In a coordinated effort, the women each submitted one or two words as their senior year quote.
But because the girls appear in the yearbook in alphabetical order, the quotes collectively form the phrase: 'We know what you're thinking and no we're not related.'
Alexandra, Angela, Angelica, Elizabeth, Emily, Isabella, Madeline and Vi Nguyen also wore exactly the same black dress and hairstyle for their yearbook photograph.
The Nguyens are getting serious kudos after their joke went viral, with fans claiming there's is the best senior quote ever.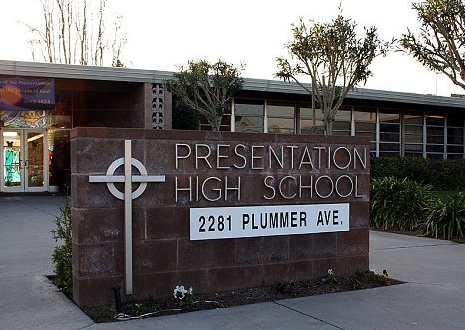 'Not to brag or anything, but I came up with this,' [Isabella Nguyen] commented.
A photograph of the yearbook page was uploaded on Facebook by the girls' friend, Ashley Vong, with the comment: 'Literally dying. Kudos for the best senior quotes, ladies.'
Under the Facebook post, which has 340 'likes', Isabella Nguyen takes credit for the hilarious gag.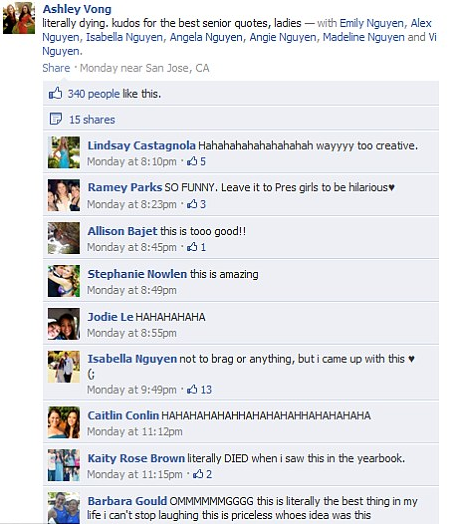 Nguyen is the most common surname in Vietnam and is also popular in the Bay Area of California.
Fellow students, whose names come before Nguyen in the alphabet, submitted more traditional, cheesy yearbook quotes.
Lauren Musselman said, poetically: 'Make your smile change the world, but don't let the world change your smile.'
While another student, exclaimed profoundly: 'Goals don't become reality through magic: it takes sweat, determination and hard work.'
—
Originally written by a Daily Mail Reporter at the Daily Mail Online.
Please take the time to rate this post (above) and share it (below). Ratings for top posts are listed on the sidebar. Sharing (on email, Facebook, etc.) helps spread the word about diaCRITICS. And join the conversation and leave a comment! Know of any other good Nguyen (or Nguyễn) culture jams or pranks? How about flash mobs?
Do you enjoy reading diaCRITICS? Then please consider subscribing!