Scholar, activist, and diaCRITIC Thuy Vo Dang speaks about her experience in Orange County and reflects on the history of UC Irvine and its intimate connection to Vietnamese American activism.  From her own experience with the Vietnamese American Oral History Project, Dang encounters the early activists of Project Ngoc, a movement for refugees that started in 1987.  Here, Dang shares with us the past and present stories of activism.
In the two years I have lived in Orange County, I've come to realize that quite a number of the current Vietnamese American leaders, activists, and "artivists" living and working here have passed through the University of California, Irvine. It has been a humbling and deeply rewarding experience to learn about some of these individuals via the Vietnamese American Oral History Project at UC Irvine and through community work. Among the contingent of UC Irvine alumnae are activists who led a humanitarian movement to advocate for and raise awareness about refugees languishing in camps throughout Southeast Asia in the 1980s and 90s. This was an era of "compassion fatigue" on refugee issues among the American public, so when refugee camps were on the eve of closing and thousands were about to be repatriated, UCI students organized, agitated, and brought the issue back to the foreground. Working under the name Project Ngoc (PN), this organization made the refugee issue a matter of local, national, and international concern.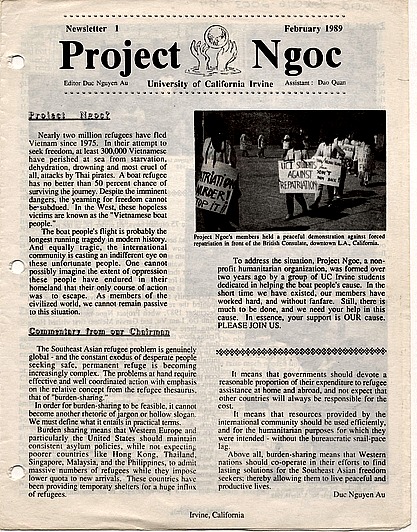 An archival collection of Project Ngoc can be seen online and in UCI Libraries Special Collections.
Initiated in 1987 by UCI graduate student, Tom Wilson, when he learned of the refugee crisis, PN took flight in the next decade because of the commitment and passion of Vietnamese American students. For many, this was a time when their political consciousness gelled into lifelong commitment to social justice and civic engagement. The legacy of PN is seen in these activists' ongoing volunteerism and in their professional lives. One PN alum, Nicole Nguyen, was interviewed by my student last quarter for the Vietnamese American Oral History Project. Nicole describes how she became involved in Project Ngoc:
But my freshmen year, I had a friend, Brian that I met through our chem course. He said, "hey come on let's go to a meeting." I asked what the meeting was about. He said, "Oh, you'll learn. They talk about refugee people." I said, "Really?" I wasn't really up for it but I tagged along and went to the meeting. They talked about their mission and what they do, it was a part of Project Ngoc. They called it the pearl project and then that's when I learned. "Oh, that's about the boat people. I was a part of that." Now in my college life, I understood what actually happened, what I've been through…My parents don't talk too much about our journey and history because for them, they felt you need to move on and assimilate to the American society here and do well.
The first chair of PN was Van Tran, who was the first Vietnamese American to serve in the California State Legislature. One of the following term's co-chairs was Mai-Phuong Nguyen, now a physician in Orange County and advocate for accessible, equitable healthcare policies as a leader in the California Medical Association's Ethnic Medical Organization Section (CMA/EMOS). In a recent oral history interview, Mai-Phuong explained to an undergraduate student how transformative PN was for her leadership development:
 [T]hat is why I am the person I am today, because one person makes a difference. A small group of idealistic students made a huge difference. You have to have something like this in a college experience. The people at Berkeley during the civil rights movement, all the major civil rights movements. Students made a big difference and that was my civil rights movement experience and I mattered…for three years we won most humanitarian student organization by ASUCI [Associated Students UCI].
As later cohorts became involved, the organization gained even more momentum and support in the Vietnamese American community. Year after year, PN recruited new student activists, worked with local community "elders," fundraised, and sent delegates to Washington D.C., the United Nations, and refugee camps Asia. I spoke with Mr. Dinh Quang Anh-Thai of Nguoi Viet Daily News (who was an advisor to PN activists and travelled often to the camps). He shared his memories and perception of PN activists:
 The Project Ngoc students had a great deal of heart. When you are working in these refugee camps, it's really intense and you have to work so hard, starting at 5 am and working until 7 in the evening. They had a great deal of commitment to the cause because without that kind of commitment you would not be able to do this work. They brought awareness of the repatriation issues to the higher ranks, to Hong Kong government, to London, Washington DC., to the community in Little Saigon. They used the local newspaper, they hosted a large conference and invited the UNHCR attorney to present and educate people about how to seek a solution to the problem. They attended the Geneva Conference in 1989 where they had a hunger strike to show the UNHCR that the issue is so important. 
Tu-Uyen Nguyen, an assistant professor of Asian American Studies at CSU Fullerton, was among the PN activists who lobbied for rights for refugees about to be repatriated. In her current role as professor, she specializes in Asian American health issues and serves on several nonprofit boards, including Orange County Asian and Pacific Islander Community Alliance (OCAPICA)  and the Vietnamese American Arts and Letters Association.
In summer of 1991, PN sponsored me to go on a one month fact-finding mission with Boat People S.O.S throughout Southeast Asia.  We visited refugee camps in Hong Kong, Malaysia, Singapore, Thailand, Indonesia, and the Philippines. I interviewed many unaccompanied minors in these camps and brought back their stories and case studies to the U.S. to advocate for their refugee status through the United Nations High Commissioner for Refugees.
These individuals are only a few among the many who participated in the movement. They continue to live and work in the community and they returned on the evening of April 24th to UC Irvine for the opening of the current Project Ngoc exhibit.
UC Irvine Libraries opened its exhibit called Hope of Freedom: Project Ngoc's Decade of Dedication. This exhibit is currently on display through October 2012 in Langson Library Muriel Ansley Reynolds Gallery during regular library hours. Read UCI Special Collections' brief blog post and view a slideshow about Project Ngoc here.
During a time when the divestment in public education is clearly seen through increasing tuition and fees, furloughs, and layoffs, this exhibit can perhaps challenge students to find their voice and speak up in unison. Today's campus climate has fostered low morale among educators and students alike. How do we get students to care about social activism, whether it be an issue in local communities or far beyond the boundaries of the US? This exhibit highlights a movement that made a significant difference in students' lives by giving them a set of invaluable tools to navigate political systems beyond the college campus. I hope that the exhibit will not fall on deaf ears, but serve as a call to action and a re-activation of the passion that these activists once shared on this university campus.
Thuy Vo Dang earned her doctorate in Ethnic Studies from the University of California, San Diego. She is working on a book examining Vietnamese American anticommunism. Her writing has been published in Amerasia Journal, Le Vietnam au Feminin/Vietnam: Women's Realities, and Nha Magazine.
–
Do you enjoy reading diaCRITICS? Then please consider subscribing!
Please take the time to rate this post (above) and share it (below). Ratings for top posts are listed on the sidebar. Sharing (on email, Facebook, etc.) helps spread the word about diaCRITICS. And join the conversation and leave a comment!