Artist Viet Le gives diaCRITICS readers an inside look into his project love bang! Through his sexperimental art music video, Viet Le explores Southeast Asian popular culture scene with a fantastic vision of queer love.  At the same time, Viet Le uses this sensational music video to reveal contradictions in modernity and memory of Southeast Asia's fraught history of war and trauma.

[before we begin: like diaCRITICS? why not subscribe? see the options to the right, via feedburner, email, and networked blogs]
What: love bang! is a sexperimental art music video for an original trilingual hip pop song (Vietnamese, Khmer and English). "Hip pop" is a fictitious cross between pop and hip hop. The disjunctured video features a queer, star-crossed, time-traveling war-time love triangle. Sounds complicated? Love is!
The video, which has been shown in five different countries, is often exhibited in galleries or museums with related large-scale photographic banners and art objects from the shoot, as well as live opening performances.
Love bang! is the first installment of a  video/ photographic trilogy executed and exhibited in Ho Chi Minh City, Phnom Penh, and Los Angeles. These three global cities are contradictory characters, metaphors, and mirrors for the lovers. The project addresses the intersections of trauma, memory and modernity. The new songs pay tongue-in-cheek homage to Vietnamese and Cambodian tunes as well as Western pop songs, which are ever-present on the streets of the two countries.
When/ How: After a year of planning, I collaborated with many talented artists to realize my retro sci-fi pop vision. Working during the summer of 2011 with Phnom-Penh based musician and music producer DJ Peanut, I recorded a new song which samples Fleetwood Mac's Riahannon (1975) and  the iconic Thanh Lanh's Vietnamese and French rendition of Cher's 1966 hit Bang Bang.  Cambodian rapper RJ co-penned the Khmer rap lyrics and soulful singer Dollar sang the bittersweet hook. After several reworkings of the song, using different singers and numerous recordings in Peanut's studio, we got the sound we wanted.
After the track was finalized, I worked with videographer Chean Long and his film team to find suitable shooting locations in Phnom Penh, including areas slated for high-rise development and a modernist library  on Buddhist temple grounds. I also booked one of his favorite local drag haunts, Classic Night for the nightclub shots. GiGi, one of the stars of the drag circuit, and her collaborators Nita and Seysey reprise some of their trademark dance moves, while improvising other booty shaking gestures. I was also thrilled to collaborate on choreography with a prominent contemporary dancer Chy Ratana (also known as Leak). Khmer conceptual artist Khvay Samnang and designer Seng Oudom generously loaned—and created new—artworks and costumes for the video.
A grant from the Los Angeles Department of Cultural Affairs Cultural Exchange International (CEI) program made this project possible.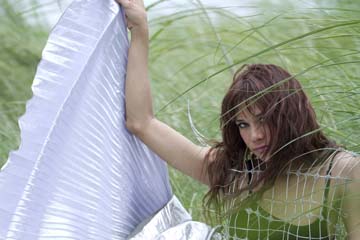 Larger project: The umbrella boy bang/ gang band project consists of campy images of faux pan-Asian boy bands and solo performers  in various guises and costumes which examines the borders of spectacle, (homoerotic) desire, gender, translation, audience and affect. Over the past three years, I've created photographic prints, room-sized murals, and other related paraphernalia of fictional boy bands. The music video trilogy is the logical culmination of this project, and has been shown both as a gallery video installation and uploaded to youtube for a mass audience.
Musical backdrop: During the Viet Nam War, nhac vang or "golden music"—love ballads about loss was banned by the Vietnamese government for its potentially subversive content. The 1960s and 70s was dubbed as a "golden era" of Cambodian rock; many of its stars disappeared during the Khmer Rouge genocide. Today, the explosion of pan-Asian youth culture and pop music obscures traces of the recent past in both countries. In contemporary Viet Nam, Japan, China, Cambodia, and Korea (among other Asian countries), there has been an emergence of popular cultural production (music, films, soap operas) questions the boundaries of community, identity and identification. How are national and consumer desires linked? The rise of bull markets may presage the rise of pop markets, including J-Pop, V-Pop, and hallyu (Japanese pop, Vietnamese pop, and Korean Wave respectively).
Why: The music videos examine the legacies of historical trauma, collective memory, and the rapid modernization in Cambodia and Viet Nam through a catchy pop veneer. Cambodia and Viet Nam are two societies in transition, linked historically and regionally through traumatic events and cultural and economic interactions. Cambodia and Viet Nam's economic development has resulted in a dramatically shifting social and political climate. Viet Nam's rapid economic growth—launched by the socialist government's 1986 open door doi moi policy (shifting from communism to a socialist-capitalist political economy) — has resulted in vast changes. Cambodia has also followed a similar trajectory of rapid development. My project deals with the tensions and contradictions these rapid changes bring about. Through this project, I hope to continue to engage in dialogue with local and international communities about representation, popular culture and the traumas of history and modernity through exhibitions, performances and talks.
love bang! screenings/ exhibitions (chronological):
1. Los Angeles, USA: Queer Space Time exhibition, Sabina Lee Gallery, February 25-March 24,  2012.   Special performance by One Night Band February 25, 2012.  Group exhibition with Genevieve Erin O'Brien, Jai Arun Ravine, Tina Takemoto
2. Phnom Penh, Cambodia: Out Loud exhibition and performance, Meta House Cultural Center, May 16- June 16, 2012. Curated by Roger Nelson and Alan Flux as part of Cambodia Pride. Special performance featuring Khmer Idol Sophea Ros and Phnom Penh Pussycats May 16, 2012.
3. Sai Gon, Viet Nam: Future Shorts Film Festival, August 12, 2012. Curated by Anh-Thu Nguyen
4. Bangkok, Thailand: Possession exhibition, Bangkok Art & Culture Center, March 1-May 5, 2013. Curated by Brian Curtin and Steve Dutton
5. Manila, Philippines:  Radiation exhibition, Department of Avant-Garde Cliches Gallery, November 2012. Curated by Brian Curtin
Việt Lê is an artist, writer and curator. Lê has exhibited his artwork internationally including the Banffe Center (Alberta), Dobaebasca Gallery (Seoul), Java Arts (Phnom Penh) and H Gallery (Bangkok). He curated Miss Saigon with the Wind (Highways Performance Space, Santa Monica); Charlie Don't Surf! (Centre A, Vancouver); Chains of Love: the Shadows of Empire (Oceanside Museum of Art). He co-curated humor us with Leta Ming and Yong Soon Min (Los Angeles), transPOP: Korea Viet Nam Remix with Yong Soon Min (Seoul, Saigon, San Francisco) and the Kuandu Biennale (Taipei).
His work has been published in Amerasia Journal, positions, Newsweek Asia, Modern and Contemporary Southeast Asian Art: An Anthology, Crab Orchid Review, among others. He has co-edited special issues of BOL Journal (Việt Nam and Us, 2008) and Reflections: A Journal of Writing, Service Learning, and Community Literacy (2008).
Lê received fellowships from Fulbright Hays (Việt Nam), Civitella Ranieri Foundation (Italy), the Center for Khmer Studies (Cambodia), and Fine Arts Work Center (USA). Lê obtained his MFA from the University of California, Irvine, where he has also taught Studio Art and Visual Culture courses. He received his PhD from the University of Southern California and is currently residing in Taipei as a postdoctoral fellow at Academia Sinica. More at: www.vietle.net.
–
Do you enjoy reading diaCRITICS? Then please consider subscribing!
Please take the time to rate this post (above) and share it (below). Ratings for top posts are listed on the sidebar. Sharing (on email, Facebook, etc.) helps spread the word about diaCRITICS. And join the conversation and leave a comment! So what did you think of the sexperimental music video? What's your take on boy bands? Can't wait to see more?