Recently diaCRITIC Jade Hidle met and interviewed artist Dustin Nguyen at the San Diego Comic-Con International, the biggest annual convention in the U.S. showcasing comic books and other popular arts. She asked Nguyen, who is very gifted with the pen and brush, about his motivations and development as an artist. A great introduction, if you're not already familiar with his work.
________________________________________________________________
before we begin: like diaCRITICS? why not subscribe? 
see the options to the right, via feedburner, email, and networked blogs
________________________________________________________________
At last summer's San Diego Comic-Con International, I had the pleasure of meeting artist Dustin Nguyen. I recently had the opportunity to ask Dustin a few questions about his artwork. Check out his striking work in comics and beyond!
Jade Hidle:  This might seem like a cliché question, but I want to start basic for readers who might not be familiar with your work. How did you get started in art? And why have you gravitated toward comics (and toy design as well)?
Dustin Nguyen:  I think the simplest of answer is that I like to draw, and tell stories. Mostly comics because I like to draw alone and not be bothered too much.
JH: Right now, you're exclusive with DC Comics and working for their Vertigo publication house in particular. For Vertigo, you're illustrating the American Vampire: Lord of Nightmares mini series. The story and artwork feels much darker than its parent series, American Vampire. What drew you to this project? And what has it been like working with writer Scott Snyder?
DN:  It was great working with Scott, we've been talking about working together for some time now, and after I was done with Justice League Beyond, it felt like a good time to take in a mini series, also getting to explore a few different approaches to my storytelling and style.
JH:  While you have a large body of visual art, you have also co-written comics for DC. Is
writing something that you want to pursue further? Do you see yourself writing and
illustrating your own comic or graphic novel?
DN:  I do, but probably not immediately, writing is a LOT harder than drawing, so I'll be co-writing for a while still. Also, my day to day focus is usually trying to get better at drawing and painting. And the days always seem to get shorter, everyday.
JH:  In your 2012 sketchbook, you illustrate many iconic figures, from Jabba the Hut to
Batman to Delirium from Sandman. What are the challenges and rewards of putting your
own spin on such recognizable, familiar icons?
DN:  Most of the pieces drawn come at the spur of the moment. Either through a good song, or a recap of an episode of a show or movie I liked. The freedom of not being tied to a script for work, or having to worry about printing specs, a likeness to character, or costume correctness makes it fun.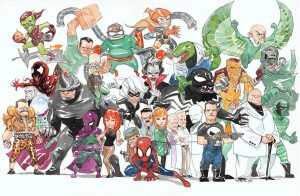 JH:  One of my favorite illustrations in your sketchbook is a tribute to the late, great Adam Yauch from The Beastie Boys. What artists (whether musical, visual, literary, etc.) do you draw inspiration from?
DN:  I think if I list a few, I'd look back later and piss myself off for not listing the other few, so I'd say almost anything and everything is my inspiration. I'm a kid of the '80s and '90s so musically, that's where I'm at.
JH:  The Diasporic Vietnamese Artists Network (DVAN) is interested in how Vietnamese culture and identity informs artists' work. To what extent do you feel that being Vietnamese American informs your artistic choices and career?
DN:  That's a tough one because, as I do feel your culture and upbringing can heavily dictate your direction in life, once you do enter a career in art, especially a commercial art, you sort of immerse yourself in an entirely new environment. And it's that step there, where you decide what sort of artist you want to be. The best I can tie to why I chose comics as a first, is Batman being the first popculture icon I can remember when I first came to the US.
You can view and buy more of Dustin's artwork at his website:  http://duss005.com.
—
Jade Hidle is a Vietnamese-Irish-Norwegian writer and educator. She holds an MFA in creative writing from CSU Long Beach and is working on a PhD in literature at UC San Diego. Her work has appeared in Spot Lit, Word River, and Beside the City of Angels.
Dustin Nguyen is an American comic artist whose body of work, for the past 10 years, includes flagship titles for both DC Comics and Wildstorm. His past projects include Wildcats v3.o, The Authority Revolution, Batman, Superman/Batman, Detective Comics, his creator owned project- Manifest Eternity, Batgirl, and Batman: Streets of Gotham. He is currently exclusive to DC Comics co-writing as well as illustrating Justice League Beyond and illustrating Vertigo's American Vampire: Lord of Nightmares.  Aside from providing cover illustrations for the majority of his own books, his cover art can also be found on titles from Batman Beyond , Batgirl, Justice League: Generation Lost,  Supernatural and Friday the 13th, to numerous other DC/WS titles. Outside of comics, Dustin also moonlights as a conceptual artist for toys and consumer products, games, and animation. He enjoys sleeping, driving, and sketching things he cares about.
________________________________________________________________
Do you enjoy reading diaCRITICS? Then please consider subscribing!
Please take the time to rate this post (above) and share it (below). Ratings for top posts are listed on the sidebar. Sharing (on email, Facebook, etc.) helps spread the word about diaCRITICS. Join the conversation and leave a comment! Have you see Nguyen's work? What did you think about it?
_______________________________________________________________