What happened in January 2013: news and events relating to Vietnamese at home and in the diaspora.
Okay, folks, after your merry break in December, I suppose you've been jolly working away the month of January. Well, I hate to burst your bubbles but someone has to do it. Read on and find out what I'm talking about.
---
Viet Kieu in the news
---
• Leading spiritual teacher Thich Nhat Hanh suggests that we cannot save the Earth from climate change until we ourselves change. [Photo: AP]
________________________________________________________________
before we begin: like diaCRITICS? why not subscribe?
see the options to the right, via feedburner, email, and networked blogs
________________________________________________________________
• Arrested in Vietnam in April 2012, pro-democracy activist Nguyen Quoc Quan was unexpectedly released from prison by the Vietnamese government. [Photo: Ringo H.W. Chiu]
---
• Nguyen Khanh, a former South Vietnamese general who briefly seized control of South Vietnam's government in 1964 and who served as the Chief of State of the Government of Free Vietnam in Exile in Garden Grove, California, died at age 86. [Left photo: AP]
---
• Canadian Prime Minister Stephen Harper spoke to Vietnamese-Canadians to mark their contributions "to make Canada better with their talents, skills and determination." [Photo: Aaron Vincent Elkaim]
---
• Dr. Thuy Vo Dang, the project director of the Vietnamese American Oral History Project (VAOHP) at the University of California, Irvine, says the refugees' stories are full of "the ghostly haunting of the Vietnam War."
---
• A Wells Fargo Bank's mistake led to misunderstanding and in-fighting among religious leaders in the Vietnamese-American community in Westminster, California. Orange County Supervisor Janet Nguyen urged them to act quickly "for purposes of transparency and in order to clear up any allegations." [Photo: Steven Georges]
---
• Vietnamese-American chef Charles Phan maintains his Vietnamese heritage through his cooking. Find out more about Phan, get his cooking tips and techniques, and read a review of his new book. [Photo: Jim Wilson]
---
• The New York Times featured Maika Elan and her photographic work on Vietnam's L.G.B.T. community. [Maika Elan/MOST]
---
• Australian author Kerry Nguyen-Long's newly-published book, Arts of Vietnam 1009-1945, is the first history written in English of the development of the arts throughout Viet Nam.
---
• Tragically, a Vietnamese-American woman visiting HCMC to celebrate the Lunar New Year died in a fire.
---
• Non-profit organization OneVietnam, founded by three Vietnamese Americans, connects donors with people in need by providing a "one-click online portal" that makes giving and receiving easy. Making a difference. Awesome!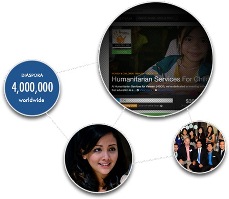 ---
• The Fountain Valley Chamber of Commerce, following similar legislation in Westminster, Garden Grove, and Santa Ana, has decided not to host any Vietnamese business delegations.
---
News about Vietnam
---
• Iconic songwriter and singer, Pham Duy, died in HCMC at 91. Criticized for going back to Vietnam, he defended his action by stating that "Tôi nghĩ rằng tôi là người Việt Nam, nếu tôi muốn được gọi là một nhạc sỹ Việt Nam, thì tôi phải làm nhạc dân ca. Đó là chuyện rất giản dị."
---
• Do Van Xuyen worked 50 years doing research to gather evidence for his book, "A journey to find Ancient Vietnamese writing," in which he decoded an ancient Vietnamese writing system that interestingly had "no accents."
---
• The HCMC Department of Culture, Sports and Tourism is considering banning many overseas Vietnamese artists who participated in the Asia 71 music DVD.
---
• Vietnam reversed its decision and denied official recognition of a Vietnamese transgender woman named Pham Le Quynh Tram (formerly Pham Van Hiep). Tram, however, plans to appeal the decision. In a move to calm the situation Dr. Tran That, director of the Ministry of Administrative Department Justice's ministry, said that the ministry would protect and support transgender people.
---
• Good news! A bear sanctuary in Vietnam has been saved from governmental eviction by activists' campaigns against the closing. The rescue center houses about 100 bears which were rescued from the bile trade. Bad news! In an unrelated case, the sub-species called homo sapiens communists can still be found harassing and jailing innocent people. [Photo:KHAM]
---
• In January, fourteen pro-democracy activists, including priests, were convicted by a Vietnamese court. The freedom of expression campaign group, ARTICLE 19, the US government, and other civil-rights groups have criticized the decision. [Photo: Nguyen Van Nhat]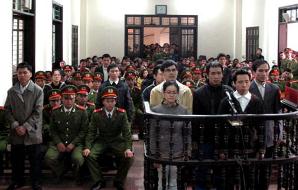 ---
• In another case, while in police custody, blogger Nguyen Hoang Vi was sexually assaulted by officials. Vi posted a defiant message saying "I want to let you know that while it is true that violence and your vile acts may cause people to surrender before you . . . With people like me those acts only strengthen my spirit and my determination." Her courage and determination will surely embolden other activists.
---
• Last December, bloggers Huynh Ngoc Tuan, Huynh Thuc Vy, Nguyen Huu Vinh, Pham Minh Hoang, and Vu Quoc Tu won the prestigious Hellman/Hammett Awards from Human Rights Watch.
---
• Incidentally, Huynh Thuc Vy is the courageous blogger who was kidnapped and harassed by police officials in July 2012. Vy often blogs about democracy, human rights, and political violence in Vietnam. View a recent interview she gave on The Kim Nhung Show.
---
• Sadly, there's another tragic news about a Vietnamese woman and her Korean husband.
---
• Artist Tran Duc Huy's "The original eye" artwork is exhibited at the French Cultural Center in Hanoi.
---
• Vietnam's central coastline from Hue to Hoi An may potentially develop into "Asia's next beachfront destination resort." [Photo: David Mitchener]
---
• Unfortunately, the food and gas price increases have indirectly caused serious health harm to the poor.
---
• The rapid price increases of eggs since the beginning of the year was due to price gouging by CP Vietnam, a Thai-owned enterprise operating in Vietnam.
---
• The Vietnam Communist Party's General Secretary Nguyen Phu Trong briefly met with the Pope for closed-door talks. If you recall, last October, Nguyen Phu Trong was the lucky Communist Party official who had to publicy acknowledge that the government had failed to curb corruption. [Rome Reports,VR],[CC],RFA] [Photo: RomeReports.com]
---
• Samsung Electronics will build a second plant in northern Thai Nguyen province to produce and assemble mobile phones.
---
• Japan and Vietnam have agreed to jointly build nuclear power plants in Vietnam. Anyone else imagining the fictional three-eyed fish in The Simpsons? Well, remember a real three-eyed fish was found near a nuclear facility in 2011? [Photo by Gizmodo]
---
• Vietnam is going to produce its own lethal drugs for executing people on death row. I know some of you have colorful words about this news so I'll just refrain from sharing my own lovely comment about the matter.
---
• According to the United Nations' Food & Agriculture Organization, rice exports from Vietnam are set to remain near record levels this year. [Photo: Hoang Tran Minh]
---
• Starbucks is scheduled to open its first store in Vietnam. Entering a very competitive market, Starbucks may likely target Vietnamese "who like to be fashionable, live a Western lifestyle and enjoy brand names." Yo, dude, Starbucks know me so well, or not.
---
• Le Luong Minh becomes the new Secretary General of ASEAN. He will have a hard job negotiating "for progress on a code of conduct" for the East Sea given that China–backed by military force–has historically refused to compromise. With China exerting pressure on Vietnam, it remains to be seen whether Le will act on ASEAN's behalf or on China's imperialist goals. Read his inaugural speech given at the ASEAN's Transfer of Office Ceremony.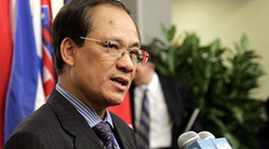 ---
• Vietnamese fashion designer Le Thanh Phuong's ao dai collection was exhibited at the American Museum of Natural History in New York City.
---
• The only mosque in Hanoi and the northern region, the Al Noor Mosque is more than one hundred-year old, with 55 Vietnamese devotees.
---
• In addition to the discovery of the ancient water supply system at the former Thang Long Imperial Citadel, archaeologists have excavated more relics of the Ly, Tran, Le and Nguyen Dynasties in the area.
---
• Fr. Nguyen Huu Triet's collection of hundreds of ancient lamps was put on exhibition at the Museum of Can Tho City.
---
Other News
---
• Swedish researchers' study of 47 Vietnamese babies and their mothers suggests whistling may help speed up potty training and get babies out of diapers in nine months. Additionally, it means less money goes to diapers and less waste goes into the environment. But, folks, can you smell the conspiracies brewing at those big diaper-making companies?
---
• Stanley Karnow, a Pulitzer Prize-winning historian and journalist who wrote the 784-page bestseller book, Vietnam: A History, died at 87. [Photo: Jacquelyn Martin]
---
• Nick Turse's book, Kill Anything that Moves, reveals "that episodes of devastation, murder, massacre, rape, and torture . . . were in fact the norm, adding up to a continuous stream of atrocity" during the Vietnam War. If you don't plan on reading the book, at least listen to the 30-minute revealing NPR interview in which Turse talks about some of the details from his book. Turse was also interviewed by DemocracyNow.org (42:50-58:26). Listen to General Westmoreland express his belief that "life is not important" for "Orientals," which is why Americans who highly value human lives had to kill millions of innocent women, children, and babies. I guess in order to uphold the American high regard for human lives, American logic dictated the U.S. massacre defenseless civilians.
Forty plus years later, the U.S. will still not acknowledge the carnage it inflicted on the civilian population in Southeast Asia. Its deep historical hatred of Asians had allowed the U.S. to spend billions of dollars on murder, massacre, rape, and torture of civilians, but it is its continuing anti-Asian bias that keeps it from taking humanitarian actions to right its wrongs. Would the atrocities have happened had the Vietnamese been Caucasians and European? I don't think so. All the debates, excuses, and denials are just means for the U.S. to avoid admitting responsibility and to stall sending funds to help victims of Agent Orange, other toxic chemicals, and unexploded ordinances. The U.S. often asserts to know what is right, but it often fails to do what is right. If Americans are still haunted by Vietnam it is because Americans are still lying to themselves–about their committing genocide and ecocide in Vietnam–and cannot live with their lies.
---
• The Asian American Legal Defense and Education Fund's exit poll from the 2012 Presidential Election has interesting results relating to Vietnamese voters.
---
• A study shows individuals who are prone to racial stereotyping are "more closed-minded, and less creative." What? You mean to be more creative I have to stop hating imperialist neighbor and their UFOs? Let me tell you, dudes and dudettes, creativity is darn hard when the white majority constantly discriminates against you. [Image: The Brain Bank]
---
• Author Rebecca Solnit presents an eye-opening article on the violence against women around the world. [Photo by Adnan Abidi/Reuters]
---
• Chinese military hackers have been infiltrating The New York Times' network. And all this time you thought your printer was harmless. Other news organizations have also been hacked by the Chinese military.
---
If you've gotten this far I bet you're not as bubbly as before. That three-eyed fish had something to do with it, huh? I did it on purpose. Ha ha! Stay well till next month.
---
[Special thanks to Viet Thanh Nguyen for providing many of the news items.]
Peace!
RP
---
Please take the time to rate this post (above) and share it (below). Ratings for top posts are listed on the sidebar. Sharing (on email, Facebook, etc.) helps spread the word about diaCRITICS. Join the conversation and leave a comment! Did we miss any newsworthy item? Let us know in the comments and we'll update it.
---