diaCRITIC Jade Hidle reviews Lily Hoang's Changing which rewrites and subverts the fairytale tradition.  Along the way, she reveals nuggets about her nonconformist childhood rapture for Disney's sexiest cartoon character.

I have a confession to make. When I was a little girl still growing into her teeth, I had a crush on Prince Eric from the Disney version of The Little Mermaid.
I begged my dad to use his every-other-weekend visitation with me to go see the animated film on its opening night. At the theater, it was clear that '90s Disney cartoons were in their heyday. Even at a small theater in Orange County, California, there was a raffle that gifted merchandise from the film. I had never seen anything interactive like that at a movie theater, and, as my raffle ticket wilted in the dampness of my anticipatory little palm, my heart began to palpitate. I thought, Prince Eric will surely step out of the poster in the lobby to introduce the movie—and, most definitely, to lock eyes with me in a crowd of others. As he would walk up the aisle toward my chair, I would hear the hush of his buoyant VO5-caliber hair or smell the man musk emanating from the scandalously deep V in his fashion-forward pirate shirt. My dad was already there to give me away to Prince Eric. The marriage would be legit. Forget Ariel.
It will shock you to learn that a marrying of the cartoon world and our own did not happen that night. Clearly, my imagination at the time was heavily influenced by the 1984 A-ha video for "Take on Me."
It took only a few fledgling attempts at courtship on the grade school playground to cement in my heart the fact that fairy tales are bullshit. Yes, of course, I understand that fairy tales, despite their apparent heartbreaking simplicity, are actually complex social texts that manifest in diverse cultural forms throughout history, across the globe. For the grunt work of serving as a teacher's assistant at a research institution, I have read a sizeable chunk of the scholarship on fairy tales. That said, I still think "bullshit" rings truest in the heart, and I trust that you, reader, know what I mean.
[amazon_enhanced asin="0979995426″ /][amazon_enhanced asin="0981502725″ /][amazon_enhanced asin="0982077572″ /]
I was hesitant to read Lily Hoang's Changing simply because it is often described as a fairy tale (and is published by Fairy Tale Review Press, to boot), so I assumed that it would be a saccharine tale involving romance and lace and gauzy curtains blowing in the breeze and thousand-yard gazes at sunset. But I quickly learned that, on the contrary, Hoang addresses the very reasons my now Grinch-like heart began to roll its eyes at fairy tales so many years ago. (Yes, my heart has eyes.) Written in the hexagram form of the I-Ching, Hoang retells bits and pieces of Western fairy tales, woven together with a coming-of-age story of her protagonist, named only Little Girl. By blending the I-Ching and Western fairy tales, Hoang puts a new spin on two literary traditions that have mapped readers' fortunes and fates for centuries.
Hoang's self-conscious entry into, and commentary on, the often empty promises of fairy tales (yes, Prince Eric, it still hurts) was what drew me into Hoang's unorthodox text. At one point, she writes, "Lover I'm so tired of hearing love stories in song & on screen & in books because I know lover I've read the fairy tales that all end with the wedding & all end with the happily ever after but that isn't real lover & I lover I understand that us lovers can't be that way like fairy tales like happy endings & lover I want a new paradigm made lover where I wouldn't be me & you wouldn't be you" (83).
As you can see in the passage above, the lack of punctuation requires readers to adjust to their expectations of flow and structure in a text, and the ampersands link words that move like a swift current. Yet being referred to as "lover" (at other times, "you reader") slows the pace pointedly, purposefully, inviting you into this tale, wanting to go with Hoang's flow. Her regular address of the "lover," which often indicates the reader, also asks us to question the characters with whom we identify in fairy tales. This was an interesting move on Hoang's part because I so often identify with the protagonist in the tale (the Prince Eric-loving little girl in me mirroring the hopes and disappointments of Hoang's Little Girl). However, just as soon as I did so while reading Changing, I was positioned as "the lover," whose actions and character are ambiguous at best:  "you're always the innocent one & I'm always the asshole" (51). Though uncomfortable, those ever-shifting positions are more interesting.
Indeed, Hoang disorients the role the characters play—both in terms of traditional binaries of good/evil and masculine/feminine.  She does so by echoing the familiar refrains of Western fairy tales, but with a difference. The opening passage states that "[t]his is a story about Jack & Jill […] but Jack isn't always Jack & Jill isn't always Jill" (3). Hoang also occasionally (con)fuses storylines and names, as in a handsome prince's call to "Jillpunzel! Jillpunzel!" (121). In such mixings of stories, she tangles and reorders fates, questioning the idea of fate altogether.
By extension, Hoang prompts us to actively reconsider the role we play as readers. Just as Hoang narrates Jack and Jill repeatedly going up and down the hill, readers must read up and down, the story—or at least that which is traceable in this book—moves up and down, rather than left to right, or chronologically, through memories that constitute the protagonist's life—her own and that of her family. Hoang uses the centuries-old hexagram form of the I-Ching to nudge readers who are unfamiliar with the format to exercise a "new" reading praxis. Such praxis is not without its thematic purpose either.
Reading Changing is akin to learning a new language or culture—the humanity at its core is relatable and familiar—yet the form of it may seem strange on the surface. Hoang aligns this reading process with that of immigration, writing "start at the bottom & move upwards just like the American Dream" (3). In a book of ethereal tone, Hoang anchors the storyline in the gritty realities of the protagonist's life:  a mother's illness that rots her until she has "catfish skin," fighting with the only other Asian girl at school, popping pills in "so many bright colors" (56) and suffering from bulimia (55), the aching contractions of a big sister coming and going from her life, and pained relationships with her parents from Viet Nam. We get glimpses of the protagonists' parents:  "my mother migrating from the country of heat to here & Father unable to form words & Father bowing his head & cleaning other people's shit" (4).
Yet, Hoang points out that these renderings are inevitably fragmented. It is in those slippages between the characters, rather than their points of contact, where the emotion swells. Wounded, Little Girl lists all of the events in her life that her parents did not attend, only to ask, "My parents missed more than space-time but what importance have I missed from their lives?" (12). In my experience as a reader of Changing, I find it crystallizing in lines like this the idea that the love story is not between two romantic lovers and their moments of togetherness, but between two generations of family members whose disconnect is full of commensurate pain and desire. This is the love story.
The handouts at the end of the book ask for reading to become a participatory activity. In a world where books are increasingly read on screen than on paper, I welcomed the tactile opportunity to not simply write in the text, but to cut it up (I miss you, kindergarten safety scissors) to create a cup, full of numbered squares, with which I could test and, perhaps, reorder my fate out of the context of traditional tales. In this way, the "end" of the book becomes a beginning. You get to revisit a part of the whole.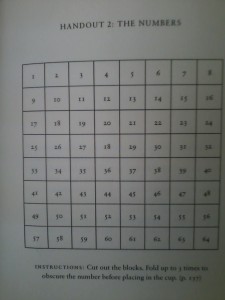 If you're thinking, "Cut out a tiny cup and play a game? Ridiculous!" Let me be clear, I was like you. My initial reaction to a text like this was to resist it too; because so many people don't have the luxury of sharing their stories with others, I tend to just want to see sentences follow each other on the page. Get the story out. No games. But, after getting into the rhythm of Hoang's book and seeing its story unfold, I am less resistant. New takes on old forms allow for different stories to be told; and it is the stories that feel at once timeless and fresh that are the most satisfying. I don't think this is one of those "postmodern-y" texts that makes you as the reader feel you are being toyed with, merely for the amusement of the author who is "Muah ha ha-ing" as she sips absinthe while sitting at a roll-top desk in some bohemian flat somewhere in Western Europe.
Just as much as she disorients characters' and readers' roles, Hoang experiments with her position as author. She consistently questions her—or, rather, her protagonist's—abilities as a storyteller. Repeatedly throughout the text, she names herself a "translator" who refuses to provide answers about the book's message and how to read it. She refuses to offer pre-packaged answers about herself, her family, her culture, yet at the same time, in being a translator who makes stories available beyond the home, she bears guilt and responsibility to which I, and I'm sure many others of you out there, can relate. Tellingly, Hoang writes, "I have this reputation now of being the dissonant voice for being the discontented because I demand from them my family some sense of respect but even when they fail somehow I am the one left apologizing" (23).
[amazon_enhanced asin="0979995426″ /][amazon_enhanced asin="0981502725″ /][amazon_enhanced asin="0982077572″ /]
Without a pat resolution offered at sunset when lips touch, bluebirds whistle, and music cues the happy ending, Changing leads readers to a pulsating edge. There, it is far more interesting to watch Prince Eric's image dissolve into air and allow that chipped yet boundless imagination to run wild.
Jade Hidle  is a Vietnamese-Irish-Norwegian writer and educator. She holds an MFA in creative writing from CSU Long Beach and is working on a PhD in literature at UC San Diego. Her work has appeared in Spot Lit, Word River, and Beside the City of Angels.
________________________________________________________________
Do you enjoy reading diaCRITICS? Then please consider subscribing!
Please take the time to rate this post (above) and share it (below). Ratings for top posts are listed on the sidebar. Sharing (on email, Facebook, etc.) helps spread the word about diaCRITICS. Join the conversation and leave a comment! Did you ever crush on a cartoon character?  Which of Snow White's dwarfs did you find sexy?
________________________________________________________________