The second of the two-part series on the Vietnamese in Germany, Kien Nghi Ha's post takes the vantage of Vietnamese and Asian Germans to expand and discuss notions of immigration and the term of diaspora. Siehe unten für die deutsche Fassung. Taking Asiatische Deutsche. Vietnamesische Diaspora and Beyond (Asian Germans. Vietnamese Diaspora and Beyond) as a point of departure, Kien Nghi Ha points to the difference and various contexts of immigrant and diasporic life.
Have you subscribed to diaCRITICS yet? Subscribe and win prizes! Read more details.

This article, translated by Darell Wilkens, was first published in Jewish Museum Berlin Journal. No. 7, 2012, S. 63-66. Please see the original publication for further information and related sources. The article in German follows the English translation. Read the whole JMB-issue on "diversity." Special to this post, the photographs are taken from the series "Foreign home: Vietnamese Life Berlin" by Kiên Hoàng Lê.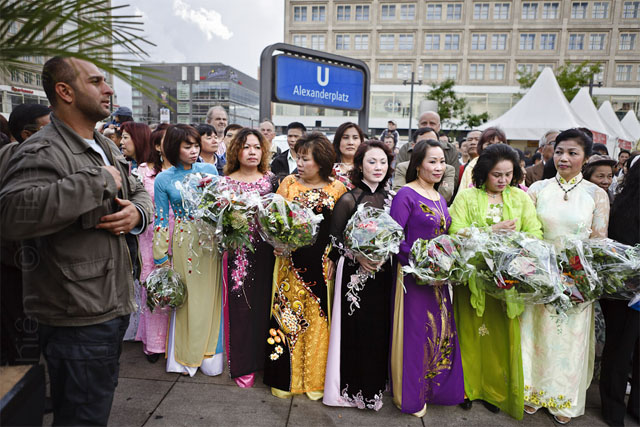 Asian Germans – Diasporic Translocations
by Kien Nghi Ha
Despite the ongoing discourse that associates them with criminality, "the Vietnamese" today are increasingly seen as well integrated, model immigrants, who, in the populist and controversial doctrine of the German politician Thilo Sarrazin, are a stark contrast to the Muslim "problem groups." While the dominant public debate on integration remains mired in the rhetoric of a national culture and all too often reproduces racist platitudes, a fundamental shift in social reality is currently taking place. Taking the example of Vietnamese immigrants, a particularly present group in Berlin, it can be clearly seen that life in the diaspora takes diverse forms. This is a process in which the immigrant subjects themselves are actively involved.
One attempt to re-think the concept of the nation from its edges and focus on problems that have been neglected in the past, was made in Asiatische Deutsche. Vietnamesische Diaspora and Beyond (Asian Germans. Vietnamese Diaspora and Beyond). The book investigates life between hybrid cultures, political borders and the constructs of a nation as a kind of being-at-home. Acknowledging this view is one of the primary challenges facing post-colonial immigrant societies in the era of globalization. The scholarly analyses, discussions, portraits and short stories in this collection are all marked by this shift in perspective. Essential structures of identity and the idea of culture as a homogenizing force are called into question. Instead of viewing immigration exclusively as a problem to be overcome, the book's contributors shed light on its potential cosmopolitan benefits.
On this basis, the book not only analyzes the significance of the contemporary Asian diaspora, but also explores local and transnational connections between as well as linkages to other communities of People of Color in Germany. The complex constructions of identity in Diasporic communities reflect their differing historical experiences with immigration, gender-specific exploitation and racism.
As the diverse histories testify, diaspora can produce very different social, cultural, and political ramifications. What is experienced by those living in diaspora depends to a significant extent on the prevailing internal and external social contexts. Those contexts influence both the self-perception of the group living in the diaspora and its relationship to the various societies with which it interacts. In contrast to the traditional image of exile as an asylum for the persecuted, life in diaspora today is not exclusively, or even primarily, bound to the loss of home (or a sense of it), nor is it necessary to view it as the consequence of political or legal punishment.
It appears that the image of diasporic life is less focused on past ordeals and is increasingly pluralized, largely due to the evolving self-perception of subsequent generations. In contrast to their parents, the new generation of Vietnamese immigrants has not grown up with a feeling of cultural loss. They are more oriented towards life in the present moment, in the current social environment with all its transnational conflicts and opportunities. This shift should be understood not so much as a break with their personal history, but as part of the perspective of a new generation self-confident enough to imagine a wide-open future, full of any number of possibilities.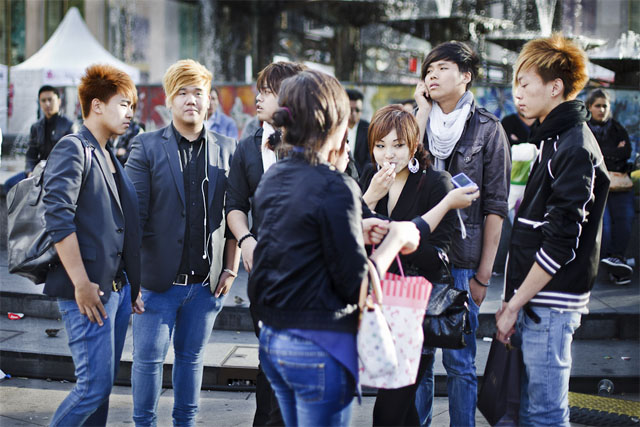 —
Kien Nghi Ha, Fellow of the Institute for Postcolonial and Transcultural Studies at the University of Bremen and an executive board member of the Asian German network korientation, holds a Ph.D. in Cultural Studies and a Diploma in Political Sciences. His research interests focus on postcolonial criticism, racism, migration and Asian Diasporic Studies. He has curated several programmes on the Vietnamese-German Diaspora at the Berlin Hebbel am Ufer-Theatre (2010), the House of World Cultures (Berlin) during the Asia-Pacific Week 2011, and for the German Federal Agency for Civic Education (2012). His lastest monograph "Unrein und vermischt. Postkoloniale Grenzgänge durch die Kulturgeschichte der Hybridität und der kolonialen »Rassenbastarde« (transcript 2010) was awarded with the Augsburger Science Prize for Intercultural Studies 2011. He is also author of other widely acknowledged books including "Ethnizität und Migration Reloaded" (Westfälisches Dampfboot 1999/WVB 2004) and "Hype um Hybridität" (transcript 2005). He is also editor of "Asiatische Deutsche. Vietnamesische Diaspora and Beyond" (Assoziation A, 2012) and "re/visionen. Postkoloniale Perspektiven von People of Color auf Rassismus, Kulturpolitik und Widerstand in Deutschland" (Unrast, 2007).
Kiên Hoàng Lê is a Berlin-based photojournalist whose origins are Vietnamese. His photographic work is focusing on documentary and journalistic photography. Kiên was born in Hanoi – Northern Vietnam – , grew up in Bogensee – East Germany – and has lived in the UK, India and Australia. Since 2009 he is a freelance photographer working in the field of editorial, corporate and nongovernmental; while also pursuing his studies in Photography at the University of Applied Sciences Hannover. Since April 2012, he is an intern with the German Newspaper Frankfurter Allgemeine Zeitung. The photographs are taken from the series "Foreign home–Vietnamese Life Berlin." More information at: http://hoangle.de/.
_______________________________________________________________
Dieser Beitrag, ins Englische übersetzt von Darell Wilkens, erschien zuerst im Jüdische Museum Berlin Journal. Nr. 7, 2012, S. 63-66. Siehe die Originalveröffentlichung für weitere Informationen und Quellenangaben. Die Gesamtausgabe des JMB-Magazins über "Vielfalt" ist hier einsehbar: http://issuu.com/jmb_journal/docs/jmb_journal_2012-2_issuu
Asiatische Deutsche – Diasporische Neuverortungen
Ungeachtet parallel laufender Kriminalisierungsdiskurse gelten "die Vietnamesen" in der mehrheitsdeutschen Wahrnehmung heutzutage zunehmend als gut integrierte Musterschülerinnen und Musterschüler, die laut der populistischen Doktrin Sarrazins im Gegensatz zu muslimischen "Problemgruppen" stehen. Während die dominanten Integrationsdebatten nationalkulturell geprägt sind und rassistische Plattitüden reproduzieren, vollzieht sich in der sozialen Realität ein fundamentaler gesellschaftlicher Wandel. Am Beispiel der vietnamesischen Migration, die gerade in Berlin stark präsent ist, lässt sich aufzeigen, dass das Leben in der Diaspora vielgestaltige Formen annimmt und einen Prozess darstellt, an dem die migrantischen Subjekte selbst aktiv beteiligt sind.
Einen Versuch, die Nation von ihren Rändern her neu zu denken und bisher vernachlässigte Fragen in den Fokus zu nehmen, stellt das Buch Asiatische Deutsche. Vietnamesische Diaspora and Beyond dar. Hierin wird das Leben zwischen hybriden Kulturen, politischen Grenzen und konstruierten Nationen als eine Form des Zuhause-Seins untersucht. Die Anerkennung dieser Konstellation stellt eine zentrale Zukunftsaufgabe postkolonialer Migrationsgesellschaften in der Ära der Globalisierung dar. Die wissenschaftlichen Analysen, Gespräche, Porträts und Kurzgeschichten der Publikation sind von diesem Perspektivwechsel durchzogen. So werden essentialistische Identitätskonstruktionen und ein homogenisierendes Kulturverständnis hinterfragt. Anstatt Migration lediglich als ein zu bewältigendes Problem zu begreifen, beleuchten die Beiträge ihre kosmopolitischen Potenziale. Vor diesem Hintergrund wird nicht nur die Bedeutung der zeitgenössischen asiatischen Diaspora analysiert, es werden auch vielfältige Verbindungen zu anderen People-of-Color-Gemeinschaften in Deutschland gezogen. Denn die komplex zusammengesetzten Identitäten in diasporischen Communities reflektieren unterschiedliche geschichtliche Erfahrungen mit Migration, genderspezifischer Ausbeutung und Rassismus.
Wie ihre vielfältigen Geschichten zeigen, kann Diaspora sehr unterschiedliche soziale, kulturelle und politische Dimensionen in sich tragen. Welche Erfahrungen die diasporische Existenz vermittelt, hängt von inner- und außergesellschaftlichen Kontexten ab, die zu einer bestimmten Zeit dominieren. Sie beeinflussen sowohl das Selbstbild der diasporischen Gruppe als auch ihr Verhältnis zu den unterschiedlichen Gesellschaften, mit denen sie im Austausch steht. Im Unterschied zum tradierten Bild des Exils als Rückzugsort der Verfolgten ist das diasporische Leben in der Gegenwart weder ausschließlich oder hauptsächlich mit dem Verlust von Heimat(gefühlen) verbunden, noch notwendigerweise als Konsequenz politischer oder rechtlicher Bestrafungen anzusehen. Es scheint, dass das Bild vom Leben in der Diaspora inzwischen weniger auf die Belastungen der Vergangenheit konzentriert ist und sich heute, auch durch das Selbstverständnis der nachfolgenden Generationen, zunehmend pluralisiert. Im Unterschied zu ihren Eltern sind die Jungen nicht so sehr mit einem Gefühl des kulturellen Verlustes aufgewachsen. Sie sind stärker auf das jetzige Leben im aktuellen gesellschaftlichen Umfeld mit seinen grenzüberschreitenden Optionen und Konflikten eingestellt. Diese Umorientierung ist weniger als Bruch mit der eigenen Biografie zu begreifen, sondern vielmehr als Teil der Perspektiven einer neuen Generation, die selbstbewusst genug ist, sich eine offene Zukunft vorzustellen, die vielfältige Möglichkeiten bereithält.
—
Kien Nghi Ha, promovierter Kultur- und Politikwissenschaftler, ist Fellow des Instituts für postkoloniale und transkulturelle Studien der Universität Bremen und Vorstandsmitglied des deutsch-asiatischen Kulturnetzwerks korientation. Er kuratierte mehrere Programme über asiatische Diasporen am Berliner Hebbel am Ufer Theater (2010), während der Asien-Pazifik-Wochen 2011 im Haus der Kulturen der Welt (Berlin) und für die Bundeszentrale für politische Bildung (2012). Seine Monografie "Unrein und vermischt. Postkoloniale Grenzgänge durch die Kulturgeschichte der Hybridität und der kolonialen 'Rassenbastarde'" (transcript, 2010) wurde mit dem Augsburger Wissenschaftspreis für Interkulturelle Studien 2011 ausgezeichnet. Weitere Buchveröffentlichungen u.a.: "Asiatische Deutsche. Vietnamesische Diaspora and Beyond" (Assoziation A, 2012), "re/visionen. Postkoloniale Perspektiven von People of Color auf Rassismus, Kulturpolitik und Widerstand in Deutschland" (Unrast, 2007), "Hype um Hybridität (transcript 2005) und "Ethnizität und Migration Reloaded" (Westfälisches Boot 1999/ WVB 2004).
Kiên Hoàng Lê ist ein Berliner Fotojournalist mit vietnamesischer Herkunft. Seine fotografischen Arbeiten konzentrieren sich auf die Bereiche Dokumentation und Reportagen. Kiên wurde in Hanoi im Norden Vietnams geboren, wuchs im ostdeutschen Bogensee auf und hat in Großbritannien, Indien und Australien gelebt. Seit 2009 arbeitet es als freischaffender Fotograf für Pressemedien, Unternehmen und NGOs, während er gleichzeitig an der Fachhochschule Hannover Fotografie studiert. Seit April 2012 ist er Volontär bei der Frankfurter Allgemeinen Zeitung. Die Fotografien stammen aus der Serie "Foreign home – Vietnamesisches Leben Berlin". http://hoangle.de/
_______________________________________________________________
Do you enjoy reading diaCRITICS? Then please consider subscribing!
Please take the time to rate this post (above) and share it (below). Ratings for top posts are listed on the sidebar. Sharing (on email, Facebook, etc.) helps spread the word about diaCRITICS. Join the conversation and leave a comment! What is your definition of diaspora? Is diaspora the term you would use to discuss Vietnamese immigrants overseas, Vietnamese American or German citizens?

_______________________________________________________________