June 2013 news and events updates relating to Vietnamese at home and in the diaspora.
It's time for our second subscriber drive. We're looking for 100 new subscribers for diaCRITICS, and we'll be giving away prizes to the 50th, 75th, and 100th new subscribers. Read more details.
---
Viet Kieu in the news
---
•
A Brown University study finds people with Vietnamese roots are segregated in neighborhoods throughout the U.S. [Photo: Susannah Kay]
---
•
A disproportionate number of the missing teenagers in the United Kingdom are Vietnamese. [Photo: Getty Images]
---
•
On the anniversary of Little Saigon's 25th Anniversary, the second generation of Vietnamese American assumes responsibility for the enclave's future. [Image: Census Bureau, ESRI]
---
•
Federal indictment charges have been brought against the bus company responsible for the 2008 Texas crash that killed 17 Vietnamese-American Catholics on their way to a religious gathering. [Photo: Tony Guterrez/AP]

---
•
A war memorial honoring the efforts of South Vietnamese and American soldiers will be built in the Arlington's Veterans Park, Arlington, Texas.
---
•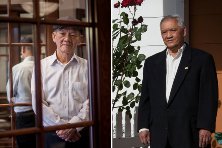 Thus continues the sad saga of a house divided against itself. [Photo: David Ryder]
---
•
Three trafficked children from Vietnam to the UK who were forced to work for criminal gangs have won appeal against criminal convictions.
---
•
A Vietnamese American is arrested at the TSN airport for attempting to smuggle heroin from Vietnam to Australia. [Photo: TSNIA]
---
• Assemblyman Travis Allen introduces a resolution to honor Little Saigon's 25th Anniversary.
---
News about Vietnam
---
•
Police attack on Hoa Hao Anniversary Gathering leads to protest by the groups' leader. [Photo: Hoa Hao]
---
•
Police in Vietnam arrested Pham Viet Dao, a prominent blogger and former government official, for running a blog that criticizes government leaders and policies and for discussing issues like the territorial dispute with China. [Photo: AP] [CPJ]
---
•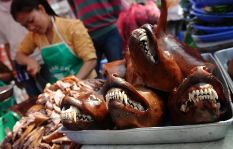 Southeast Asia's dog meat trade is fueled by demands from Hanoi. A CNN report shows disturbing images of what happens to the dogs.
---
•
Vietnamese authorities disposed toxic Chinese potatoes found in Da Lat. [Photo: Lam Vien]
---
•
A new law, known as Decision 20, puts foreign television broadcasters in a legally grey area. [Photo: AFP]
---
•
Human Rights Watch condemns the arrests of Vietnamese bloggers and urges Vietnam to release them.
---
•
Vietnamese baked banana was voted the most favorite dish at the Singapore's World Street Food Congress held May 2013.
---
•
Police will start using net guns to stop illegal street racers.
---
•
The Agency for Child Protection and Care reports that on average eight Vietnamese children die from accidents every day.
---
•
Jailed dissident Cu Huy Ha Vu ended his hunger strike after authorities agreed to examine his complaint about prison abuses.
---
• Meanwhile, another jailed Vietnamese activist, Tran Minh Nhat, began a hunger strike to protest prison abuses.
---
• Vietnam is among the thirty-eight countries that have beaten a U.N.-imposed deadline to cut in half the proportion of hungry people by 2015.
---
• The U.S. offers to work with Vietnam to combat emerging epidemics and to promote the transfer of technology to fight HIV/AIDS.
---
• Chinese President Xi advises Vietnam "should remember their traditional friendship." [He apparently doesn't think the Vietnamese people remember that traditional friendship has meant Chinese subjugation and oppression for the Vietnamese people. Don't forget that on March 14, 1988 the Chinese Navy massacred sixty-four Vietnamese sailors and since then have killed many defenseless Vietnamese fishermen. Furthermore, the deceptiveness of the Chinese against the Philippines in the "Scarborough Shoal" incident should be a warning of China's true intention with respect to Vietnam. Some political observers speculate that China will soon demonstrate its brand of friendship by sending thousands of "Chinese tourists" on its aircraft carrier to Vietnam.]
---
Other News
---
•
The film, "The Tale of An Phuc House," about victims of Agent Orange in HCMC won for Best Feature Documentary at the New York City International Film Festival.
---
•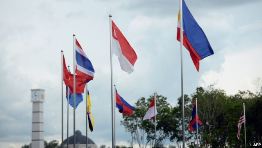 Foreign Ministers from the ASEAN and their dialogue partners will meet to discuss security and economic issues. [Photo: AFP]
---
•
A World Health Organization report reveals that one in three women worldwide have experienced physical or sexual violence.
---
• Vietnam may play a critical role in institutionalizing closer coordination among like-minded states against China.
---
Special thanks to Viet Thanh Nguyen for providing many of the news items.
Peace!
RP