Stateless received the Spotlight Award and was screened at the 6th Vietnamese International Film Festival 2013 in Orange County in April 2013. Its recent screening was at San Jose CAAMFest Film Festival on August 17. Here Anvi Hoàng reviews Stateless. Scroll down for the English version that follows the Vietnamese one.
Stateless là bộ phim thời sự đã được giải thưởng Spotlight và đã được chiếu tại Liên Hoan Phim Việt Nam Quốc Tế ViFF 2013 tại Quận Cam vào tháng 4 năm 2013. Vào ngày 17 tháng 8 vừa qua bộ phim này cũng đã được trình chiếu tại liên hoan phim San Jose CAAMFest Film Festival. Nếu có dịp xin mời quý vị tìm xem. Sau đây là bài bình luận của Anvi Hoàng. Bài viết bằng tiếng Anh sẽ theo sau bài tiếng Việt.
Have you subscribed to diaCRITICS yet? Subscribe and win prizes! Read more details.
Tóm tắt chuyện 
Vào năm 2005, một tia hy vọng sáng lên khi các viên chức của sở di trú Mỹ đên Manila để xem xét lại trường hợp của một nhóm người Việt tị nạn bị lãng quên hơn 17 năm mà vẫn chờ đợi cơ hội để tái định cư. Những người tị nạn này đã sống ở Phi không có quyền pháp lý, quyền sở hữu cũng như quyền làm việc. Trong khi hồi hộp chờ ngày phán xét của sở di trú Mỹ, những người tị nạn Việt Nam chưa có cơ hội định cư ở nước Thứ Ba vẫn nuôi hy vọng mong manh và ước mơ tìm được một ngôi nhà thường trú. (Tóm tắt từ Thông Cáo Báo Chí chính thức của phim Stateless.)
Bình
Đã biết trước về chuyện những thuyền nhân Việt Nam và chuyện người Việt tha hương, tôi đã có sẵn những định kiến về cuốn phim tài liệu này chỉ dựa vào cái tựa của nó, Stateless. Tôi nghĩ trong đầu, "Ôi trời, lại thêm một câu chuyện về chiến tranh bi thảm đây." Rồi tôi tiếp tục việc phê bình chỉ trích trong đầu mình về những nhân vật mà tôi tưởng tượng sẽ xuất hiện trong phim. Cuộc chiến tranh đã kết thúc gần 40 năm, tôi lại không có ký ức gì về nó, cho nên tôi "kỵ" mấy chuyện về chiến tranh do người ngoài nước viết và làm lắm. Tuy nhiên, cái thói 'chủ nghĩa tụ do' (liberalism) tôi học được ở Mỹ lại làm dấy lên trong tôi một suy nghĩ khác: tôi muốn xem người ta vẽ những nhân vật thuyền nhân Việt Nam khổ sở, là nạn nhân của chiến tranh, và đang sống trong những căn nhà lụp xụp xiêu vẹo, chờ đợi thảm kịch xảy ra. Nhưng mà tôi đã nhầm to.
Stateless là câu chuyện cảm động về hơn 2.000 người tị nạn Việt Nam bị kẹt ở Phi vào những năm 1980. Nguyễn Đức gọi họ là 'những người không quê hương' (stateless people) cũng đúng. Họ không được cho tái định cư ở phương Tây, họ bị thế giới quên lãng, họ không có một nơi gọi là quê hương, họ không có quyền công dân, và họ sống lang bạc như thế hơn 17 năm nay.
Qua những lời tâm sự ngắn dài của các nhân vật người tị nạn khác nhau như Nguyễn Phúc Trọng, Nguyễn Tấn Thành, Phan Đức Toàn, Bạch Thị Nết, người ta như nhập mình vào cuốn phim bởi vì cảm thấy như mình cũng bị bạt vào đời sống tình cảm bấp bênh dễ vỡ của những người tị nạn này. Họ cày cục hàng ngày vì miếng cơm manh áo. Họ nuôi hy vọng và tiếp tục nuôi hy vọng. Họ chịu đựng cực khổ và sỉ nhục. Họ mất ngủ trước ngày phỏng vấn. Họ bật khóc khi biết tin về việc phỏng vấn.
Những con số trong phim làm tôi banh mắt theo dõi một cách căng thẳng. Bắt đầu là hơn 2.500 người. Rồi 600 người được Úc và Mỹ chấp nhận cho tái định cư. Còn lại cả 1.900 ca để theo dõi. Sự hồi hộp càng lúc càng lên cao, và nước mắt lại tuôn trào. Bằng cách này hay cách khác, những người Việt tha hương ở Mỹ sẽ cảm nhận được nỗi đau của chị Nết khi chị bảo rằng: "không có nỗi đau khổ nào bằng cái khổ của người tị nạn. Họ mất hết quyền lợi, mất cả quê hương của họ. Không có gì bằng tình thương của quê hương mình, đồng bào mình, anh chị em mình. Sống ở nước ngoài mình cảm thấy lạc loài lắm."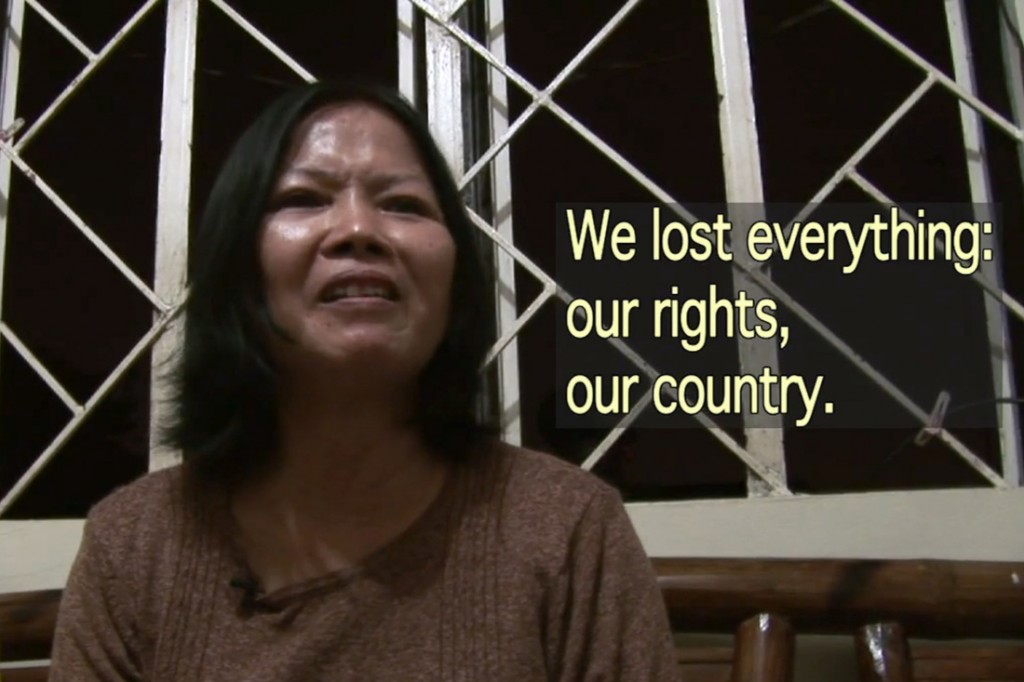 Đầu tôi căng ra. Tôi la lên trong đầu: "Cho tôi biết con số ngay lập tức. Tôi muốn biết kết thúc câu chuyện ra sao." Nhưng đạo diễn Nguyễn Đức từ chối. Ông giữ sự hồi hộp đến phút cuối cùng. Tôi chỉ thở dài nhẹ nhõm vào những phút cuối phim. Giống như cú sốc văn hóa, Nguyễn Đức đã tạo ra cú sốc kết cục. Đã nghe nhiều về chuyện người tị nạn Việt Nam, không thể đoán ra một kết thúc thế này: vào năm 2005, chính phủ Mỹ cho phép 1.556 người tị nạn Việt Nam từ Phi tái định cư ở Mỹ. Và con số 161 người còn lại được đến Canada định cư vào năm 2007. Một kết thúc hạnh phúc vô cùng, ngoài sự mong đợi của khán giả. Thế là mọi vấn đề đã được giải quyết và các case được đóng lại, như đóng một vết thương về chuyện thuyền nhân Việt Nam lưu lạc sau chiến tranh, như lời luật sư Trịnh Hội nói.
Trong phim Stateless, một nhân vật mà cũng đầy sức truyền cảm như câu chuyện thuyền nhân tại Phi chính là luật sư Trịnh Hội. Anh bắt đầu làm việc tại Manila vào năm 1997 và chỉ dự định ở một thời gian ngắn. Thế mà kế hoạch ở 3 tháng của anh kéo thành 8 năm. Nhắc đến anh sau cùng là vì vai trò của anh cũng lớn gần bằng cả bộ phim thời sự, đến mức tôi thấy anh xuất hiện như một nhân vật 'vĩ đại'. Chán ngán công việc của một luật sư tập đoàn, Trịnh Hội đã tìm đến Manila. Cảm động trước tình cảnh của những người tị nạn Việt Nam không quê hương, anh đã đấu tranh và vận động không mệt mỏi cho họ ở khắp nơi: Úc, Anh, Na Uy, Canada, Mỹ. Người xem có cảm giác như anh một mình làm nên mọi chuyện, bởi vì nếu không có sự nỗ lực của anh, câu chuyện thuyền nhân này sẽ còn dài lượt thượt không biết đến khi nào kết thúc. Sau những vụ việc pháp lý ở Manila, Trịnh Hội và tổ chức của anh tiếp tục tranh đấu cho những người không quê hương không nơi định cư đang tha hương ở Thái Lan và Campuchia.
Để kết luận, phải nói tôi đánh giá cao, và vui mừng thấy đạo diễn Nguyễn Đức đã vẽ lên bức tranh của những người Việt Nam tị nạn rất tích cực. Họ là những con người đau khổ và tuyệt vọng, nhưng vô cùng mạnh mẽ và tháo vác như hầu hết những người Việt Nam mình. Lâu lắm rồi không cảm thấy được "lên tinh thần" như thế, đặc biệt là sau khi xem những phim tài liệu liên quan đến Việt Nam hoặc chiến tranh Việt Nam. Phải cám ơn Stateless vậy.
–
Nguyễn Đức đã làm việc trong lĩnh vực phim tài liệu và truyền hình trong hơn 15 năm qua. Bộ phim tài liệu đầu tiên của ông mang tựa Bolinao 52 đã giành 2 giải thưởng Emmy 2009 Vùng Nam California cho Phim Tài Liệu Xuất Sắc và Nhạc Phim hay. Năm 2003, ông làm trợ lý ra1p phim (assistant editor) cho loạt phim tài liệu "The New Americans" (Những công dân Mỹ mới) và "My Journey Home" (Hành trình về quê), là loạt phim tài liệu nhiều kỳ của đài PBS. Hiện ông là Tổng Quản Lý (General Manager) cho Đài VNCR ở Little Sài Gòn.
Anvi Hoàng viết thuần thục cả tiếng Anh và tiếng Việt. Có bằng thạc sĩ ngành Lịch sử, Nghiên cứu về Hoa Kỳ, Sức khỏe cộng đồng. Viết để tung hô người Việt khắp nơi. Anvi thích khám phá thế giới 'chân trong chân ngoài' mà cô đang sống, và thích nước. Cô sống ở thành phố Bloomington, thuộc tiểu bang Indiana.

 Review of Stateless by Duc Nguyen
Synopsis 
In 2005, a spark of hope is re-ignited when U.S. immigration officials return to Manila to review the cases of a forgotten group of Vietnamese refugees who spent over 17 years in the Philippines waiting in limbo. They have been living in the Philippines without any legal status, employment or civil rights.  While nervously waiting for judgment day, the STATELESS Vietnamese refugees hang on a thread of hope to find a permanent home. (From official Stateless Press Release.)
Having prior knowledge of Vietnamese boat people and the diaspora, I rooted my own assumptions about what this documentary was about, based simply on the thought of its title, Stateless. On the back of my mind, I went "Oh no, not another one!" Then I ignited my own criticism about the characters I thought I would see in the documentary! The so-called Vietnam War ended forty years ago, and myself not being a war child, I resisted wartime tales from outside Việt Nam in earnest. At the same time, the 'liberalism' in me wanted to see Vietnamese boat people portrayed as victims of war living in bleak and desolate houses, and expected a tragedy of some sort for them at the end. But I was mostly wrong about it.
Stateless is a very moving story about more than 2,000 Vietnamese refugees stranded in the Philippines in the 1980s. Duc Nguyen calls them stateless people, for a good reason. Denied resettlement to the West, forgotten by the world, without a place to call home, and without basic citizen rights, these refugees have lived in limbo for over 17 years. Through thick and thin narratives of various refugees such as Trọng Nguyễn, Thành Nguyễn, Toàn Phan, Nết Bạch, we seem to become a part of the documentary itself when we, in turn, are stranded in a deluge of their own very fragile emotional lives. They painfully scraped out their temporary everyday life. They hoped and hoped. They endured the hardships and insults. They lost their sleep before the interviews. They broke into tears on hearing the results.
I found myself following the numbers intensely. You start with over 2,500 refugees. Then 600 were accepted to be resettled in Australia and America. 1,900 to go. The suspense is building up, and more tears on the way, as we, diasporic Vietnamese in America, in one way or another, feel the pain of Nết's when she said, "There is no pain greater than being a refugee. We lost everything: our rights, our homeland. There is no greater love than love of one's country, of our people, and love of our brothers and sisters. When we live in a foreign country, sometimes it feels so lonely."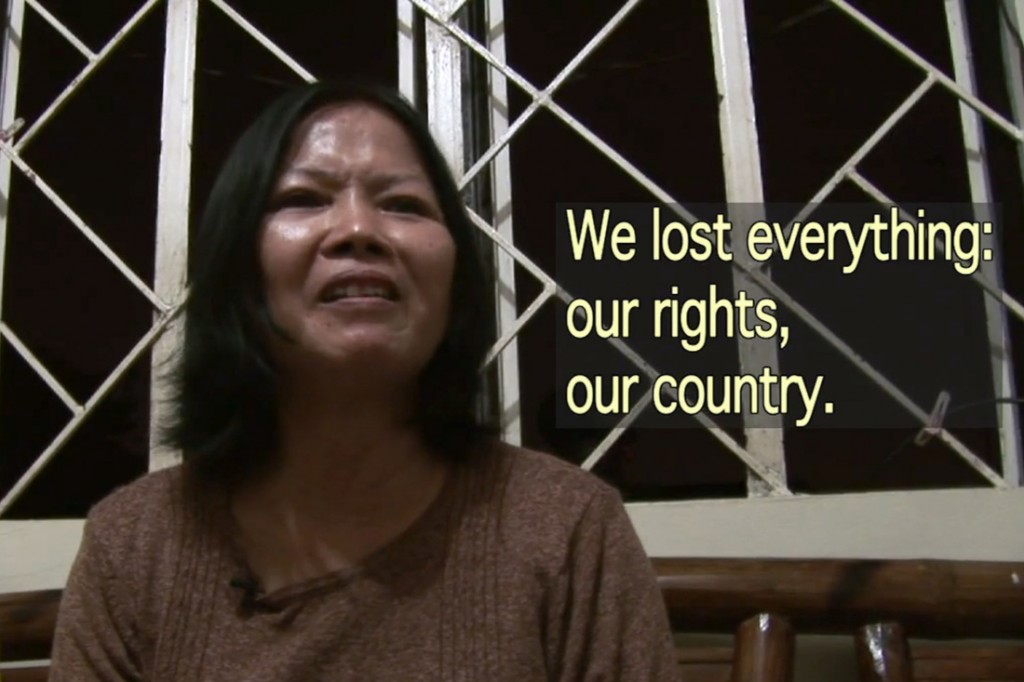 I was going in my head, "Seriously! Give me the dang numbers! I want to know the conclusion right now." Duc Nguyen refused. He kept the suspense to the very end. And I could only sigh in relief at the last minutes of the film, after seeing the numbers. Just as we have Culture Shock!, here Duc Nguyen gives us an Ending shock! There was no way I could have guessed. And, grumpy 'liberalists' be warned: Don't get disappointed, because there is a very very happy ending to this documentary: (a few numbers were lost on the way, but) In 2005, the US government allowed 1556 stateless Vietnamese to resettle in America. The remaining 161 people arrived in Canada in 2007. Cases solved and closed, there is a great closure for the Vietnamese boat people situation borne out of the controversial war, as the lawyer character, Trinh Hoi, mentioned.
As inspirational as the story itself is the character Trinh Hoi, the Legal Advocate. Trinh started working in the Manila office in 1997 and only intended to stay for a short time. His three-month working spree turned into eight years. Saving him for last because for me he is as big a part of the documentary itself to the point he appears almost as a bigger-than-life person. Bored with his corporate job in Sydney, Trinh came to Manila. He was tirelessly on the move in Australia, England, Norway, Canada, the US lobbying and advocating for the stateless people. One may have a feeling that he single-handedly made it, for without his efforts, the refugee tale may have a long long trail without an end. After the Manila cases, Trinh and his organization continue to fight for the stateless unsettled people in Thailand and Cambodia.
In conclusion, I greatly appreciate the positive portrayal of the stateless immigrants. They were miserable, desperate but extremely strong and resourceful as most Vietnamese I know. I have never felt so uplifted with this contagious spirit from a Việt Nam (war)-related documentary.
–
Duc Nguyen has worked in documentary film and television for over 15 years. His first feature, Bolinao 52, won Northern California Emmy Awards in 2009 for Outstanding Documentary and Music Composition. In 2003, Nguyen served as assistant editor for "The New Americans" and "My Journey Home," multi-part series for PBS. He is General Manager for Radio VNCR in Little Saigon.
Anvi Hoàng writes in both English and Vietnamese. She received her master's degrees in American Studies, History, Health Promotion. What brings her happiness is freelancing. She makes it one aim to celebrate Vietnamese people everywhere in her writing. Anvi enjoys exploring the in-between worlds she is in, and loves water. She lives in Bloomington, IN.
____________________________________________________________
Please take the time to rate this post (above) and share it (below). Ratings for top posts are listed on the sidebar. Sharing (on email, Facebook, etc.) helps spread the word about diaCRITICS. Join the conversation and leave a comment!
Did you see Stateless? What did you think of Nguyen's portrayal of the stateless refugees?
Do you enjoy reading diaCRITICS? Then please consider subscribing!
____________________________________________________________