What happened in February 2014: news and events relating to Vietnamese at home and in the diaspora.
It's time for our second subscriber drive. We're looking for 100 new subscribers for diaCRITICS, and we'll be giving away prizes to the 25th, 50th, 75th, and 100th new subscribers. Read more details.
---
Events
---
• March 2: Au Co Vietnamese Cultural Center's "Vietnamese Arts & History 2" event features a variety of performances and demonstrations, including Vanessa Van-Anh Vo.
---
Viet Kieu in the news
---
• Members of the LGBT community marched in the Tet parade in Little Saigon.
---
• In Texas, the Queen Of Vietnam Shrine is vandalized.
---
• Vietnamese-American author, Bich Minh Nguyen, talks about her book, "Pioneer Girl."
---
• See the trailer for Ham Tran's horror film, 'Hollow'.
---

News about Vietnam
---
• The first McDonald's in Vietnam opens in Ho Chi Minh City, introducing the populace to Chicken McNuggets and other McFat foods. [Economist][ TNN][BBC][CNN]
---
• Vietnam bans import of Chinese poultry due to the new and virulent H7N9 bird flu strain in China.
---
• Vietnam aims to attract eco-friendly foreign direct investment (FDI) projects
---
• Vietnam issues a directive to crack down on the illegal trafficking of dogs for human consumption.
---
• The Vietnamese government uses new tactic to prevent demonstrations by anti-China protesters. [VOA]
---
• Hanoi hospitals deny medical treatment to an ailing Hmong Christian leader.
---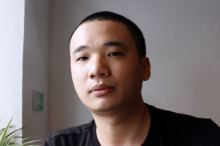 • The "Flappy Bird" game is very encouraging for the future of the games industry in Vietnam.
---
Special thanks to Viet Thanh Nguyen for providing many of the news items.
Peace!
RP