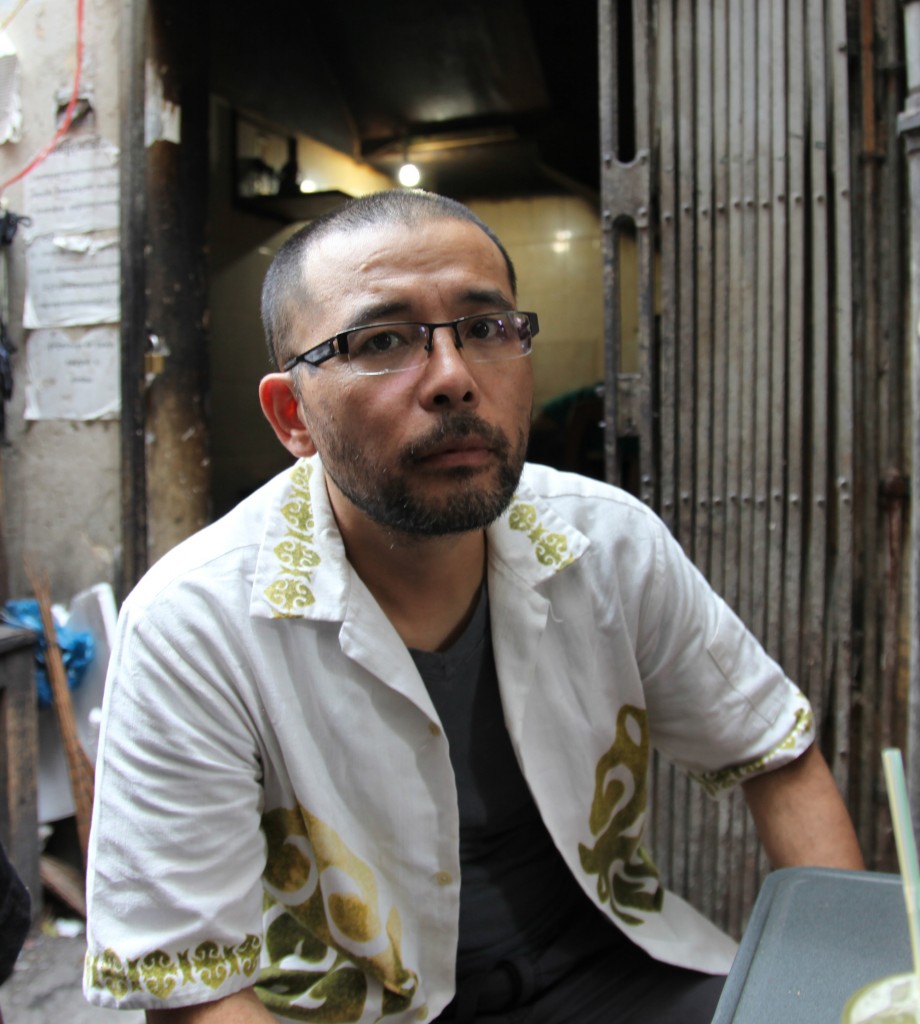 The Diasporic Vietnamese Artists Network and the Asian Pacific Islander Cultural Center are proud to present the Fourth San Francisco Diaporic Vietnamese Literary Festival on Saturday, April 19, 2014 at the African American Art and Culture Complex (762 Fulton St, SF.)
In the approaching weeks, we will highlight our writers and artists with a Q&A and a tantalizing taste of their work. We hope you will enjoy getting to know our fabulous roster of writers and artists, and join us in celebrating their work in April!
Have you subscribed to diaCRITICS yet? Subscribe and win prizes! Read more details.

Our last Spotlight features our special guest, filmmaker Masahiro Sugano. Born in Osaka, Japan, Mr. Masahiro Sugano, a Sundance Film Festival alumni, is an award winning filmmaker whose accolades stretch from a Student Academy Award nomination in 1997 to his most recent award as the 2013 grant recipient for Center for Asian American Media¹s Innovation Fund for his experimental web series titled ³Verses in Exile.² After an international run at film festivals in Pusan, Singapore and Buenos Aires, Mr. Sugano¹s first feature length film ART OF LOVE was distributed on DVD. He earned a B.A. in philosophy from California State University (Northridge) and an M.F.A. in film/video/animation from the University of Illiniois (Chicago). His recent short film ³Why I Write (2011)² won the Best Poem Performance on Film award at the 2012 Berlin Zebra Poetry Festival and the Best Director award at the LA Asians on Film Festival 2013. Through the media lab Studio Revolt, Mr. Sugano has created short films featuring Khmer Exiled Americans on the issue of deportation. In 2011, the studio¹s viral hit ³My Asian Americana² was a finalist in a White House video contest. He currently resides in Phnom Penh Cambodia where he has completed his second feature length film project, Cambodian Son.
Q&A
1. How important is community and location to your identity as a filmmaker and your filmmaking process?
It is impossible for a filmmaker, an independent filmmaker, to conceive a film without drawing inspiration from his/her immediate surroundings. In that sense, by the fact of being a filmmaker, the community and location necessarily take a central place in his/her imagination. But if the question pertains to my own sense of identity as an individual, well… that gets a little complicated.
If I were forced to label myself, I would say I am a permanent resident of the peripheral; I am a career outsider who looks in to find stories that I want to tell.
I was born and raised in Japan. I came to the U.S. alone and eagerly to attend college at the age of eighteen. No social turmoil pushed me into the U.S. My parents afforded the foreign student tuition in full in California. It was Japan's economic height, circa early 90s. I wanted to and made efforts to come to the U.S.
The core of my identity is not just being a Japanese, I take a great pride in being from the city of Osaka where people talk straight with commanding accent and bargain on every purchase. It has been almost quarter a century since. I have not secured the U.S. citizenship due to my sentimental attachment to the homeland. I currently reside in Cambodia, where my wife was born and lived her first 5 years prior to taking an asylum in the U.S. We have lived there for over three years now.
After leaving Japan, I was always a well-accepted outsider. At this point in my life, and I am 42 years old now, I must say I have acquired this outsider status even in my homeland. So there is no way out for me. I am a permanent resident of the peripheral, a career outsider. I do not think I planned to earn this label but I have grown quite comfortable with it. I have come to learn that the peripheral is also where you find the most interesting, messed-up, funny, ambitious and often intelligent people, and quite a few of them have amazing stories to tell, drunk or sober. I thrive by listening to them and learn by observing them.
While being the father is the core of my personal identity now, this family of mine is also rather difficult to categorize clearly. Our first daughter was born in Chicago, our second in Bangkok, Thailand and our third will be born in Phnom Penh, Cambodia in about a month. My wife is a Cambodian Muslim with whom I had premarital sex. I was blessed with the Muslim shotgun wedding organized by her wonderful parents, who survived the Khmer Rouge genocide and somehow became the most generous and nonjudgemental people I ever met. I proudly asserted a few sacred lines in Arabic as if it was my own dialect during the ceremony, of which I cannot recollect in full anymore. This Muslim wedding was only the first of three weddings we had so far. The second was with Elvis in Las Vegas and the third with my Japanese family at a Shinto shrine in Hawaii. All our daughters have dual citizenship, and they all have to become fully competent in English, Japanese and Khmer. I make no exception of that. We plan on coming back to the states in the near future. But if anything we learned by living in Cambodia for the last three and half years is that we could live anywhere and be productive and be a strong family. There are wonderful and interesting people everywhere, especially in the peripheral.
This transient sense of communal identity accentuated two things; I could only be from Osaka in essence, and that I am merely a human being who tries to fully engage in the community where I find myself at a given period in time.
Ever since I left Japan, I have lived by the generosity and curiosity of those who welcomed me and allowed me a space in their community and a seat at their dining table. All those with whom I shared the meals make up my community, and I assure you this community has been quite diverse and far ranging on geography, culture, politics, religion, race, education, economic status and criminal record. If Osaka is my home address, I could only quote humanity as my second address. And this second address is the main theme of all my films.
2. Which 3 films have you seen more than 3 times?
– Mad Max 2 (Dir. George Miller, 1981, a.k.a. Road Warriors)
– La Femme Nikita (Dir. Luc Besson,1990)
– Godfather (Dir. Francis Ford Coppola, 1972)
3. Who would you be if you had not become a filmmaker?
An architect or a furniture maker. Have always wanted to become a brick layer or a mason.
4. Do you have any advice for aspiring filmmakers?
Technical means for professional-level filmmaking has become widely and cheaply available beyond anybody's imagination from the 90s. The significance of learning the art of story telling has never been more urgent and pronounced. Study still photography, read novels, write poems and paint with oil to become a good filmmaker.
<iframe width="560″ height="315″ src="//www.youtube.com/embed/45rDseYkEfs" frameborder="0″ allowfullscreen></iframe>
~
Additional Links
www.studio-revolt.com <http://www.studio-revolt.com/>
Studio Revolt on fb:
https://www.facebook.com/pages/Studio-Revolt/179883008744599
twitter: https://twitter.com/StudioRevolt
Link to video: https://www.youtube.com/watch?v=45rDseYkEfs#t=29
Do you enjoy reading diaCRITICS? Then please consider subscribing! See the options to the right, via feedburner, email, and networked blogs.
Please take the time to rate this post (above) and share it (below). Ratings for top posts are listed on the sidebar. Sharing (on email, Facebook, etc.) helps spread the word about diaCRITICS. And join the conversation and leave a comment! ? Have you seen Masahiro Sugano's film Cambodian Son? If so, tell us what you think!