What happened in June 2014: news and events relating to Vietnamese at home and in the diaspora.
It's time for our second subscriber drive. We're looking for 100 new subscribers for diaCRITICS, and we'll be giving away prizes to the 25th, 50th, 75th, and 100th new subscribers. Read more details.
---
Viet Kieu in the news
---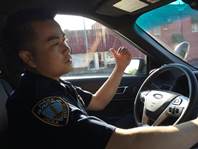 •Police officer Tu Tran speaks Vietnamese "so they trust" him.
---
•With only an "invisible suitcase filled with dreams," former refugee Hieu Van Le will be the next governor of South Australia.
---
• Recently ordained, Father Hua heads for mission work in Africa.
---
• Thu Hoang sets himself on fire to protest China's occupational forces on Vietnam's territory.
---
• Vietnamese Americans and others are drawn to Vietnam because of "more jobs, cheap living and a once-in-a-lifetime adventure overseas."
---
• An orphan from Operation Babylift locates his paternal father.
---
• Dustin Nguyen has a cameo role in the movie, 22 Jump Street.
---

News about Vietnam
---
•Vietnamese-made comic books face a tough challenge in a field dominated by Japanese manga.
---
• The EU countries "should speak with a clearer and louder voice" by stating that the Chinese actions are dangerous for regional peace and security.
---
•China's Xi Jinping: "There is no gene for invasion in Chinese people's blood." Translation of doublespeak: "China don't invade other countries; we just like to ignore international laws, ram defenseless fishermen's boats, move oil rigs into Vietnamese territorial waters, takeover other countries' islands, construct our buildings on them, and populate their islands with Chinese military "tourists."[VNB][B]
---
•Economists urge Vietnam to reduce its trading dependence on China, the sooner the better.
---
Other News
---
•Vietnamese trainees start nurse program in Japan.
---
• Vietnam continues its fight for national independence against China.
---
• An associate professor of political economy discusses the conflict between Vietnam and China.
---
• Enjoy your tofu, but also know about the different types.
---
Special thanks to Viet Thanh Nguyen for providing many of the news items.