What happened in January 2015: socio-cultural, literary, and political news and events relating to Viet nam and to the Vietnamese diaspora.
Have you subscribed to diaCRITICS yet? Subscribe and win prizes! Read more details.
---
Viet Kieu in the news
---
• The overseas Vietnamese community in London have been gathering every Saturday to practice Vietnamese and learn about Vietnamese culture.
---
• Jury awards $4.5M to Nguoi Viet Daily News in slander lawsuit.
---
• Domestic disputes lead to mass murder in Edmonton.
---
• NBC reporter Cung Kim, a Vietnamese American, is crowned Miss Nebraska and will go on to compete in the Miss USA pageant.
---
• Asian-American woman vandalizes statues of Buddha at the Huong Tich Temple.
---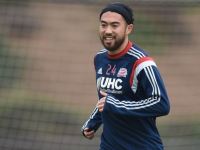 • New England Revolution's Lee Nguyen is bing courted by Hanoi T & T of the V-League.
---

---
News about Viet Nam
---
• Newly appointed Archbishop Pierre Nguyen Van Nhon says there is still much to be done for the estimated 6 million Catholics in Vietnam. [VOA]
---
• The Victoria and Albert Museum in the U.K. showcases Nguyen Ha Dong's popular mobile game 'Flappy Bird' as "an influential innovation."
---
• Vietnam will begin work on a museum to house artifacts and documents pertaining to the Hoang Sa (Paracel) Islands.
---
• Being the world's second-largest rice exporter in the world in 2014, Vietnam is in urgent need to develop a national rice brand.
---
• Vietnamese women do well in male-dominated crafts.
---
• Chinese coast guard ships attacked and pillaged several Vietnamese fishing boats that were operating around the Hoang Sa (Paracel) islands.
---
Other News
---
• A woman who had been scamming the Memphis Vietnamese community is wanted by the police.
---
• Judith Beals, a former Massachusetts assistant attorney general, says violent racist Mark Wahlberg "should not be pardoned because he did not acknowledge the racial nature of his crimes." Compilation of Walhberg's crimes
---
Special thanks to Viet Thanh Nguyen for providing many of the news items.
Peace!
RP