Film critic Thuy Linh reviews the classics of Vietnamese cinema.
There seems to be a sense among contemporary Vietnamese filmmakers that writers and literary works, especially the classics, are necessarily superior to filmmakers and cinematic adaptations. This lack of confidence is often based on a common, perhaps undue respect to the canon, tradition, what comes earlier – in this case, literature as an older art form than cinema.
Prominent Vietnamese film director Việt Linh's 2002 film adaptation of the classic short novel Chùa Đàn,by writer Nguyễn Tuân, elevates cinema to a higher level. The film version, Mê Thảo, thời vang bóng (Mê Thảo, Once Upon a Time) is an excellent, intelligent adaptation. It has many qualities. The characters' musical performances do justice to Nguyễn Tuân' superb verbal description of music. The camerawork that captures the beauty of grand natural vistas is capable and not indulgent. The sets look authentic and historically accurate. But the movie's greatest merit lies in its creative script – written by Phạm Thùy Nhân, Việt Linh, and Serge Le Peron – and the addition of a rich female perspective it provides to Nguyễn Tuân's work.
Nguyễn Tuân wrote the original Chùa Đàn in 1945 during a short transitional period in his career; after he turned from the essay to ghost stories, and before his writing became politically influenced. It was the last in a series of ghost stories and is considered to be one of his very best works. After the August Revolution against the French he added a politically oriented introduction and ending to frame the original story. Việt Linh's movie adapted the original, shorter, version.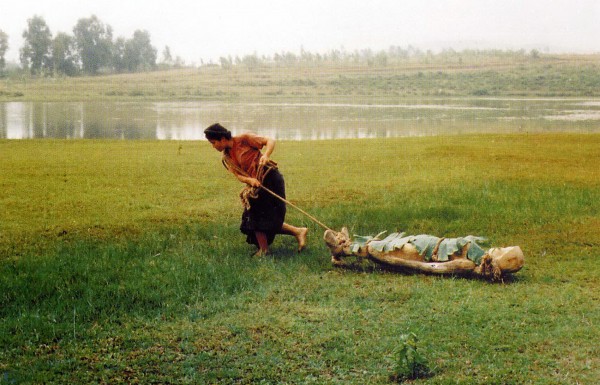 The Original Story
The original Chùa Đàn tells the story of Lãnh Út, a landlord who rules over Mê Thảo, a silkworm plantation, in French-ruled Vietnam. After his young wife is killed in a train accident, Lãnh Út is devastated and turns against machinery, ridding his land of all mechanical, manufactured products, in effect destroying his farming business and causing resentment among his tenants. He starts drinking heavily and commits terrible acts under the influence, including raping a woman. When finally Lãnh Út stops drinking, crying and listening to hát ả đào (traditional chamber music from northern Vietnam featuring female singers), he does nothing for an entire year except sitting still staring at his wife's portrait, until his shadow becomes marked on the wall. One day, wanting to drink and hear music again he asks his loyal butler, Bá Nhỡ, to find Cô Tơ, a famed singer to perform for him.
Bá Nhỡ finds the singer, who has retired to her home village after her husband and musical partner died. But out of loyalty to her husband she has sworn an oath never to perform with another man again – unless that man dares to play his đàn đáy (a Vietnamese three-string plucked lute), a ghostly, scary thing that sweats and sighs at night. And it is truly dangerous. An avid music lover once dared to play it and ended up being almost burned alive. Bá Nhỡ, a gifted musician, owes his life to his master. He was once sentenced to death for conspiracy in a murder and Lãnh Út made him fake identity papers and gave him refuge at Mê Thảo. Bá Nhỡ accepts the challenge, risking his life for the ultimate performance to re-ignite his master's interest in life.
Bá Nhỡ plays, dying from the performance. His soul changes places with Cô Tơ's dead husband's and the husband is re-incarnated. Bá Nhỡ's death was not in vain, it awakens Lãnh Út, who regrets his selfish indulgence and swears never to listen to music (hát ả đào) or touch liquor again. Lãnh Út later builds Chùa Đàn (the title of the story, meaning Lute Pagoda) to honor Bá Nhỡ and the power of music.
Nguyễn Tuân's story is a nuanced tribute to art, and what it represents – the ideal. The characters are all masters, and lovers, of art. The story's climax is a supernatural show of musical virtuosity so perfect and powerful that it takes away the life of a man, enables another to be re-incarnated, and restores life in yet another. But this artistic, idealistic world is given another perspective. Lãnh Út's tenants are angry with their landlord's high-handed lifestyle, the burden of which they have to bear. The story itself is wrapped in a ghostly – not godly – atmosphere in which art and the ideal aren't necessarily seen in a heavenly light.
The Film Adaptation
Việt Linh's film takes this artistic, idealistic world down a peg. It adds a new central female character, Cam. Cam is an altogether unexceptional servant – plain and mute – who was abandoned at birth and brought up by the landlord's parents. And she is deeply in love with the character of Lãnh Út, who in the film is instead called Master Nguyễn (a reference to Nguyễn Tuân himself). With Cam, the film paints a more earthy, realistic portrait of a female lover to counterpart Nguyễn's fiancé (not wife, another change I will address later), a beautiful, artistic lady whose beauty is only hinted at, but never shown. Cam tries to make Master Nguyễn appreciate what is right in front of him, rather than longing for an impossible ideal.
Remaining true to the original, Nguyễn never once lowers his glance to this possible option of a lover. But here, the film has another thrust at his idea of Woman and love.
To allow for more modern sensibilities the film leaves out the rape, freeing the character of the landlord character from such an unforgiveable crime, finding a different way to explain his state of mind. Instead of having him commit rape, or stare at his wife's portrait until his shadow is stuck on the wall, the movie softens the first detail, hardens the second, and weaves them into a new, apt idea. Nguyễn carves out a wooden statue of his fiancé and makes love to it. Nguyễn's sexual acts with the wooden statue are physically and mentally frustrating and exhausting. The camera is bold yet still suggestive, showing only Nguyễn's naked, sweaty upper body and the statue's breasts during the sex. To Cam, who witnesses it all, Nguyễn's sexual acts are futile, self-destructive and unnatural. They are extremely hurtful because he would rather make love with a statue than with her, a woman in the flesh who yearns to be touched by him.
In her effort to awaken her master, and also her most forceful act of protest against his obsessive mourning, Cam dumps the wooden statue into the river. To retaliate, Nguyễn dumps Cam into the river, alive. She is saved in time, her love for Nguyễn undented, she loves him absolutely without conditions. The scriptwriters were sharp when making Cam mute, plain and low-class. Cam doesn't have the ability, or the right, to get Nguyễn's attention. Cam's love thus takes on a passionate height that equals Nguyễn's love for his dead fiancé.
The violent tug-of-war between Cam and Nguyễn by the river is telling. It symbolises the struggle between the story's and the film's idea of Woman, and ultimately, Việt Linh as a female and Nguyễn Tuân as a male artist. Nguyễn Tuân is known for his love of the extreme in his writings. Việt Linh is clearly up to the task of capturing his extremity. In fact, in this particular incident, it is Việt Linh's female character who pushes Nguyễn Tuân's 'hero' to the extreme. The film is like Cam herself. It is slow and low-keyed, and yet, at the same time, fully charged with passionate feelings and forceful actions.
The landlord's mourning is also portrayed differently. In the original, Lãnh Út in losing his wife has lost a companion with whom he has been intimate. The relationship has been real and the loss is thus great. In Việt Linh's adaptation Master Nguyễn loses a fiancé, rather than a wife. In the time when the story is set, a man would not have known a fiancé that well. His mourning is portrayed as unreasonable, an unconsummated relationship contrasted with the reality of Cam's love. Nguyễn's obsession is shown as childish, stubborn and stupid, because he sacrifices Cam – a real person – for a desiccated, impossible ideal.
The back story of Bá Nhỡ, the butler, is again different. Bá Nhỡ's complete devotion to his master is shifted instead to a lover, the character of Cô Tơ herself. The butler, in the film called Lê Tam, and Cô Tơ are lovers, she had to marry another man out of duty to her parents. The murder sentence that Nguyễn Tuân's Bá Nhỡ is charged with is ascribed nobler motivations in the film, Lê Tam kills a drunken man who insults Cô Tơ. When Lê Tam decides to sacrifice his life in the ultimate performance, he does so partly because he will, once again, be able to perform with his long-separated lover. By giving the butler this passionate back story, the film gives Cô Tơ, or Woman, still a little more room in Nguyễn Tuân's feast of male love for the masculine and for music.
And under the film's female gaze, there is no easy solution to Master Nguyễn's problem. Art doesn't really work. In the original, the ultimate musical performance works its magic. Lãnh Út learns his lesson and lives on. In the added introduction, he even finds a new passion in revolutionary causes. In the film there is less of a neat and happy ending. The musical performance and his butler's death only make him regret his mistakes. They can't save his life. In the final scenes, Master Nguyễn arrives home to find the French are building a railroad through his land (with his tenants' approval) – the machinery that he hates and tried in vain to reject. Completely defeated, he sets fire to his treasured liquor jars, to Lê Tam's body and to himself. Cam runs as fast as she can to the scene. But probably she knows, as we definitely do, that she can't save him, because he wouldn't let her.
●●
Mê Thảo, thời vang bóng (Mê Thảo, Once Upon a Time)
Producer: Giải Phóng Film Studio
Year of production: 2002
Director: Việt Linh
Screenwriters: Phạm Thùy Nhân, Việt Linh, Serge Le Peron
Director of photography: Phạm Hoàng Nam
Art direction: Phạm Hồng Phong
Music: Văn Dung
Cast: Dũng Nhi, Đơn Dương, Minh Trang, Thúy Nga
Notable prizes: Encouragement Prize, Vietnam Cinematography Association (2002); Best Supporting Actress for Thúy Nga and Best Art Direction for Phạm Hồng Phong, Vietnam Film Festival (2004); Golden Rose for Best Film, Bergamo Film Meeting (Italy, 2003); Second prize, Promotion Internationale des Films du Sud, La Francophonie (2003).
Thuy Linh lives and works in Hanoi. She graduated from UMass Boston with a BA in English and has a Certificate in Screenwriting from the Film Studies Program, a 10-month program of the Hanoi University of Social Sciences and Humanities (in partnership with the Ford Foundation).
She is a translator/reporter/editor for various English newspapers in Hanoi and HCMC such as VietNamNet, Saigon Times, Sai Gon Giai Phong, and Tuoi Tre. At present, she works as a translator/editor for the "fiction" section (translates and edits contemporary Vietnamese short stories) and a film critic for Thanh Nien. This article originally appeared in Thanh Nien.
---
Do you enjoy reading diaCRITICS? Then please consider subscribing!
Please take the time to rate this post (above) and share it (below). Ratings for top posts are listed on the sidebar. Sharing (on email, Facebook, etc.) helps spread the word about diaCRITICS. And join the conversation and leave a comment! 
---