What happened in January 2015: socio-cultural, literary, and political news and events relating to Viet nam and to the Vietnamese diaspora.
Have you subscribed to diaCRITICS yet? Subscribe and win prizes! Read more details.
---
Viet Kieu in the news
---
• Sony Pictures Entertainment acquires film rights to comic book series by bestselling author Jeff Lemire and bestselling comic artist Dustin Nguyen. [CA]
---
• Attorney Andrew Do's win in the O.C. supervisor race represents a rise of Asian American politicians.
---
• vietnamese American protesters demand that Riverside sever its city ties with Can Tho, Vietnam.

---
News about Viet Nam
---
• Dissident journalist and blogger Doan Trang says, "It is time for us to build our society, our economy, and not abandon it."
---
• The third of six planned Kilo-class attack submarine arrives in Vietnam.
---
• Forbes Vietnam unveils its "30 Under 30" list, featuring 30 Vietnamese individuals who stand out in their industries.
---
• Vietnamese mime artist Nguyen Hoang Tung performs in the hope that pantomine makes a comeback in Vietnam.
---
• Vietnam and the Philippines have banded together against China.
---
• Vietnam opens its first hotline service to help protect Vietnamese citizens abroad.
---
• Where gay rights are concerned, Vietnam is progressing faster than some U.S. states.
---
Other News
---
• Andrew Lam opines on the "atmosphere of disrespect" for teachers in the U.S.
---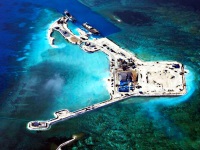 • Ignoring international laws, China continues construction of port and other facilities in disputed waters in the East Sea.
---
Special thanks to Viet Thanh Nguyen for providing many of the news items.
Peace!
RP