As we bid farewell to the year of the Horse and welcome the new lunar year of the Goat, Diacritic Lien Truong asked four influential contemporary art spaces in Vietnam to reflect on this previous year and pick an exhibition or event in their programming that had significant impact on their mission and creative cultural climate. The series of posts will highlight events from Manzi Art Space and Nha San Collective in Hanoi, and Galerie Quynh and San Art in Ho Chi Minh City.
Galerie Quynh: Stronger Ties with Hanoi
Downtown Gallery
Level 2, 151/3 Dong Khoi Street
District 1, Ho Chi Minh City, Vietnam
Tel. +84 8 3824 8284
Tuesday-Saturday: 10am-7pm
Established in Vietnam in 2003 by Quynh Pham, the gallery has developed international recognition for the consistent caliber of its programming, dedicated to the diverse manifestations of contemporary art practice. On Galerie Quynh's roster are emerging, mid-career and established artists; an entourage of Vietnamese, Viet Kieus, and international artists living and working in Vietnam. Pham has had to channel chameleon dexterity to direct a gallery in Ho Chi Minh City, which has presented itself as a tumultuous lover. In the last decade, the city has grown exponentially at an astounding rate, a liaison for intoxicating global activity, and cultural coupling, conflict and change. Pham has skirted issues of censorship, and when the government has confiscated her renovated spaces, unfalteringly remodeled another.
Pham's unyielding commitment and astute poise has given the gallery an international platform. Many of the gallery's artists have gained global recognition, exhibiting in esteemed international museums, biennales and art fairs, with their reputations grow firmer every day. The year of the horse brought two major additions to Galerie Quynh's activities, both which emphasize the gallery's mission to promote contemporary art practice in Vietnam, and support arts infrastructure and education.
A Stronger Bond with Hanoi Artists
Two artists living and working in Hanoi, Nguyen Huy An and Jamie Maxtone-Graham inaugurated their representation with solo exhibitions in 2014. The gallery already works with Hanoi-based artists Nguyen Phuong Linh and Ha Manh Thang, and Hoang Duong Cam and Nguyen Manh Hung both who originated in Hanoi and relocated to Ho Chi Minh City. The growing number of Hanoi artists on the gallery's roster breaches through the murky insulation between north and south, a sticky residue lingering from a tremendous common ancestor, and affirms the expanding relationship between the two art communities in Vietnam.
78 rhythms was the title of Nguyen Huy An's solo exhibition at Galerie Quynh. The artist's works are quiet echoes, transforming the most mundane and familiar of materials into simple whispers of visual poetry. Huy An creates a personal visual archive of memories and histories that relate to the social and political contexts of the sites he records. The artist states, "In the context of a growing economy, it is important to look at and realize how modernity, and by extension the passage of time, casts shadows on our existence and engenders zones of darkness in our collective psychology.''
The artist's words are marked by haunting tragedies of this generation's modernization, such as the suicide of Chinese poet Xu Lizhi on September 30, 2014, one month before Huy An's exhibition opened. Lizhi was among a legion of Chinese migrant workers emerging from rural obscurity to work at a Foxcann factory for the lure of industrialization's wages, seduced by the sleek enchantment of metropolitan resources, and ultimately ravaged by the dullness, stress and abuse of factory life.
Huy An's objects collectively mark the passage of time. His work becomes shadows of his personal psyche and history. He measures, records and condenses the natural and architectural forms that navigate his existence in the world. As we transfix into his melancholic state, the marks of minimalistic memories capture a milieu of spirituality and tragedy, embodying nostalgia and bound by progress.

American Jamie Maxtone-Graham first came to Vietnam in 1990 to work on the documentary From Hollywood to Hanoi, and then in 2007 through a Fulbright grant to pursue State of Youth, Maxtone-Graham's photography project on contemporary youth culture in Vietnam. In his solo exhibition at Galerie Quynh's entitled That Little Distance, the artist focuses on enigmatic portraits of individuals and groups of people with his own form subdued in the shadows.
Upon first glance, the moody environment appears staged, examining the chance we are visual accomplices with a voyeuristic lens betrothed to the gravity of European colonial paintings. One quickly recognizes that the Vietnamese protagonists in Maxtone-Graham's photographs do not appear vulnerable. There is an aloofness to their composure. Whether they meet our gaze or avert it with persuasive manner, the figures confront us with silent command, seemingly oblivious to any susceptibility their bare flesh may have. Rather, the only emotional liability can be found in the artist's figure, sometimes so obscured in the photographs' smoky shadows he is almost insignificant. The artist's body language, with his bowed head, inverted eyes and distance to each Vietnamese protagonist suggests submissiveness and at times, hints of languid laziness. These silent, inverted politicized acts, his hermetic handshake to the racial portrayal of slaves and servants in colonial paintings.
Some of the artist's compositions are reminiscent of the uncanny and uncomfortable environments by British painter Lucien Freud, while the staged photographic reference to painting history recalls Canadian photographer Jeff Wall, but without the fantastical theatrics. Maxtone-Graham's 'stage' is a derelict former factory, which becomes collateral to his ominous ambiance. The artist also presented his series Still-Life, which were created in the same space. Collectively, the works are visually haunting and somberly beautiful. In That Little Distance, Maxtone-Graham presents a richly layered exhibit, simultaneously espousing and renouncing the history and power of cultural portrayal between east and west.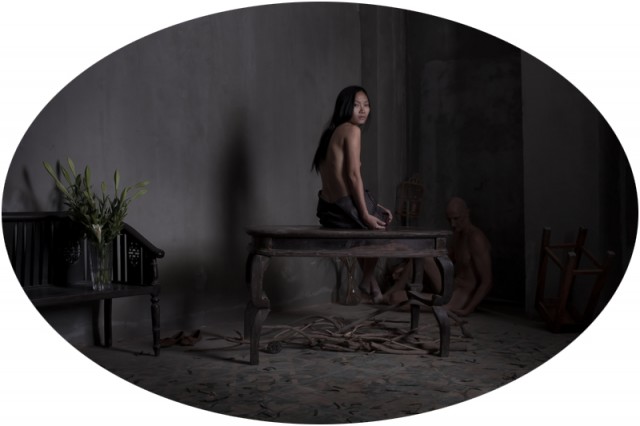 Sao La
01, Le Thi Hong Gam Street, District 1, HCMC
In May 2014, the gallery launched its non –profit educational initiative, Sao La, on the grounds of the Ho Chi Minh City Fine Art Museum. Sao La's mission is two-fold: to make contemporary art accessible to the general Vietnamese public through educational programs and to nurture Vietnam's growing arts community. Sao La serves not only as a platform for exhibitions, film/video screenings, workshops and lectures but also as an informal space for young Vietnamese artists to experiment, challenge and develop their creative practices. Under the aegis of Galerie Quynh with programming initiated by two young dynamic Saigon-based artists, Tung Mai and Nguyen Kim To Lan, Sao La will evolve in response to the needs of the local community.
Images courtesy of the artists and Galerie Quynh
–
Lien Truong is a Vietnamese-American creative and exhibits her artwork in transcultural locations. She is currently Assistant Professor of Art at the University of North Carolina at Chapel Hill.
---
Do you enjoy reading diaCRITICS? Then please consider subscribing!
Please take the time to rate this post (above) and share it (below). Ratings for top posts are listed on the sidebar. Sharing (on email, Facebook, etc.) helps spread the word about diaCRITICS. And join the conversation and leave a comment!