For the fortieth anniversary of the "Fall of Saigon," ZM Quynh writes a meta eulogy dedicated to Nguyễn Ngọc Loan. In this two-part series, Quynh raises these critical questions: Have we been denied our heroes? Has our history been fed to us in half-truths, bent to serve an agenda we were too young to understand, and are now too old to remember? Or care?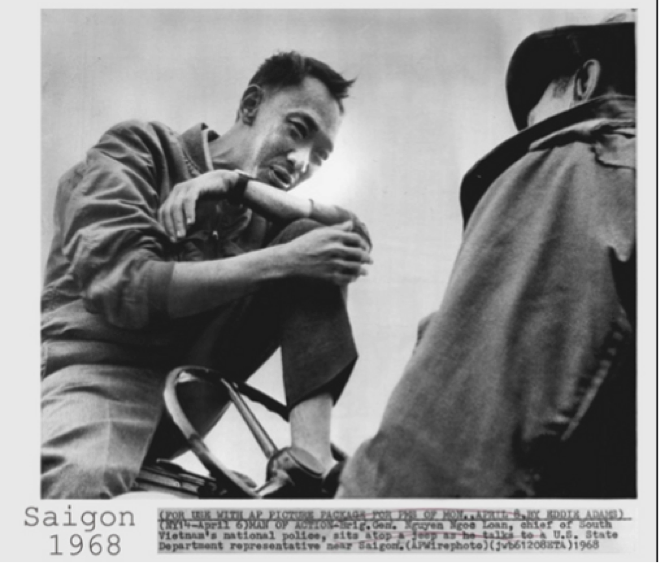 You may not recognize him. You've mostly seen him from the back, side profile, his arm extended, a pistol in his hand, the bullet floating through the air, the man executed. As April 30th approaches, the anniversary of the "Fall of Saigon" will be accompanied by its usual string of images, documentaries, and news commentaries. Somewhere, someone will air it or re-publish "Saigon Execution" and you'll see it for the umpteenth time in your life. For many of us, this image may be how we are reminded of the Vietnam War every year.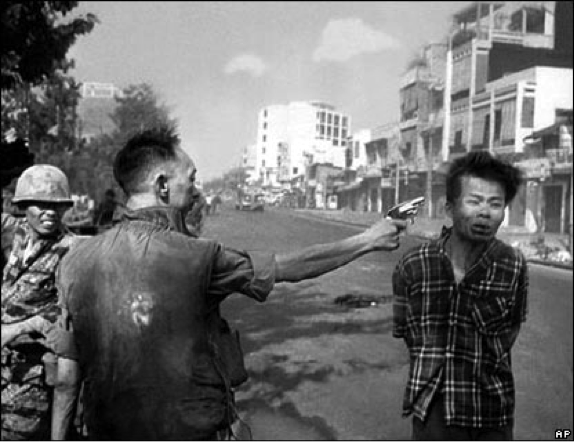 When I started writing this eulogy[1], I struggled with the title. My first choice was: "Nguyễn Ngọc Loan: Reclamation of a Hero." But, though he may be your parents' hero, he's probably not your hero. So I thought maybe I'd go with: "Nguyễn Ngọc Loan – Why Should I Care?" Does it even matter? Do you have heroes from the war? Were you allowed to? For many of us, our heroes are probably our parents who sacrificed everything to flee Vietnam. For many of our parents, however, General Loan most certainly was considered a "hero" or anh hùng.
But when Loan passed away in 1998, most of the eulogies written by the American media failed to recognize this. They were all one-dimensional and unforgiving, recalling the image, "Saigon Execution" with minor details of Loan's life. To date there are no published eulogies by Vietnamese Americans in English. So, though it's overdue – let me offer mine:[2]
soft foam slippers for his feet
a bowl of rice, steamed, marinated pork ribs
clean sheets 
a bed in a room where the window faces east
this is how you welcome a hero
his limp is pronounced
his smile crooked, generous
his hands land firm and gentle
on the host's back
"remember the time…" he begins
the room is transfixed
the past is the past
dead men tell no tales
but he is still alive
and until he meets his final day
his lips siphon tales
not of what was lost
but what was gained
the birth of a lieutenant's sixth child
the first of his men to own a house
his best friend's new business on Bolsa Ave.
the first to line the streets of Little Sài Gòn
A place to rebuild what was lost
"i saw you on tv,"
says a friend
who hasn't?
the image is iconoclastic
our hero villainized
a generations' suffering minimized
the general shrugs, "that is all they can understand,"
"but not all of them," he says
"not their soldiers, their men
the pretty face men, the scarred men
the ones that lost their friends,
they understand."
It is 1968. It is their Tết. Not ours. The stars granted us Tết a day in advance. A sign of auspiciousness, to be sure. I am in Sài Gòn. My people are poised and ready. My mission is simple. It is a suicide mission. We know this walking in. But I am hellfire bent to see this through. Search, obtain, liquidate all key officials, paralyze South Việt Nam. We are at the armored corps training compound with South Vietnamese Lieutenant Colonel Nguyễn Tuấn and the members of his family. We will force him to start up the tanks. We will ransack Sài Gòn.
Tết is the most important celebration in Vietnamese culture. It is the cleansing and summary eviction of all bad spirits from the home, the preparation of special foods, reunions with family members, and communion with ancestors. On the morning of January 31st, Tết 1968, as reunited families slept, their bellies full and their loved ones nearby, the phases of the infamous "Tết Offensive" began to unfold as North Vietnam reneged on its long-standing three day cease-fire truce with South Vietnam.

At about 3 a.m., Brigadier General Nguyễn Ngọc Loan, the commander of the National Police Force was patrolling the streets of Saigon for North Việt Cộng (VC) communist soldiers. Loan, described by South Vietnam's former Prime Minister, Nguyễn Cao Kỳ as "one of the few completely honest and incorruptible men in Vietnam," suspected an imminent VC attack during Tết.
He had informed American officials but they choose to ignore him, in part because he was not very popular – he had no qualms about voicing his opposition to the controversial Phoenix Program, which utilized, inhumane methods of torture on captured VC. Thus, while Americans and South Vietnamese Army of the Republic of Vietnam (ARVN) soldiers were being released for holiday leave, Loan kept his force at full alert.
When the VC attacked before dawn, unlike everyone else, Loan was ready to respond. Masked by the firecrackers of Tết, 4000 VC disguised as ARVN and National Police officers launched their attack on Saigon. Their first target, the National Radio Station, was foiled by Loan who, in his usual style, charged head first, leading a platoon of men, into the radio station to reclaim it and prevent VC propaganda broadcasts. From that moment on, Loan was in constant motion as he coordinated the defense of the city.
Integral to the Tết Offensive was a plan to assassinate "blacklisted" ARVN soldiers, National Police officers, government officials, and their families. Captain Nguyễn Văn Lém, code name, Bảy Lốp, the commander of a VC death squad and other assassins invaded the homes of targeted individuals all over Saigon. They searched houses, held people hostage, and orchestrated mini public trials where they declared victims to be traitors before summarily executing them.
Bảy Lốp was a part of a full-phased assassination program that was an integral part of VC terrorism campaigns. It was reported that this program was responsible for the deaths of 11,200 civilians and the kidnapping of 39,750 others between 1958 and 1966.
Nguyễn Trường Toại, an ARVN soldier, who had tangled with Bảy Lốp and his death squad in a gun battle on January 31st, recalled that at the heaviest moment of fighting, Bảy Lốp had used children to shield himself as he escaped. When Loan arrived at the scene, he stared in dismay at the corpses of children lined up on the street. This was not the first time that day that Loan had witnessed men, women, children, friends, family, soldiers, and elders slain in the streets. Nor was it a solitary experience.
Former Vietnamese born American spy, Yung Krall, noted in her memoir, A Thousand Tears Falling:
"The streets were indescribable: dead people were everywhere…the body of a man hung on a branch of a tamarind tree on Cong Ly Street. Gunfire was so close I could hear the whistle of bullets through the air…there used to be a beggar with a horrible looking cast on his leg and his six-year-old daughter, who sometimes had a bandage around her head; when we drove past the spot where they used to sleep, I saw both of their bodies scattered in pieces along the brick wall."
South Vietnamese President, General Nguyễn Văn Thiệu had declared a state of martial law and the entire city was on fire. It was not until later that day that Bảy Lốp was finally captured next to a pile of 34 bodies after, as Prime Minister Kỳ recalled in his memoir, Bảy Lốp had just decapitated a police sergeant and shot his wife and their six children to death. It has been rumored that the executed officer was one of Loan's closest friends. Shortly after capture, Bảy Lốp was escorted, attired in a checkered shirt, shorts, and flip-flops, to Loan by ARVN. Cue Associated Press (AP) photographer, Eddie Adams, and NBC cameraman, Vo Suu.
A word before we go further: in the chaos of that day, two noteworthy pictures were taken by AP photographers. The first one shows ARVN soldiers standing near the bodies of a decapitated South Vietnamese commander, his slain wife and six children. Although the commander is not identified in the picture by name, Vietnamese testimonials have linked the image to Bảy Lốp's murder of Colonel Tuấn and his family. The other picture shows a shocked ARVN officer carrying the murdered body of his daughter with a caption that refers to the execution of Colonel Tuấn and his family.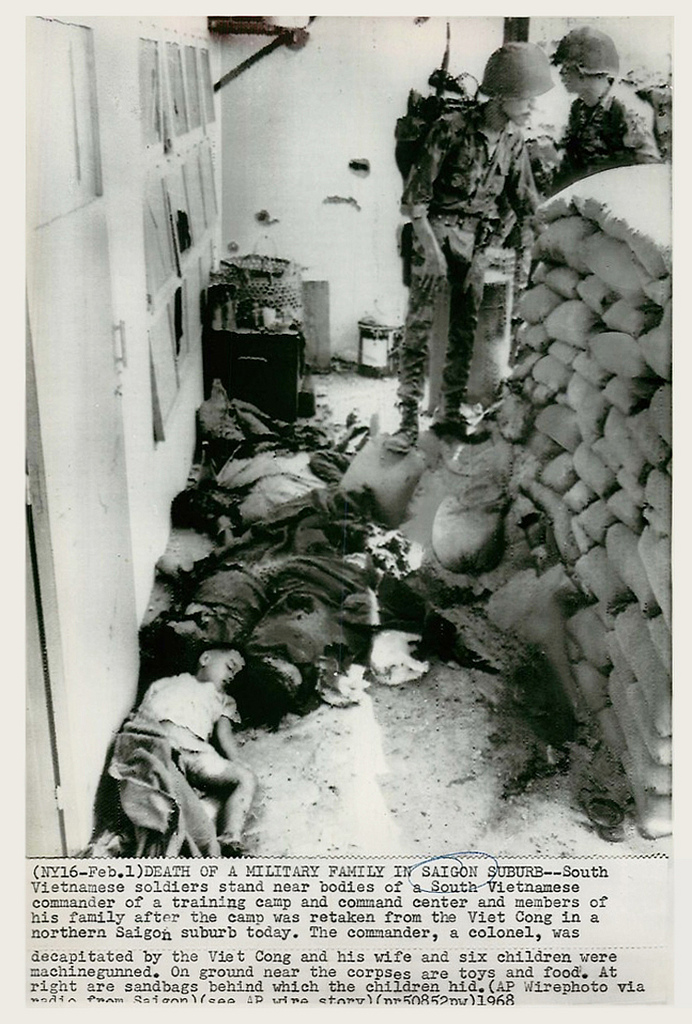 Both of these are extremely hard to find and yet they are among the few that adequately depict the context of the picture that you have seen, the one that you do remember.
The sun has risen and no one can say that we did not take Sài Gòn by storm. If they did not know the furor of the National Liberation Front, they know it now. I know that I am being led to my execution. It matters not because my name will live on. I have served Uncle Ho well. I see him coming. Who is he, this man who will make me? The ground swells beneath my feet and I feel the air sway as the pistol is raised to my head. A roar. A breath. My legs give way. This is the making of a martyr. 
Adams snapped the shot, his pulse racing all the while. Vo Suu's camera continued to roll, capturing every second. The bullet left Loan's pistol, entered Bảy Lốp's head and history was made. Loan continued onward, scrambling to lead the defense of the city. Adams retreated to a dark room. When the picture was processed, Adams let out a cry of excitement. It was the first and last time Adams ever expressed positive feelings about the photo ever again, despite being awarded the Pulitzer Prize for it.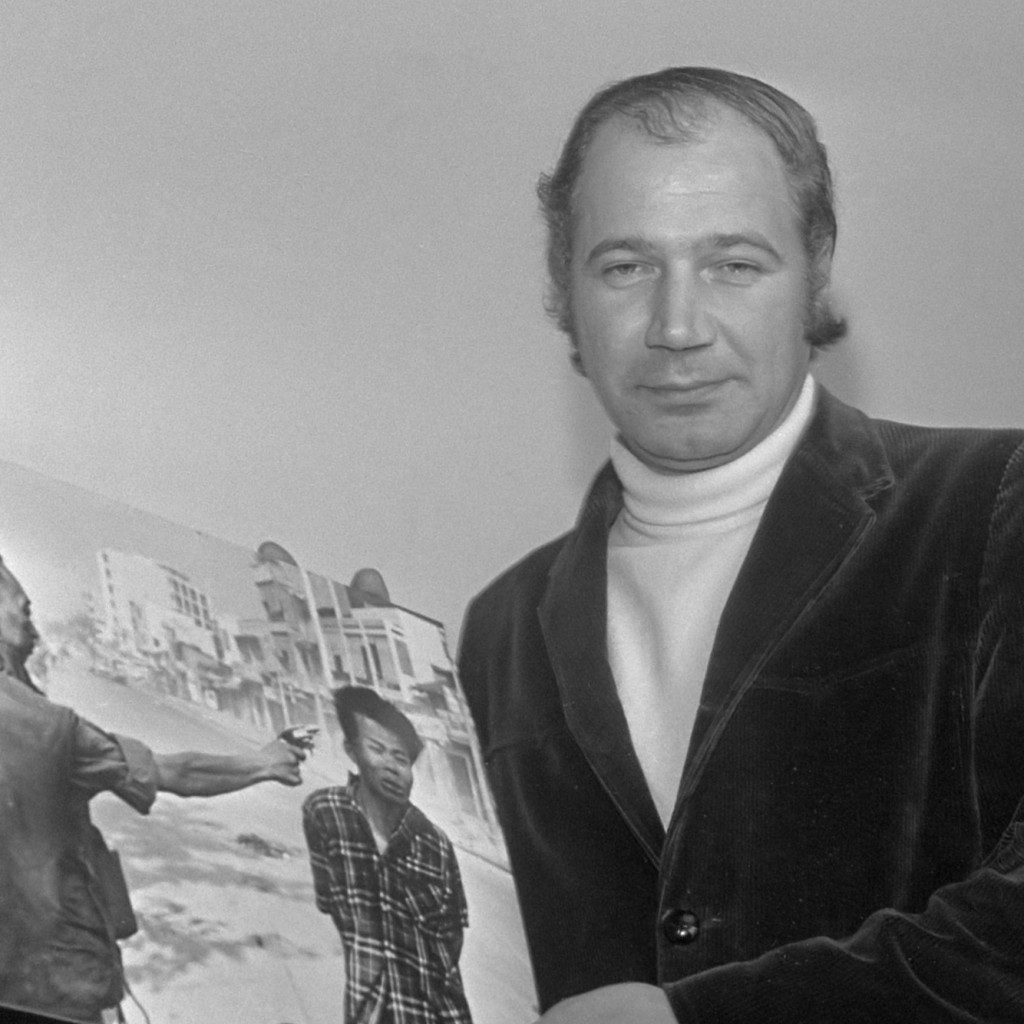 Within 11 hours, on the evening of February 1st, the footage of the execution was broadcasted into American living rooms. The next day, Adams' picture ran in multiple papers including The New York Times, The Los Angeles Times, and The Washington Post.
It is a rainy day in February of 1968 when I am born again. This old world looks so new, so different, and even now the memories are starting to fade. I am overcome with new emotions. I have felt these things before haven't I? Hunger, longing for my mother. A ceremony is held. I am a month old. My father is proud. A daughter. There are tears in his eyes. "She will not have to fight any wars. I'll make sure of it," he says. He salutes a man by his side. "General Loan," he says, "You have saved my life; my wife and I are indebted to you. We have decided to name our daughter, "Loan." My Godfather smiles crookedly at me. I know this man, don't I? 
End of Part 1. The following part will be published on Diacritics later this week.
[1] This complete essay is heavily footnoted. For further information visit zmquynh.com or contact the author at [email protected]
[2] The poem and story in italics is my fictionalized metaphorical interpretation of the attitudes of some South Vietnamese about Nguyễn Ngọc Loan based upon research and review of Vietnamese media, Internet blogs, online discussions and chats following Vietnamese blogs and articles, etc. Though these portions are loosely based upon the public figure, Nguyễn Ngọc Loan, this is a work of fiction. Names, characters, businesses, places, events and incidents are either the products of my imagination or used in a fictitious manner. Any resemblance to actual persons, living or dead, or actual events is purely coincidental.
–
Z.M. Quỳnh huddles in a room tinged with blue nursing calloused hands worn down from the chronic transcription of restless dreams. past lives have included scattered jaunts through urban minefields with each misstep hinting at a life less easily mapped out by this amateur cartographer. irrationally drawn to moving mountains one stone at a time, quỳnh is hell bent on creating a machine to extend weekends one additional day (just one – that's all she needs!) so she can finish her novel about the aftermath of the Việt Nam war.
---
 Do you enjoy reading diaCRITICS? Then please consider subscribing!
Please take the time to rate this post (above) and share it (below). Ratings for top posts are listed on the sidebar. Sharing (on email, Facebook, etc.) helps spread the word about diaCRITICS. And join the conversation and leave a comment!