What happened in April 2015: socio-cultural, literary, and political news and events relating to Viet Nam and to the Vietnamese diaspora.
Have you subscribed to diaCRITICS yet? Subscribe and win prizes! Read more details.
---
Viet Kieu in the news
---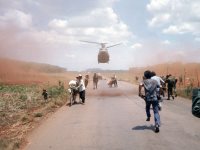 • For many Vietnamese Americans, "the war has not ended."
---
• "How can we leave the past behind? . . . We think about it in the present."
---
• "The plain fact that the American war in Vietnam was a mistake and a crime . . . is about the only plain fact there is."
---
• Looking back: Over 80,000 Vietnamese immigrants came to Australia following the Vietnam War.
---
• Vietnamese refugees in England recall their ordeals.
---
• La Quinta High has the highest concentration of Vietnamese-American students of any high school in America.
---
• A Vietnamese-American is among the dead in Nepal earthquake.
---
• A Vietnamese-American woman returned to Vietnam to visit her Vietnamese mother's tomb and reunite with relatives.
---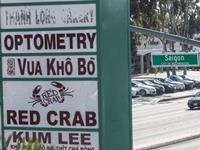 • Little Saigon in Orange County is "a world within a world."
---
• Little Saigon residents watch their story on screen.
---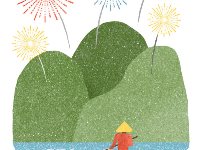 • Whose war?
---
• Looking back at Vietnamese refugees in Camp Pendleton's 1975 'tent city'
---
• "I've learned that to be Vietnamese American is to accept a mixed legacy of incredible survival and unspeakable pain. "
---
•
General Luong recalls, "I knew right back then that I want to serve our country."
---

---
News about Viet Nam
---
• "We traded millions of lives for independence and equality . . . [only] to strip Vietnam's people of their money and their rights while a tiny elite fills its pockets and hides behind the rhetoric of the revolution."
---
• Relationship between Vietnam and the US is "on par with those of other Southeast Asian nations."
---
• The dangerous search for undetonated bombs by the U.S. is still ongoing.
---
• Vietnamese Msgr. Pietro Nguyen Van Tai will be remembered for serving the church in Asia for decades.
---
• At ASEAN People's Forum (APF) Vietnamese civil groups raise issues concerning freedom of religion and expression.
---
• Three Vietnamese researchers specializing in water resource management have concluded that "Vietnam is currently among the countries deficient in water."
---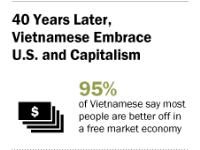 • Four decades after the Vietnam War, the Vietnamese public sees its former foe as a "helpful ally."
---
• Forty years after the fall of Saigon, Amerasians–soldiers' children–are still left behind.
---
Other News
---
• How the American War is seen by the North Vietnamese.
---
• "When it comes to Vietnam, we have all learnt to forget."
---
• ASEAN expresses concerns about Chinese land reclamation projects in the South China Sea risk.
---
• Newly-found evidence may provide proofs that Korean troops not only committed civilian massacres in Vietnam, but that they also pimped out Vietnamese women.
---
• The Australian government returned almost 50 asylum seekers to Vietnam.
---
• Vietnam veterans of Korea force cancellation of event with survivors of civilian massacres by South Korean troops during the Vietnam War.
---
• Three individuals talk about the doomed Operation Babylift.
---
• The 40th anniversary of the war's end "should be occasion for more self-reflection and less finger-pointing on all sides."
---
Special thanks to Viet Thanh Nguyen for providing many of the news items. Peace!
RP