diaCRITIC Jade Hidle reviews Qui Nguyen's exciting, hilarious, and moving play Vietgone. The play follows the love story of Nguyen's parents, and uses humor to discuss the many issues faced by Vietnamese refugees in America. The show runs until October 25th, and has student and group discount tickets available.
Fuck. Rivaling the innumerability of f-bombs in any Tarantino or Scorcese film, playwright Qui Nguyen's Vietgone uses my favorite expletive as a political imperative. Running at South Coast Repertory's Julianna Argyros Stage through October 25th, Vietgone non-linearly traces the love story between the playwright's parents, Quang and Tong, as they individually escape during the Fall of Saigon and meet at the refugee camp at Fort Chaffee, Arkansas. The play stems from the photographs Nguyen discovered while conducting research at University of California Irvine's Southeast Asian Archives through the South Coast Repertory's CrossRoads Initiative. (Thank you, SCR, for supporting Vietnamese American writers.)
The show opens with a meta-theatrical preface in which the character of the playwright explains that the Vietnamese characters speak in contemporary colloquialisms—including "fuck," "shit," "bitch," and every other cuss word that offers sweet relief—whereas the American characters communicate through their national culture's clichés: "shit-eating grin," "mozzarella sticks," bacon cheeseburger," to name just a few of the ways in which Americans bark conversation at the Vietnamese characters. Along the same lines, Nguyen is agile and pointedly humorous in writing the syntactic boggle of Americans trying to speak Vietnamese. For instance, when Bobby, the loveable doofus American soldier, confesses his love for Tong, he stumbles through "You love princess awesome happy."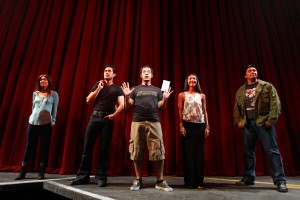 As the love story between the playwright's parents unfolds, Nguyen deftly plays these language games in the dialogue he has written, and the actors do admirably well in delivering it. By the way, only five actors play the eighteen roles in the piece. Very impressive. Paco Tolson, playing six roles, including that of the playwright, must break a serious sweat during his turn-on-a-dime character changes. And Samantha Quan won my heart with her performance of an aging, cussing, slapping, ear-twisting, loving Vietnamese mother.
This meeting of writing and acting talents enables the dialogue to challenge the model minority mythos in which Asians and Asian Americans have been stereotyped as deferent, formal speakers. (And, as my experience attests, Vietnamese can cuss with the best of them. I'd put my grandmother up against any hip-hop king of the radio bleeps any day.) By writing English-speaking characters as the ones to continually confront the linguistic challenges of vocabulary, grammar, and pronunciation, Nguyen pivots the perspective so that the Vietnamese are able to express their full range of thoughts and emotions in a relatable way, unbound by stereotypes. In so doing, Nguyen navigates the complex terrain of racial representation and intercultural communication through self-aware language. It is not until the end of the play that we hear the father, Quang, speak English with a Vietnamese accent, and only because the scene is filtered through his American-born son's perspective.
It is this inextricable, dynamic relationship between the first- and second-generation Vietnamese Americans that literally and figuratively colors the unique and provocative staging of the play. The director May Adrales and scenic designer Timothy R. Mackabee did a wonderful job with the comic book-esque backdrops and projected images that allow the audience to clearly follow the oscillations in time and space that sometimes shuttle us to the past or to Viet Nam mid-conversation, just as caption boxes in comic books often inform the reader, "meanwhile, in Gotham City…" The articulation of Nguyen's parents' 1975 love story through this framework of contemporary cultural references continues when, in the falling-in-love montage, the characters recreate famous scenes from romance movies: Ghost, Say Anything, and Dirty Dancing. These seemingly anachronistic pop cultural allusions serve to illustrate, relatably and humorously, how the second-generation Nguyen imaginatively fills in the gaps of his parents' stories that are, no matter how much he invests in writing about them, ultimately not completely knowable.
The most notable aspect of the play, though, is Nguyen's inclusion of original hip-hop songs. Honestly, the first song took me by surprise in the opening act, maybe because I was surrounded by an audience of well-to-do blue-hairs or because the synopsis did not do it justice. (The press release reads, "An all-American love story about two very new Americans. It's 1975, and Saigon has fallen. He lost his wife. She lost her fiancé. But now in a new land, they just might find each other." Yawn. Been there, done that, says '90s Jade.) But as lead actor Raymond Lee busted out rhymes about wanting to go back to his lost homeland and family, I found myself easing into the play more deeply. This music is how I understand the history of my heritage. At the core of hip-hop is anger, anger funneled into movements for social justice, and here Nguyen gives us individuals' calls for rectifying wrongs, for mourning losses. I am so used to hearing these laments crooned through the melodramatic lip trembles and nostalgic far-away gazes of cải lương operas, but Vietgone conveys all of that energy and emotion through hip-hop, not only as mourning but as protest. Revising the glorification of drugs in much of popular hip-hop today, one of Quang's rhymes describes drugs as an outlet for temporarily escaping the pain of refugee life and as an angry response to the Americans who ignorantly offer guilt-ridden apologies for the war; in his to-be wife Tong's rap soliloquy, she resists against the Vietnamese princess gender stereotype, along with its impositions of "love," marriage, and child-rearing. These rhymes are powerful in stark contrast to the rest of the play's soundtrack that consists primarily of toe-tapping American pop music from the '60s.

When the play ended, I immediately wanted to watch it again and texted my younger brother and sister to see if they'd want to go next week. I did not ask my mother because I thought the "fuck" train, the hip-hop, and the humor would make her feel like she and her traumas were being mocked. But, I reflected, all of those things do not make light of the war or immigration or living Vietnamese American today. Rather, they show that history is an intergenerational fabric of remembering. Maybe the play would encourage my mother to learn more about my understanding of our shared history, since it has always been the other way around.
More than that, Nguyen's humorous take makes the serious moments more poignant. Nguyen's play had me laughing out loud in one moment and then in the next my eyes welling up with tears with an image from the war or a weighted "I love you." He addresses the complicated politics of going back to Vietnam, the necessity to "die" to begin again, the gender-distinct experiences of immigration, and the racial discrimination in America.
Above all else, power lies in the meta-theatrical epilogue in which the character of the playwright sits down to interview his father to write the very play we just watched. The interview begins elliptically, the father evading inquiries into his traumatic past by diverting to funny poop-based stories, as my mother will often do when asked directly about the war. But once it gets going, it is in this dialogue, staged simply at a table cast in soft light, that the poignant message of the performance crystallizes: the war was more than just a war. That was just the backdrop to the real story—the people, the love. The war was more than just a political "mistake." It was survival. Part of the negotiation of how different generations remember the histories of war is to recognize that the surviving gave us the life that allows us to tell the story. And that it is okay to "make it funny."
I highly recommend Vietgone. Aside from supporting my community college students' shows, I am not a theatre-going person, as live performances make me antsy and uncomfortable that a person is performing right in front of me in real time and I just want to reach out and ask them a question or touch their sleeve or… The point is that I am often inclined to scoff at the pinky-up qualities of (activate British accent) the theatre. But I really fucking enjoyed this play. I was fucking moved. To tears. To laughter. I was fucking inspired. And, though ever-suspended between two cultures, I, for two sweet hours, felt that I fucking belonged.
–
Jade Hidle is a Vietnamese-Irish-Norwegian writer and educator. She holds an MFA in creative writing from CSU Long Beach and a PhD in literature from UC San Diego. Her work has appeared in New Delta Review, Spot Lit, Word River, and Beside the City of Angels.
---
Do you enjoy reading diaCRITICS? Then please consider subscribing!
Please take the time to rate this post (above) and share it (below). Ratings for top posts are listed on the sidebar. Sharing (on email, Facebook, etc.) helps spread the word about diaCRITICS. And join the conversation and leave a comment!