What happened in September 2015: socio-cultural, literary, and political news and events relating to Vietnam and to the Vietnamese diaspora. [Note: Comments (in brackets "[ ]") are the opinion of the poster and does not reflect the view of diaCRITICS]
Have you subscribed to diaCRITICS yet? Subscribe and win prizes! Read more details.
---
Viet Kieu in the news
---
• Vietnamese writer Vo Phien, who was endeared by fellow expatriates, dies at 89.
---
• Orange County's DeMille Elementary offers the state's first Vietnamese/English dual-immersion program.
---
• Vietnamese Americans persuade shopping center to replace Vietnam's communist flag with the pre-communist flag.
---
• Formerly refugees themselves, Vietnamese Americans sympathizes with the plight of the Syrian refugees.
---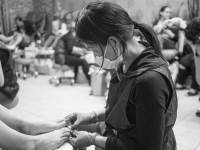 • Cynthia Trinh's photographs "[push back] against the stereotypes that frame the modern Asian-American experience."
---

---
News about Viet Nam
---
• Victor Vu's movie, "Hoa Vang Tren Co Xanh" (Yellow Flowers on the Green Grass) won the best film award at the Silk Road International Film Festival.
---
• Police imprisons land-rights petitioner who protested against the government's confiscation of her land.
---
• Vietnamese President Truong Tan Sang talked about China violating international law and endangers maritime security and urged the U.S. to lift a ban on lethal weapons sales to Vietnam.
---
• Led by the manufacturing and the foreign-invested sectors, Vietnam's economic growth accelerated in the third quarter with GDP up an estimated 6.81% from the year-earlier quarter.
---
• Vietnam's stocks resume gains making it Asia's best performer this year.
---
• Vietnam prepares for integration into the Asian Economic community.
---
• The illegal contamination of food with chemical substances is causing a surge of cancer patients in Vietnam.
---
Other News
---
• Sir Richard Branson talks about his opposition to the Vietnam war and his experiences in Vietnam.
---
• A Pew Research Center report predicts "Asians are on pace to become the largest immigrant group in the the United States."
---
Special thanks to Viet Thanh Nguyen for providing many of the news items.
RP