Nora A. Taylor reviews Vietnamese-French illustrator Marcelino Truong's graphic novels, including Une si jolie petite guerre, which brings to life 1960s Saigon through the eyes of a child Marco. This first volume of his autobiographical comic strip will be published in English this fall, as Such a Lovely Little War (Vancouver: Arsenal Pulp Press). 
Just when you thought the war in Vietnam had been told ad nauseam in literature and cinema, along comes Marcelino Truong's two volume graphic novel that retells the story from a different angle: that of the Franco-Vietnamese child living in Saigon and London who processes the politics of the era not from the side of the winners, nor as a refugee, but from the point of view of the son of a Republic of Vietnam diplomat. Truong's father worked for the South Vietnamese government in Saigon from 1961 to 1963 and then for its embassy in London after that, and as a reporter and translator before the demise of his country's government. Truong's books are more than mere memoirs, they are veritable works of art. They capture a complex picture of the politics of war and its aftermath in a succinct manner. Like Marjane Satrapi's Persepolis, they mesh childhood memories with history lessons, simple graphics with complex sharp political commentary. These books are masterpieces not only because they are skillfully illustrated, but also because they rely both on personal narratives and official archival documents. Truong did his research and matched his family photo albums and souvenirs with History with a capital H.
In 2003, Andreas Huyssen expressed concern for what he called the hypertrophy of memory from which our society currently suffers. The Vietnam War has of course figured prominently in the canon of memory literature. No need to list the countless biographies of American War veterans, Vietnamese soldiers, immigrants and spies. What Truong has accomplished here is an artful combination of history and memory that puts these novels on a level with the installation artworks of artists Danh Vo and Dinh Q. Le that make use of archival material and give voice to unwritten pasts.
Named after a street in Manila, Calle San Marcelino, Marcelino Truong was born in 1957 in the Philippines where his father was stationed as a junior officer at the Embassy of the Republic of Vietnam. The family then moved to Washington DC. Une Si Jolie Petite Guerre, the first volume of his autobiographical comic strip begins with an image made to resemble a family photograph set under the cherry blossoms at Monticello, Virginia, in the Spring of 1960. The narrative starts with this picture, set in the US after John F. Kennedy's election, and provides a clue to the entire story. We will be viewing America's involvement in the war from this particular author's family perspective. He is the third mixed-race child of a Vietnamese father and a French mother, with an older brother and two sisters, one of whom was born in Saigon. The author's life parallels that of the war and the narrative seamlessly juxtaposes news footage of Presidents Kennedy, Johnson, Nixon and Ford's Cold War policies with the author's father's meetings at the Vietnamese embassy in Washington, his reporting from London and his own backyard war games with his siblings. The war comes in and out of the story, in between chasing girls and his mother's mental illness. And the strength of these books lies in the author's ability to weave political events into his personal life and vice-versa.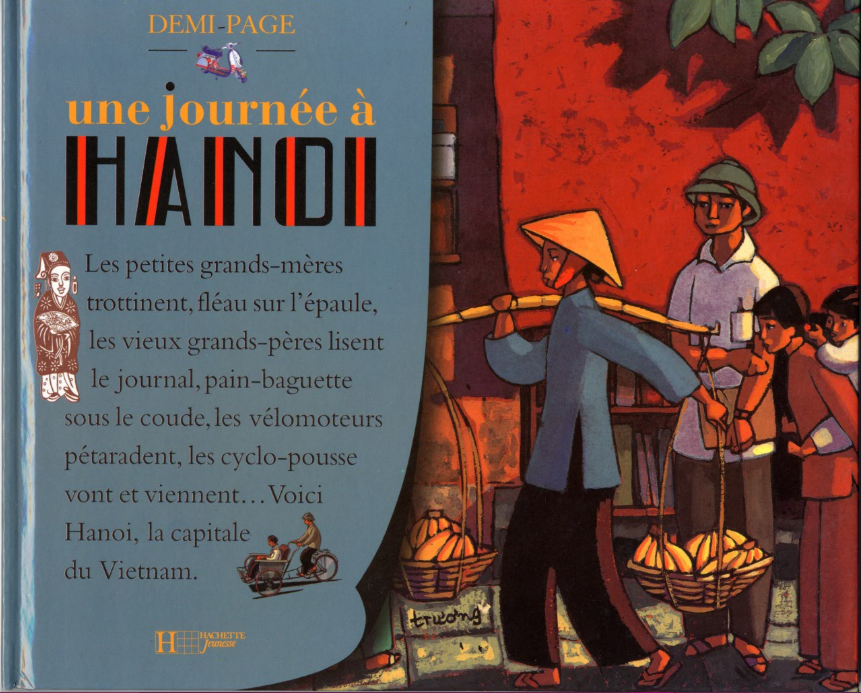 This is not Truong's first graphic novel. In 1985, he published In Bluer Skies, about the photographer Cecil Beaton, an apt prelude to his interest in news photography and its translation into the comic book genre. Since then, he has mostly worked as an illustrator and children's book writer. I first came across his work when I bought Une Journée à Hanoi (Hachette Jeunesse 1997) for my daughter when she was three and had spent time in Hanoi. The book captured so well her vision of the city's street life with its sidewalk food sellers, makeshift urban altars, café dwellers reading newspapers and the cramped quarters of its residents. At the time, in 2000, we had spent time in Hanoi with the artist Mai Van Hien (1922-2006) in his one room home and studio on Nguyen Thai Hoc street. Truong's drawings reminded me of Mai Van Hien's simple but extremely realistic graphics. He was so skilled in capturing even the smallest of details of clothing, shoes, furniture with one continuous pencil line. It never occurred to me at the time but Mai Van Hien would have made an ideal comic book artist.
Truong never went to art school. As we discover in the second volume of his autobiographical diptych, Give Peace a Chance, after his French baccalaureate, he studied at the prestigious Sciences Po in Paris where his father had hoped that he would follow his path and seek a career in public service. Instead, after traveling the world, he returned to school to obtain his BA and MA degrees in English Literature at the Sorbonne. He passed the much coveted "aggregation" in English at age 25. In an email to me, he identified himself as "a self-taught artist with a heavy background of studying French constitutional and administrative public law and Anglo-American literature, which came in handy when I set out to explain the intricacies of the Vietnam wars."
Perhaps thanks to his heritage, his drawing style, or his particular cultural and artistic interests, Truong is often invited to illustrate French publications of Asian or Vietnamese literature, mostly children's stories. Following Une Journée à Hanoi, one of my favorite of his illustrated books is Fleur d'Eau, a story inspired by Vietnamese folk tales about a girl and her mynah bird who saves her village from thieves. The story, which he wrote, is set in Hoi An in a kind of mythical past. The drawings capture traditional life in Vietnam in all of its detail including visits to the temple, bamboo bird cages and sampans on the river. It demonstrates his talent in capturing detail, steering the reader toward key elements in the story. His drawings are the result of sharp observational skills. And this lends itself beautifully to the graphic novel genre. The difference, of course, is that these books explore a kind of fantastical East. Not that they are orientalist in any way, but they are not striving for realism, whereas his graphic novels are based on real life events.
In the first volume of his wartime diptych, Une Si Jolie Petite Guerre, after DC and a holiday in France, Truong's family moves to Saigon in July 1961, traveling by plane in what used to be a multi-legged voyage. Although the story is told from the perspective of little Marcelino, or Marco, as he is known, the author provides plenty of historical context. In one panel, during the night, Marco and his older brother and sister overhear their parents discuss the political situation in the next room and in the following drawing, Marco imagines the sound of the crickets and cicadas outside of their bedroom window as if it were the noise from mortar and gun fire.
Some of the most moving and painful passages of the book don't come from the suffering of the Vietnamese, but from the author's own mother's mental distress as she agonizes about life in Saigon and its impact on her children. The author reveals that she was suffering from bipolar disorder that was aggravated by life in a politically unstable environment. That Truong dared to expose such intimate details about his family life shows strength of character but also makes the story that much more real and poignant. The war was not founded on stereotypes, although the Time-Life clichés are what remain in the popular imagination, it was lived by ordinary people with ordinary problems. Truong offers a glimpse of how 1960s Saigon was a source of anguish for any mother, not the least one suffering from psychological issues. Marco was just a child, playing with his soldiers, catching crickets, swimming in the Saigon Sport's Circle (Cercle Sportif) with his family. The cover of Une si jolie petite guerre shows little Marco and his elder sister and brother coming out of the Cercle Sportif swimming pool while bombs drop from a B52 in the distant sky. The cover of Give peace a chance shows the siblings, plus little Mireille, crossing the street à la Abbey Road with similar explosions in the background.
While the first volume covers quite a bit of history of what was happening on the ground in South Vietnam, from the Buddhist crisis to Madame Nhu to the rise and fall of RVN Presidents, the second volume focuses on what the author was living in London and Paris from war protests, the hippy movement and the music of the era. His sister joined a commune and his brother followed a guru to India only to commit suicide later. Like the first volume, tragedy strikes his family as much as it strikes his country. And he also takes care to air out his own teenage troubles, identity crises and coming of age as a half-Asian, half-French artist and intellectual. Chapters are announced by the lyrics of famous Rolling Stones or Beatles songs. His mother's ills suddenly take on a different tone when framed by the words of Mick Jagger's "Mother's Little Helper." A child in volume one, Marco becomes the adult that he is today in volume two. By the end of the story, we know quite a few intimate details about him that he is clearly not afraid to reveal. Those personal stories aside, he has also provided, through the archival material that is interspersed throughout the novels, valuable history lessons and a rather balanced perspective on the political situation in the South. For every story about his family, there is a counterpart in so-called "real" history.

Tucked in these pages is also the picture we gain of the figure of his father, the diplomat for the Republic of Vietnam that began his career in Paris as part of the High Commission of Vietnam in France under the Emperor Bao Dai's team. After independence in 1954, as mentioned above, he was posted in the Philippines and in Washington, DC as first secretary. In 1961, he returned to Vietnam as part of the larger Kennedy "Beef-up" project and an interpreter for Ngo Dinh Diem until his assassination in 1963. In 1964, he resigned from the diplomatic corps and became a journalist and ended his career as a translator for UNESCO in Paris. Loyal, perhaps, to his government until the end, his marriage to Truong's mother and his decision to resume his civilian life may have saved him from the trauma that many of his countrymen endured.
With these books, Truong has not so much given us history lessons as guided us toward a reflection on the intersections of history and memory. In her recent study of the uses of history in contemporary art, Jane Blocker observed how "the work of the artist implicates and interrogates the critic or historian," and to "take the work of the artist seriously as history rather than as art." (Jane Blocker, Becoming Past: History in Contemporary Art, Minnesota Press, 2015, p. 20) These books tell many stories wrapped up in one. And they rely as much on Truong's own personal recollections as on the newspapers, magazines and press photos known to the general public. He reminds us of the many facets of the Republic of Vietnam that have been buried by time and propaganda.
–
Nora Taylor is a Chicago-based art historian of modern and contemporary Vietnamese art and professor of Southeast Asian Art History at the School of the Art Institute of Chicago. She is author of Painters in Hanoi (Hawaii 2004 and NUS 2009) as well as numerous articles on Vietnamese art.
---
Do you enjoy reading diaCRITICS? Then please consider subscribing!
Please take the time to rate this post (above) and share it (below). Ratings for top posts are listed on the sidebar. Sharing (on email, Facebook, etc.) helps spread the word about diaCRITICS. And join the conversation and leave a comment! 
SaveSave