Last week we featured an artist profile of Antonius Bui which featured their multi-faceted work, integrating performance art with sculptural and textural materials such as fabric and paper. In this second part of our artist profile of Antonius Bui, we take a closer look at some of their intricate and evocative papercut works, and Antonius speaks briefly with Dao Strom about philosophy and process behind their papercutting practice.
Dao Strom: I would love to hear you elaborate on your choice of materials and techniques. How did you arrive at paper and paper-cutting as part of your process? Are you in some way referencing traditional Vietnamese paper-cutting techniques? (I think of those pop-up cards you can buy on the street in Vietnam and certain ceremonial ornaments…) Or are there other lineages that involve cutting or manipulating of paper you are drawing from?
Antonius Bui: I absolutely love that you brought up the pop-up cards visible throughout the streets of Vietnam! To be completely honest, I wasn't aware of them till my first trip to Vietnam at the end of 2017. Witnessing the way every culture around the world creates and manipulates paper undoubtedly informs my studio practice though.
When I begin to reflect on the origins of my artistic training, I fondly remember staying up late to finish diorama school projects with my mother, Van Bui. Incorporating a myriad of materials ranging from paper to toys to glitter, I was obsessed with our ability as humans to transform mundane objects into fantastical dimensions. My mother and I were able to bring histories and narratives to life using a shoe box and hot glue gun!
Other childhood memories I attribute my creative career to are the fashion shows my cousins and I would put on for our elders. The aunts and uncles were surprisingly very encouraging of our elaborate productions that included runway and talent competitions. Being forced to develop a persona and actualize that identity using props has definitely contributed to my interdisciplinary practice.
Even though I am mostly known for my paper-cutting techniques, I am excited to continue expanding upon my performance and textile work. I am constantly learning and unlearning what art means in the 21st century. Who knows what type of work I'll be making in 10 years!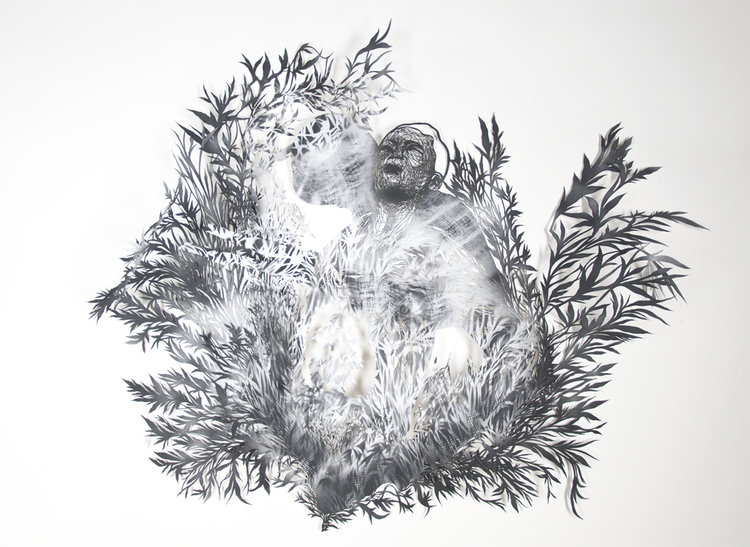 DS: As a writer and book artist, I think a lot about paper also, which for the writer serves as an open field of sorts, or an implement of documentation/archiving. In your work, paper appears to achieve movement and transforms into something that is more than two-dimensional. It becomes multi-dimensional and textured and even dynamic. Can you talk about paper as a source material? Do you use a certain type of paper?
AB: I often times view paper as a metaphor for history. When I am working on these hand-cut paper sculptures, I actively carve out space for histories that are actively forgotten and erased in this white supremacist nation. The reductive process deconstructs the white canvas, revealing more and more truths with every slice.
In my case, I think about how my cut paper work can operate as a vehicle for uplifting queer and POC communities. The dynamic, multi-dimensional qualities of my work are made possible by the folx who have trusted me with their portraits. Their experiences, interests, and talents inform the way I sculpt the paper, breathing life into the work. I definitely wouldn't be the artist and human I am today without all the queer, womxn, and POC identifying people who inspire me everyday.
DS: Your work involves a lot of cutting, which might be considered a violent/incisive act, but it is here also creative and beautifying. Could you tell us more about what the act of cutting means to you as an artist?   
My intensive paper-cutting process is extremely meditative, providing me the time and space to confront every aspect of myself. The sheets of paper are an archive of every slice and memory, mirroring the intergenerational trauma that so many refugee communities are faced with.
It remembers all.
I'm able to confront the demons as the process continues.
I eventually heal. We hopefully all do.
DS: Lastly, how (or does) your relationship to the past (or your parents/ancestors' pasts) play into your mission and being as an artist, as a diasporic Vietnamese person in the U.S.? I am struck by this line in your artist statement — "We have suffered and continue to, but that doesn't define us" — which I think is something many of us wrestle with us, each in our ways. Could you tell us a little more about that tension of holding suffering, yet also refusing to be held (entirely) by it?
My friend and colleague, Ching-In Chen, was commissioned to write an essay in response to my solo show at Lawndale. Instead of personally answering the last question, I thought it would be appropriate to include their writing instead.
---
Artist Bio
Antonius-Tin Bui (they/them) proudly identifies as a queer, gender-nonbinary, Vietnamese-American artist. They are the child of Paul and Van Bui, two Vietnamese refugees who sacrificed everything to provide a future for their four kids and extended family. Born and raised in Bronx, NY, Antonius eventually moved to Houston before pursuing a BFA at the Maryland Institute College of Art (MIC/A).
Since graduating in 2016, Antonius has been fortunate to receive fellowships from the Vermont Studio Center, Kala Art Institute, Tulsa Artists Fellowship, Halcyon Arts Lab, and Houston Center for Contemporary Craft. Thanks to these opportunities, they have greatly expanded their practice beyond just hand-cut paper techniques. They are currently interested in complicating Vietnamese history and queerness through performance, textiles, and photography. Antonius has exhibited at various institutional, private, public, and underground venues, including the Vietnam Veterans Memorial, Smithsonian Arts & Industry Building, Corcoran Gallery of Art, Hillyer Art Space, Lawndale Art Center, Living Arts, 108 Contemporary, Artscape, and the Philbrook Museum.
antoniusbui.com 
Instagram: @buimonster
Upcoming Show:
Solo Show at Lawndale Art Center: yêu em dài lâu
Dec. 7, 2018-March 3, 2019 (Houston, TX)