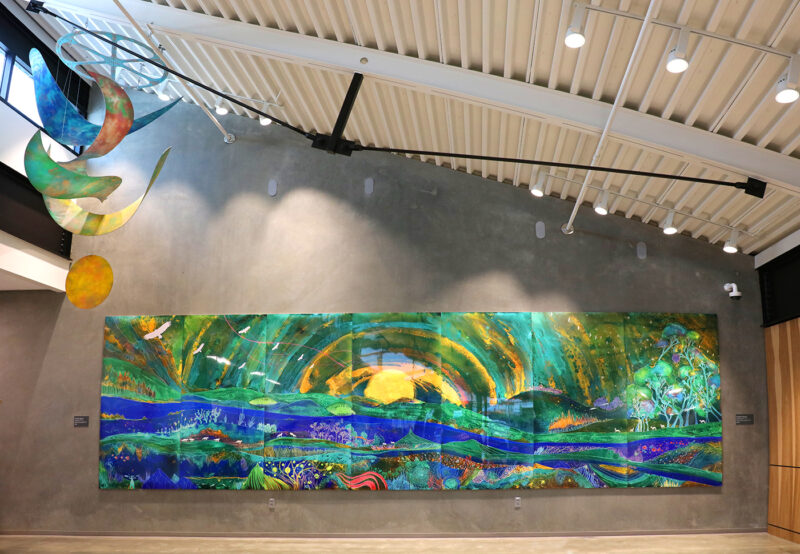 Christine Nguyen's art is vibrant, almost otherwordly, yet still firmly from this earth. It's easy to see how she is influenced by the natural world—with cyanotypes of algae to spray paint silhouettes of rice stalks—and it's in her play with color that she takes us somewhere else. We had covered her art previously and were excited to reconnect again to speak to her about her fisherman father, collecting nature, and how curiosity drives her art.
~~
Artist Statement
My work draws upon the imagery of nature, the sciences, and the cosmos but it is not limited to a conventional reading of these realms. It imagines that the depths of the ocean reach into outer space, that through an organic prism, vision can fluctuate between the micro- and macroscopic. Curiosity and using scientific methods have also been the focus of my works. I've been drawn to 19th century Naturalists like Ernst Haeckel: biologist, philosopher, physician and artist; John Muir: writer, conservationist and advocate of the preservation of the wilderness; and Anna Atkins: botanist and photographer.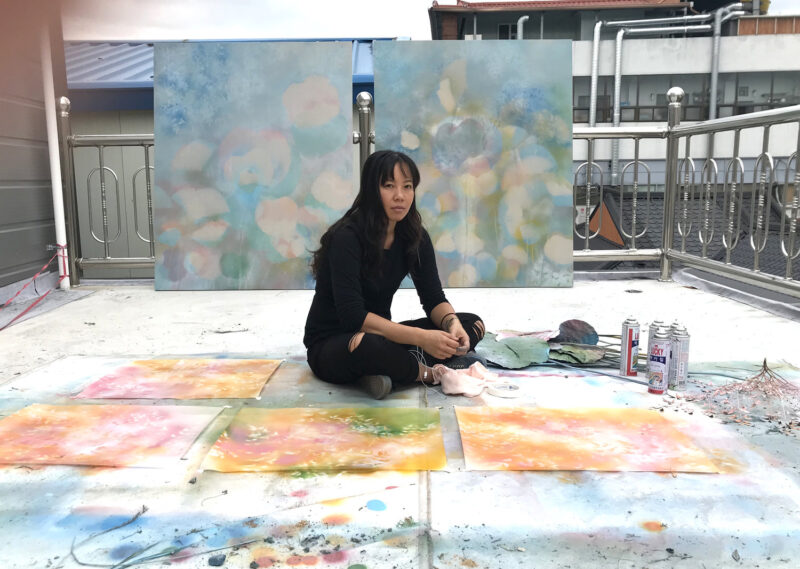 How did you arrive at becoming an artist and this specific aesthetic and approach to your art and artmaking?
Christine Nguyen: I've always been a maker and collector of nature ever since I was a child. My dad was a California fisherman so growing up I spent a lot of time on his boat and on the ocean. I was exposed to the various things he brought up from the sea and was intrigued by it. He had also given me his Canon AE-1 analogue camera when I was 12 years ago and I loved taking photos of my family and the nature around me. As a child, I loved nature–plants, trees, animals etc.–and have also been curious about outer space and the cosmos. With all these combined, I realized these interests carried over into my adulthood and more so during my studies in photography and the arts in college. The micro- and macrocosms in our universe and their similarities have always been a continuous investigation in my works.
As an artist whose work has a specific focus on the intersections of nature and the universe, your use of color is so interesting. The palette on some of your pieces are vibrant, bright, fluorescent—in a way they are colors that we don't organically see in nature in this way. Can you share how you think about color in your work? How are your choices with any given palette used to convey what you're hoping to create in your pieces?
The choices in my color are meant to evoke a meditative fantastical environment and are referencing colors found in nature. One of my goals is to have the viewers to slow down and put themselves in this imaginary world and think about their own natural environment, experience my imaginary one, and appreciate nature more. Since all colors come from nature itself whether from land – plants, trees and animals, but also underwater such as the vibrant colors in coral reefs, bioluminescence creatures in the depths of the ocean, or even during times of red tide creating bursts of fluorescent blue or green, and of course illuminating cosmic landscapes of space such as nebulas.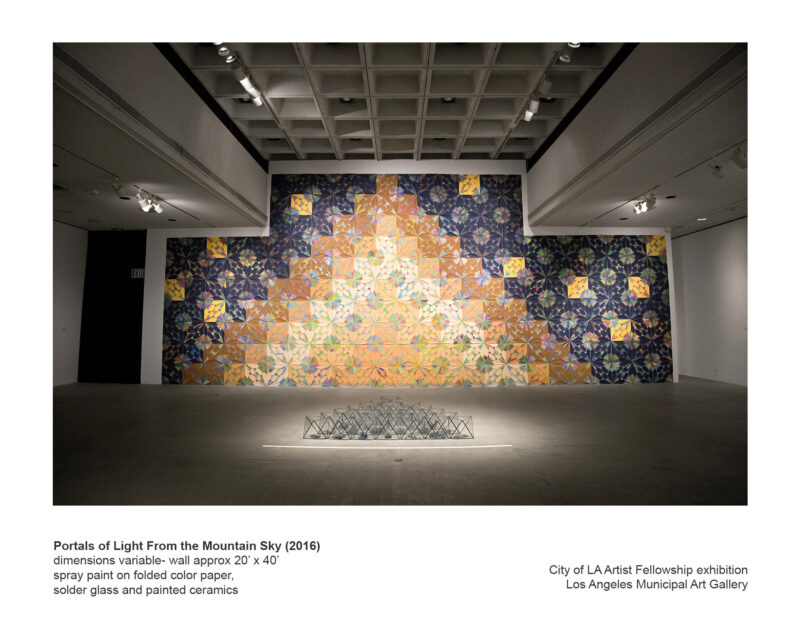 There's a great exploration of mediums within your body of work, from cyanotypes and growing salt on paper to illustrations on mylar and painting with spray paint. How do you arrive at which specific process you use for each piece? How do these different processes and mediums affect or influence the piece itself?
I tend to work in series and fluctuate between mediums. My background is in photography and I have been growing salt crystals on collected vegetation, paper and other objects. All the processes are interconnected with one another. For instance, I draw and paint on Mylar as drawings and paintings themselves but I also use that same process and materials to create my photo-based painting works which first are drawings on Mylar. The spray paint pieces originally were backgrounds on my Mylar drawings and photo-based painting works, and then I decided to use my spray paint techniques to use them as paintings by themselves.  I've always been interested in combining techniques and materials and in different processes as part of my art practice. Each process is its own series, but overall all the works are conveying the same thing and have been interested in the same themes over the past two decades as I experiment and explore in the mediums.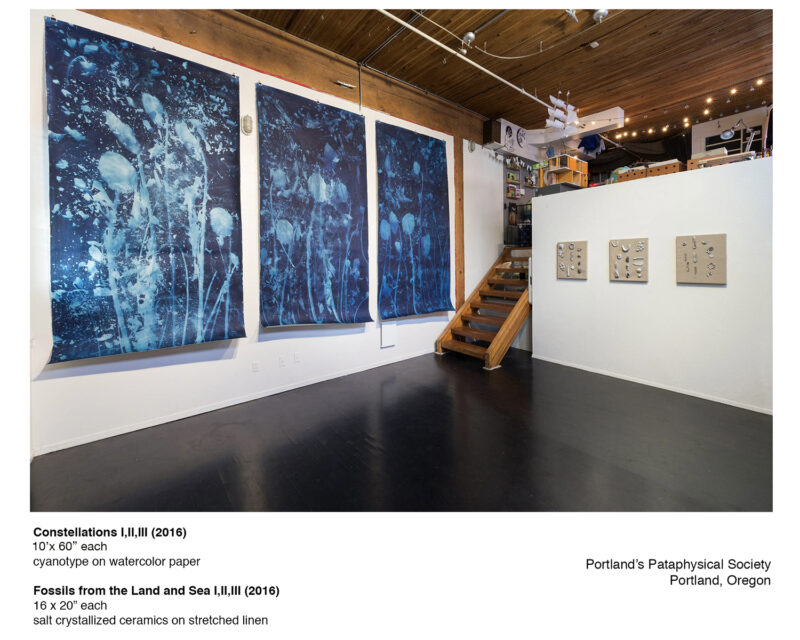 Your work engages with place and nature so strongly, and yet also creates its very own unique sense of topography and geography, landscapes that exist seemingly in their own cosmology. Could you speak about whether or how the different places you've resided or spent time in–i.e. from your long-time home base in Long Beach, California, to residencies in places as far-flung as Iceland and Korea, to your current home in Colorado–have (or have not) influenced the "places" your artwork inhabits?
In every place I have done an artist residency, visited or lived, I am always looking at the flora and fauna found in the place. I discover new things and often time find similarities in the nature in the various places. I tend to combine all my experiences in my works, but while I'm at the place itself I do make works relevant to the location using the natural materials found there. I believe every place has its own magic and wonderment that I discover the more time spent as I research the region, talking to people and looking and listening as I gather materials such as collecting dirt, rocks, and pressing plants.
diaCRITICS first wrote about your work a decade ago now, in this essay on your Rock Paper Salt exhibit at the Huntington Beach Art Center in 2010. Even then, you spoke about the influence of the ocean and your father's work as a fisherman, this being perhaps the most evident way your Vietnamese background has fed into your artwork. By now you've shown your work internationally, in Vietnam as well as in other countries, and you have made work that reaches such a wide range of viewers, from public art installations to solo art shows in galleries. Many Vietnamese artists of the diaspora (whether by choice or not) have formed their artistic voices around addressing identity, history, heritage, etc, via their art, while you have held consistently, uniquely and contemplatively, to this focus on the natural world and your experience and engagement with it. This is highly relevant in consideration of our environmental crises, of course, and reflects an outlook that contemplates the human being in the world and universe at large, not just mired by history. After this many years of making and showing work, how have your thoughts or feelings about being an artist of Vietnamese background evolved, if they have? Has showing your work internationally and back in Vietnam, for instance, impacted your sense of your location or diasporic bearing in the world? Has your art, or yourself as an artist, been received differently, in different settings?
That's a really difficult question and I've been processing it quite a bit. My initial thoughts are of memories on various occasions in my early art career. The first few questions asked how does my work reflect my being Vietnamese-American. Additionally, if/when I immigrated to the U.S and did I come by boat with my family?
I see these as being such loaded questions, and I find myself a bit uneasy about how I've been put into a category before having known anything about me. In my responses in the past, I have awkwardly said that I was born in California, and my work is mainly about my connection to the sciences and the natural world.
That being said, I do think my work is related to my identity and my upbringing, but the things that have always been rooted in me the deepest are my curiosity in nature and the sciences and our interaction with our environment. I am very interested in my heritage and my parent's history which I am slow learning about.
My father's career as a Californian fisherman is definitely the source of my inspiration of the ocean. If it wasn't his choice to be self-employed and not be an engineer in an office job, I'm not sure if my childhood experiences would be the same.
My calling is tied to our planet and beyond and to share the beauty of it creating work that is positive and healing. Having my work shown internationally, is different depending on the audience. Art is very subjective so it really depends on what people are interested in. I get all kinds of responses to my work and ultimately see that no matter where you are and where your work is shown everyone has their own set of interests. But there are always a handful of people in every place that are either not into my work, or appreciates my investigation in them! I was really excited to share my work in Vietnam especially for some of my family members to see my work in person. It was quite a sentimental experience and meaningful to connect with family and people there since it was the second time I've been to Vietnam where I met people outside of my family.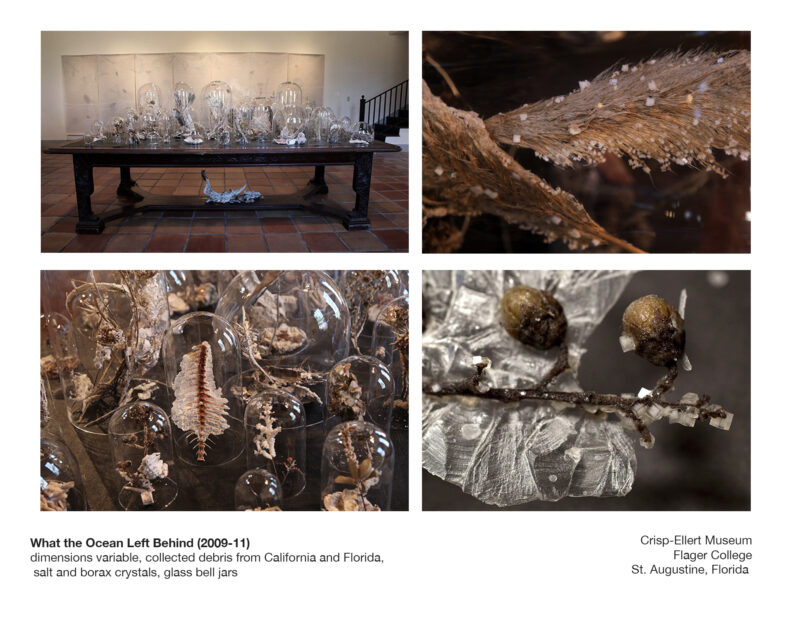 Christine Nguyen was born and raised in California and currently resides in Denver, Colorado and also works in Long Beach, California. She is a lover of animals, plants, and nature. She received her B.F.A from California State University, Long Beach and M.F.A from University of California, Irvine. Solo exhibitions of her work have been featured at the Hammer Museum (Project), Michael Kohn Gallery, Andrewshire Gallery in Los Angeles, Crisp-Ellert Art Museum, St. Augustine, FL, 10 Chancery Lane Gallery, Hong Kong and Galerie Quynh, Vietnam . Her work has also been included in group exhibitions at the Kunsthalle zu Kiel, Kiel, Germany; Laguna Beach Art Museum, Laguna Beach; Pasadena Museum of California Art, Pasadena; San Art, Ho Chi Minh City, Vietnam; Sprueth Magers Projekte, Munich, Germany; Dancing Elephants Project, Bogota, Columbia and Churner and Churner, New York.
www.christinenguyen.art
Instagram: seamoonshe
UPCOMING for 2020:
Montello Foundation Artist Residency, Montello, Nevada
https://www.montellofoundation.org/
Three person show, Long Beach Art Museum DTLB, Long Beach, California
https://www.lbma.org/
Art In Embassies / US Dept of State  Art Exchange project in Hanoi. In conjunction with this group exhibition.
https://art.state.gov/portfolio/hanoi_2018/
Night Lights Denver video project on  the Daniels & Fisher Tower. Denver, Colorado
---
Contributor Bio
Amy Lam is the Deputy Editor for diaCRITICS.
---
Do you enjoy reading diaCRITICS? Then please consider subscribing, donating, following us on Instagram or Twitter, and sharing this post to your social networks. You can also join the conversation by leaving a comment!
---