Artist Statement

When we produced our first short film XANH, none of us really had an idea of media "industry standards." (See our making-of-xanh-blog) We were simply artists, organizers, and friends who believed in a director's vision. We didn't realize we were defying so much of the hetero-patriarchal norm simply by staying grounded in our community values and being authentic in our queer and trans existence. Our cast and crew were queer and trans from start to finish. We had Viet mamas on crafts (food department) and Viet mamas acting out scenes of trauma.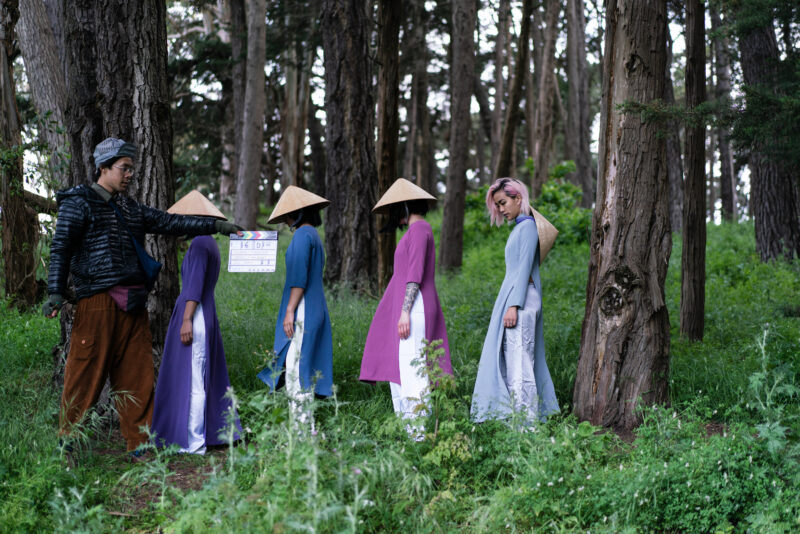 Through it all, there was intergenerational healing and we cried behind and in front of the scenes. That's the power of art: it can transform traumas into a story that allows so many others to be seen and validated. Our vision for SKP cemented after we finished XANH. We knew we did something right because from pre-production through post-production, everything fell into place including the money, the support, the volunteers, the audience and the community. Our work is driven by raw and authentic films because we believe that the specificity of our stories will move our society in understanding more nuanced facets of humanity.
Most importantly, we always bring our values to the forefront of our work. They are:
HEALING – We are brave in our healing work and we unpack our trauma through art. We believe in the power of storytelling to liberate ourselves and our communities
EMPOWERMENT – We make accessible the tools that have traditionally been guarded by industry and to disseminate the wealth of knowledge that is already within our communities. We foster an environment that holds space for mistakes and allows us to learn and grow together.
COMMUNITY – We create a safe, generative, and nourishing space where folks from underrepresented backgrounds, experiences, and abilities, can join together and claim ownership in telling the stories that are [individually,] collectively and authentically ours.
sunkissedproductions.com
instagram.com/sunkissedpr
---

About SunKissed Productions

SunKissed Productions (SKP) is a multi-media, independent film collective based in the San Francisco Bay Area. SKP is led by queer and gender non-binary, Asian American artists. We direct, write, photograph, film, and produce art that uplifts marginalized communities in a raw, authentic, and unapologetic way. SKP is made up of (from photo left to right) Tracy Nguyen, Vivian Liang, and Sal Tran.
The founders of SKP connected over growing up in Vietnamese-American households where their skin was "too dark" and deemed undesirable. In a world dominated by whiteness, we are driven to reclaim what beauty and identity mean for us. We see being dark as a way of "being kissed by the sun."