As a 1.5 generation Vietnamese Australian, this is the novel that I have dreamt of writing. The Coconut Children is a coming-of-age story about a cohort forever uneasy with itself and others. A generation that was taken from Vietnam before it could lay roots, and then transplanted to a land where the soil was rich but alien, never quite nourishing.
Sonny Le and Vincent Tran are completing high school while furtively rediscovering their friendship after growing up neighbours. Witty but reserved, Sonny at once reveres and scorns the attractive/popular girls. Vince is south-west Sydney's answer to The Fonz but has far more street cred, having returned to school after a stint in juvie.
Their struggles and strivings echo common migrant experiences such as the trauma of escape, the grandeur of exile and the violence of assimilation. They live in 1990s Australia but, except for the refreshing absence of cell phones and social media, could just as easily be here and now, or in Canada or the USA.
In publishing The Coconut Children at the age of 19, Vivian Pham captures a generation that is neither her own nor her parents'. Indeed, she captures my generation, my wave, which is a tribute to her creative flair and courageous effort.
I am jealous of Vivian Pham for three major reasons.
First, Pham grasps the refugee legacy with uncommon power and sophistication. Sonny and Vince's parents have been shaped by their journeys from Vietnam in different ways that I have encountered among my parents' cohort: they are haunted by loss and injustice; yearning for escape in solitude; and forever anxious and fidgety. Their very existence places pressure on their offspring to make up for their sacrifices: "Sonny couldn't understand why being a daughter had always felt like a debt. She could never tell whether she loved her mother for who she was, or for what she had done for her… You can tell how much you mean to someone by the amount of ginger they make you eat when you're sick." With enduring filial piety, Vince prays to his mother while in juvenile detention, substituting incense sticks with a smouldering cigarette.
Secondly, I am jealous of Vivian Pham for her insights into the inner lives and neighbourhoods of her characters and of many Vietnamese migrants. Sonny's buddy Najma says of the hated Michelle, "The girl's all oestrogen, Sonny. I don't think she's even capable of growing body hair." And when he is locked away, Vince imagines that he is walking the alleys of Sydney's Little Saigon, Cabramatta, "passing the old women on the floor selling limes from their garden…the shop owner's son sitting at the register and teaching himself to tell analogue time, the bakery smells of sweet yeast and day-old frying oil first thing in the morning." Pham describes a lurid drug den and what draws and traps people there, detailing the buckets of water sitting outside the bathroom door, needed to flush kilos of heroin down the toilet in the event that the water is shut off ahead of a police raid.
Thirdly, I envy the profundity of Pham's thinking, especially around the conundrums of time and being. She skilfully navigates the memories and experiences of her characters in a way that refutes the straight-line conceptions of history and progress that were so brutally impressed upon Vietnamese by modern colonists and Soviets. Instead, horrific vượt biên boat journeys occur "everyday" at the intersections of "myth" and "daydream." Sonny's father is forever out at sea, wanting only to relive the serenity he discovered in the eye of a storm. Shakespeare soliloquies combine with hip-hop beats. Eternity is trapped in "an ice cube" or in each rotation of "a precarious fan dangled from a low ceiling." Pham reflects upon how, if it is anything, Vietnamese identity is thập cẩm, deliciously mixed.
To be a "coconut" in racial parlance is to be brown on the outside and white in the middle. The equivalent insult for Asians is to be a "banana." One of the many achievements of The Coconut Children is to extinguish any notion that there is a clear distinction between inside and outside, past and present, there and here. Vince ponders with Sonny, "Both of us grew up speaking Viet. But the voice in my head isn't Vietnamese. I think it used to be. It's weird. I feel like, in Vietnamese, I'm still just a thằng giang hồ." Long live the giang hồ in all of us.
The Coconut Children
by Vivian Pham
Vintage Australia, $32.99 AUD
---
Contributor's Bio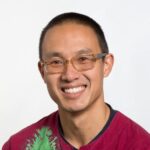 Kim Huynh lectures politics at the Australian National University and presents Sunday Brunch for ABC Radio Canberra. His is the author of Where the Sea Takes Us: A Vietnamese-Australian Story.