We're proud to present this first essay in our new series addressing racism, "A Rising Tide: Southeast Asian Voices Against Racism."
"A Rising Tide" aims to examine how Southeast Asians can fight racism and anti-Blackness. The series will explore and interrogate Southeast Asian diasporic communities and our histories, and how we can take anti-racist action and dismantle white supremacy. The series was created in response to the calls for racial justice in 2020, after the death of George Floyd, among other episodes of violence against Black people and a long history of racism communities of color have faced.
Southeast Asians in the diaspora have an integral part in dismantling white supremacy, anti-Blackness, anti-Indigeneity, xenophobia, anti-Asian racism. To that end, we want to hear from Southeast Asian voices on addressing racism and dismantling white supremacy. Through anti-imperialist lens, this series aims to examine the roles Southeast Asians in the diaspora play in fighting racism by exploring how Southeast Asian diasporic communities can take action and interrogating the histories of our communities. Read our submission guidelines here.
– Eric Nguyen, editor in chief
"It's the strangest thing, some of the most radical community organizers I've seen and known are also the most joyous and at peace," I told Brian (my friend, who is also Viet) on our video call today. We were discussing pleasure in activism.
"That might be because they're interfacing with other people all the time," he replied. And that's when things clicked for me. Though originally a tech word, when placed in this context, "interfacing" unlocked so much about what I've been processing for years.
Allow me to backtrack.
In June, I wrote an essay in response to the feelings of frustration I had in receiving contradictory messaging from the internet in regards to race and anti-racism. Years before that, I wrestled with the personal and symbolic relationship between Peter Liang and Akai Gurley. Decades before that, earlier Asian Americans didn't know whether to sit in the front or back of buses with segregated seating.
I am no longer interested in any of these tensions.
I entered undergrad the year Black Lives Matter as a contemporary movement was founded. I was learning useful frameworks like intersectionality, positionality, structures of power, and more for the first time. I wrestled with things my Asian American Studies professors at the University of Texas at Austin didn't have answers for. I looked to Black Studies, Latinx Studies, Indigenous communities, Queer communities, anywhere I thought I might find some guidance from elders. I was never satisfied in undergrad, and subsequently burnt out.
In the years since graduation, however, it's become clear that institutions, try as they might, will always be bogged down by theory in lieu of practice and experience. Thus, I have spent all of my time after graduation learning and unlearning for myself how to exist in the world again. There are so many unnecessary trappings one could fall into when learning about social justice through academia and the internet.
I grew up in Houston, where there are lots of new immigrants still getting their footing and attended one of two schools in Texas that offered Asian American Studies courses, watching professors in the department come and go before I could even take some of their classes. I was taught a lot about history, but not about how to use it to map the future. The heart of Asian American organizing seemed so far away.
Then, the pandemic unfolded. The summer protests of 2020.
But unlike in 2014, I am no longer distancing myself from Tou Thao—who stood by as Derek Chavin knelt on George Floyd for 9 minutes and 29 seconds—the way I wanted to distance myself from Peter Liang. This time, I've come far enough to embrace them. What I mean by this is: in the span of those 6 years, I found opportunities to gain practical experience. What I mean by this is: I have since found or created community wherever I can. What I mean is: when the language of abolition revealed itself to me in an accessible way this past summer, I was ready for it.
I am not as interested in figuring out my place within American racial sociometry when I have the understanding that I am not disposable. I am not as interested in distancing myself from Asian American cops when I have the understanding that they are not disposable either.
It has been 9 months since I wrote the precursor to this piece. I have made friends with people I've never met in other states and countries. I feel more connected to other Southeast Asian Americans across space and time. I can now look to communities I otherwise would've never known about for models on how to practice futurism. I have found the sparks of meaningful community in my own town.
In June, I attended an online event called "Using the Asian American Racial Justice Toolkit to Defend Black Lives" and it was the first time I had access to Asian Americans who have been doing the work. More importantly, it was the first time I had access to Asian American elders who were doing the work—and joyously so. It was an Asian American event that included Pacific Islander, South, Southeast Asian Americans. The speakers and organizers seemed at peace, connected, and fulfilled. One of them was tending a child on camera while saying mind-blowing, nourishing things about abolition to this hungry Texan audience member.
From connecting policing to how we address bullying in schools to tying it back to the way police and the military have historically protected those in power in our home countries abroad as well (especially for 1st or 1.5 generation Asian Americans) to thinking about the longevity and sustainability of organizing work, these elders spoke from lived experience. Their solutions are creative and robust because they've put in the effort to learn from the communities they work within and serve.
I am writing this to you now in 2021. Some pro-Trump people broke into the U.S. Capitol in January. The language of last summer floated up again, we are all grasping for straws. A few weeks ago, six Asian women were killed in Atlanta and the internet debated whether it was actually racially motivated or truly an issue of misogyny instead of recognizing that both are a part of a system that's bigger than either of those. And recently: mass shootings, voter suppression bills, anti-trans legislation, and more. As we approach what looks like a reopening of the country as it turns to summer, a historically dangerous season to be a person of color in America, I wonder what other tragedies will unfold.
But this time, I'm no longer caught in this loop:
anger, grief at white supremacy > received in the form of white guilt > literature, infographics, new media to soothe the guilt (all of this distracting some people from better work) > processing, explaining things to people to catch them up > some people become reliant on certain others for answers and guidance > anger, fatigue at this > feelings of guilt and helplessness again > inciting "incident" that's actually part of a cyclical system > repeat
After witnessing apathy, denial, and gaslighting in the wake of now-frequent attacks on Asian people in America, I don't have any more energy for educating others in the face of urgent harm. There is no listening and learning when it comes to saving lives—only acting.
When Brian told me earlier that community organizers might be joyous because they have access to meaningful experiences with other people through their work, I thought about my white friend who asked me something in response to a social media post that urges white people to shed their privilege faster than BIPOC can call it out. Her question was more of an earnest admittance of humility: "I really don't know what to do." I gave her an answer that felt like nothing and everything at once: Try, fail, experiment, imagine. Learn by doing.
As for Asian Americans and the greater Asian diaspora, I hope you're making space to rage, to grieve, to process however you'd like with self-compassion. I hope you turn away from those who would question your reality during moments of grief in favor of turning towards those who would understand or already know. I hope you interface with all the right people, even if it's just yourself some days— it will lead you home.
---
Author Bio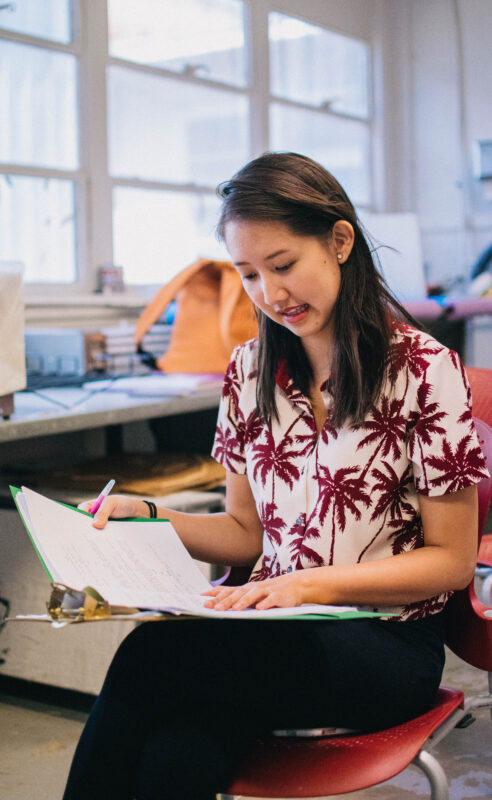 Born in Saigon and raised in Boston and Houston, Thanh Bui is a writer & actor currently based out of Austin, Texas. Her work has appeared in The Offing, Cosmonauts Avenue, Glass: A Journal of Poetry, FIVE:2:ONE, Crab Fat Magazine, FreezeRay Poetry, The Sunlight Press, and other places accessible to her mom. She loves constantly.