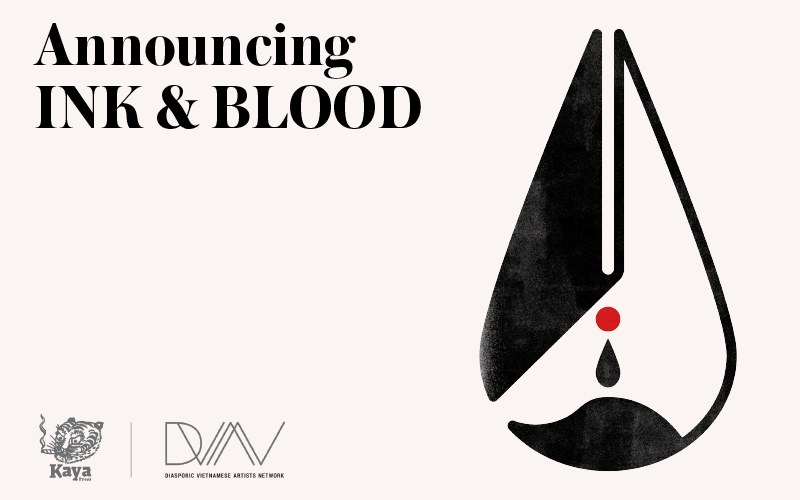 The Diasporic Vietnamese Artist Network is thrilled to announce Ink & Blood, a new joint imprint focused on diasporic Vietnamese literature from DVAN and Kaya Press! The Ink & Blood series will introduce literary works of fiction, poetry, memoir, and graphic novels from diasporic communities that expand the scope and understanding of the Vietnamese diasporic experience and imaginaries.
Kaya Press is an independent not-for-profit publisher of Asian and Pacific Islander diasporic literature. Founded in 1994, Kaya is dedicated to the publication of new and innovative fiction, poetry, and the recovery of important and overlooked works from the Pacific Rim and the API diaspora. Kaya's commitment to creating space for books and authors in order to nurture and support this growing community of voices aligns directly with DVAN's mission to celebrate and foster diasporic Vietnamese literary voices.
Ink & Blood's first book will be an English translation of Line Papin's Les os des filles (working title: The Bones of Daughters, Spring 2022).
Born in Hanoï, Vietnam in 1995, Line Papin lived there until the age of ten before moving to France. At age 25, she already has four critically acclaimed novels to her name: L'éveil (2016 Vocation Prize), Toni (2018), Les os des filles (2019), and Le coeur en laisse (2021). Hailed by the press and booksellers, The Bones of Daughters was nominated for the Readers' Prize of Le Livre de Poche.
Ink & Blood takes its name from a Vietnamese literary group that DVAN co-founders Isabelle Thuy Pelaud and Viet Thanh Nguyen joined as graduate students in the 1990s in San Francisco. Ink & Blood laid the foundation for DVAN, and as Pelaud explains, "the choice of re-birthing the name stands as a gentle poetic embrace of who we were and where we came from as we continue to push forward in collaboration with other organizations for the imagining and making of a world in which writers who look like us are no longer defined by origin."
To celebrate the launch, DVAN founder and Pulitzer Prize winning-author Viet Thanh Nguyen will be in conversation with DVAN's founder and Executive Director Isabelle Thuy Pelaud and a representative from Kaya Press to talk about this collaboration. We will also be speaking with acclaimed author Line Papin and the book's translator Adriana Hunter about the art of translation and the considerations we must take when transcending across the diaspora through language and literature.
This ÁCCENTED event will take place on Friday June 11, 2021 at 4:30 p.m. PST, on Facebook live. More details to come!
In order to expand Ink & Blood, we want to raise $10,000 by June 18th! Your donation will help support the translation, design, and production of work from Vietnamese writers from around the world, and facilitate the Ink & Blood editorial team to seek out Vietnamese writers, translators, and artists to highlight through this special imprint.