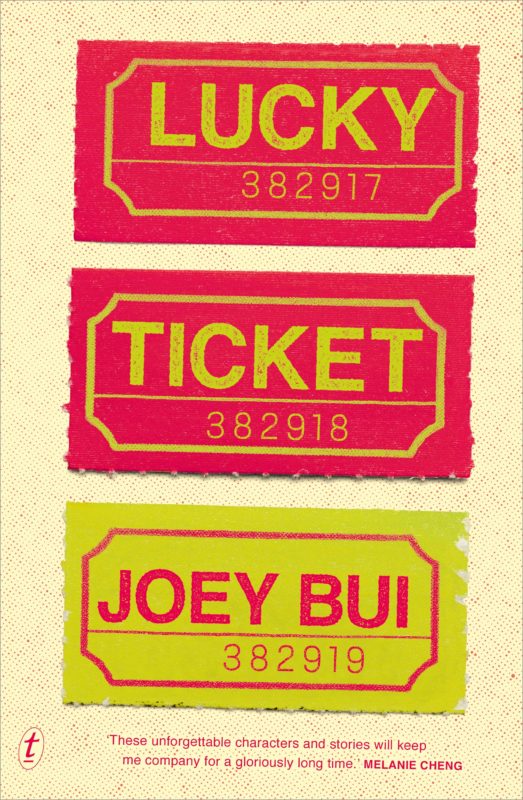 Lucky Ticket is Vietnamese Australian writer Joey Bui's debut collection of short stories. The collection has been shortlisted for multiple Australian literary awards, including the Stella Prize and last year won the University of Southern Queensland Steele Rudd Award for a Short Story Collection. Within Vietnamese diasporic literature, Lucky Ticket takes its place alongside other collections like Andrew Lam's Birds of Paradise Lost, Viet Thanh Nguyen's The Refugees, and Nam Le's The Boat.
Bui's characters take us across Sài Gòn one night from the back of a motorbike, to a pink-tiled bathroom of a bar in Palermo, to Springvale's Lunar New Year Festival, and much more. Her stories transcend cultural differences and geographical borders not because of universal themes like kinship, endurance, and the human condition, although these do resonate deeply with the reader. Rather, Bui centers the migrant experience and explores the ultimate universality: displacement.
The story of the migrant worker Fredy in "Abu Dhabi Gently" outlines his frustrations dealing with the slow pace of government recruitment offices and lost fees and paperwork as he leaves his wife and family in Zanzibar to work at the Industrial City of Abu Dhabi. "There was nothing to be done, and I suppose it was nobody's fault but my own," he says, resigning himself and other migrants to dumb luck in bureaucratic situations. In "Lucky Ticket," Kiet speaks of his displacement in Vietnamese history and society as a disabled Việt Nam Cộng hòa veteran who now sells lottery tickets in Vietnam: "You are ruined…but you still have to keep living. You become a burden to Vietnam, one more cripple to look after." He asks the writer and her Viet Kieu readers to not forget those who stayed behind. The child of the migrant also grapples with precarious moments of belonging in the West, which Bui explores in "Whitewashed." Bui concerns us with the character Vi's troubled relationship to whiteness not only through her white friend Michaela, but also through Kieu—a Vietnamese Australian involved with the Asian culture club and comfortable in her Vietnamese skin. Both Michaela and Kieu stand as racial contrasts to Vi's hyphenated identity. We witness her convincing herself again and again that being called whitewashed by Asians, or that she looks good "for an Asian" to white guys, are all compliments.
One story in Lucky Ticket anchors the polyphony of displaced voices in Bui's collection as a sort of meta-commentary as we think about Bui as a writer from the minority collecting many people's stories and submitting her work to the white-majority book industry. In "Before the Lights Go Out," an American woman named Julie curates a Nepalese artist's photograph of his friend's mother at his burial. She believes her exhibition about "the horrors of Nepal's civil war" will "give power back to the civilians of Nepal." But the artist's own father laughs to hear his son, Ngodup, tell the people at his university such things as "It was a real honour to show how the civil war hurt us Nepalese, it was an emotional experience." Ngodup's words feel as hollow as Julie's insight on his photograph: "It's so full of life." By the story's end, Ngodup stands in a courtyard filled with relatives and friends at his mother's death anniversary ceremony. He notices how "the humming of all the people around me… seemed to rise in unison." In this moment, his mind returns to Julie's earlier comment, and he wonders, "How could anything not be full of life? Everything was so full of it." Bui shares Ngodup's place as an artist that white institutions are turning to to hear vulnerable stories of the displaced. Bui and Ngodup are thus tasked to preserve the reverberations of these "humming" voices, the complexities of BIPOC stories told near them and to them—such as through a rich short story collection like Lucky Ticket.
Whereas Ngodup falters as an artist as he remains disconnected from his people, the subjects of his art, Bui continues to assess her privileged position as a storyteller by carefully researching about the cultures she is presenting in her works and speaking with the people whose lives have molded her characters into being. To Bui, writing is an exercise of empathy as she seeks to relate to and understand not only people across cultures but also across generations. In "The Honourable Man," for example, Bui writes from the perspective of a Vietnamese father who must confront the intergenerational trauma he has passed onto his son: "He looks like me in so many ways, and carries some of the same terrible burden. For a father's lifetime eating salt, a son's lifetime thirsting water." For the second-generation immigrant, reading this short story becomes an exercise of empathy with the parent, whose painful experiences in the native country can make them seem distant and difficult instead of warm and caring as one wishes a parent to be. Bui's writing briefly allows the Vietnamese father to be vulnerable for the child to access his thoughts—a gesture toward compassion.
As a collection, Lucky Ticket does not paint a complete picture of anyone's life from a particular culture or background, and nor is Bui trying to. Perhaps that is why Bui chose the form of the short story in the first place, a genre that allows for more questions than answers often with its strange, symbolic incidents and mysterious endings, which always insist that there must be more to the lives of these characters. Lucky Ticket offers no predictable, scripted stories of model minorities or rags-to-riches immigrants, and it provides no easy resolutions for its characters' dilemmas, so sophisticatedly tied up with the past, the West, sexuality, power dynamics, and beyond. Bui's debut is a thoughtful invitation to readers who find themselves displaced to say more about their unique and valid journeys; she reaffirms that they embody stories that are worth telling.
Lucky Ticket
by Joey Bui
Text Publishing, $15.95
---
Contributor's Bio
Cathy Duong is a current junior at Yale, majoring in English. She enjoys (over)analyzing all things Vietnamese, from the briefest references to Vietnam in Western pop culture, to art, literature, and film created by the talented Viet diaspora.