Bảo Vương's exhibition is an evocation of the perilous escape from Vietnam by sea with his parents (he was only one year old at that time) and 200 other boat-people. At the beginning of the exhibit we are confronted with a large diptych representing the departure, the farewell to Vietnamese land and at the end, on the last painting, the horizon splits a relentless dark sea and sky in a fragile luminous wound. All the scenes are devoid of any boats, silhouettes, faces or human presences…Only the "background" landscape of this journey, the ever changing sea and sky, are painted. This radical esthetical approach has a paradoxical effect. It puts us in the position of these refugees, giving us a glimpse of this long dangerous journey. As we go from one canvas to another, our eyes wide opened facing an uncompromising black sea, we experience a bizarre shift of time and space,  with evanescent visions and sensations arising from the work. We cannot help ourselves from projecting an infinity of emotions generated by the forms and shapes of the waves, they sometimes look dangerous and threatening, sometimes peaceful or indifferent. Bảo Vương sculpted these multiple and infinite shimmers of the ocean only with his knife and black oil paint, playing along with the reflection of the light, giving it a 3 dimensional quality which contrasts with the sky made out of black thin uniform acrylic painting. More neutral and abstract, this celestial mirror is sometimes inhabited by a few clouds or a single large one from which a few drops of rain weep. This dark and hypnotic crossing has a deep emotional effect on the visitor who often remains long minutes in contemplation, fascinated in front of these obsessive waves and details. Though very abstract, these black landscapes seem haunted by personal and collective memories, as if secret and ghostly presences guided the hand of Bảo Vương—hidden memories which long to surface into light. This dark odyssey modifies our perception of duality. Absence and presence, light and darkness, trauma and healing, abstraction and figuration, are no longer divided along fixed boundaries. This visual poem invites all these dualities to emerge within the viewer to be pacified and liberated.
What was the artistic process that led you to this choice of monochrome oil paintings? How did this idea, this style come to you?
10 years ago I started a self-portrait which represented me in the hold of a boat, me, as an adult. And behind me there were pictures of boat-people that I had made with tar, with leftover gasoline and dirty engine oil. My mother had told me that during the trip, we were very close to the engine and that there was this terrible, omnipresent smell of tar. So I wanted to paint with this tar color. It was also in line with my situation at the time, because I was painting in an underground parking lot, I did not yet have a studio. Afterwards, I made paintings of Syrian and African refugees, of drowned migrants, painted in black, gray and white oils with a classical technique. And one day I asked myself "What do I really like the most about these paintings? "And strangely it wasn't so much the portraits in themselves that I liked, but it was the sea behind, in the background, made of a single non-color, black. I decided to remove the characters, to see how it was, only with the sea. And the first Crossing was born like that! All of a sudden this opened up the field of interpretation. I was no longer, the spectator was no longer a somewhat far off person who observed migrants or figurative boat-people from a distance. We are on the boat, we are the boat-people, we are in their place.
Every time I paint, I try to put myself in this position, through my mother's eyes and I imagine what she could see and feel. I said to myself, maybe, this less figurative approach would also allow me to no longer have a censorship problem in Vietnam. In 2014, the first exhibition I was supposed to have there was canceled at the last minute. I had painted portraits of mourning Vietnamese mothers wearing white ribbons, not on their foreheads as is traditional, but over their eyes. It was misinterpreted as portraits of women who were shot, executed. As a result, the exhibition never took place. So the day I took out my refugee figures and kept that sea background, I was over-excited about the potential, I thought to myself "It's amazing to paint with just black color, it's revolutionary."
And the next morning I woke up totally depressed, I just remembered the work of Pierre Soulages! He had already invented that! Then, I realized that if the medium, the technique is the same, I don't actually do the same thing, I don't have the same approach as him. In the 1980s, Pierre Soulages exploited black oil paint as a material that reflects light, as a total metaphysical abstraction. His subject was more light than black paint itself, which he called "outrenoir", a color beyond black. He said "I do not represent, I present. I don't depict, I paint. "
For my part, I remain at the frontier between abstraction and figuration. For me, black represents, tells a lot of things. My subject is this bottomless sea, as a projection of all the emotions, all the sufferings and anxieties that my parents may have had during this crossing.
What are the personal memories that you evoke more particularly through these 30 paintings of The Crossing?
I organized the exhibition chronologically. The first large diptych represents the departure, this momentum towards the void. The land we leave is represented quite discreetly on the side and all the rest of the canvas is a cloudless sky and very straight lines for the sea. It is really a representation of the void that awaited my parents. After that, there is a black triptych, with the dark side of the sea. We have our head bowed, as if we don't want to see what is happening and that we prefer to watch the swell of the sea rather than everything that is happening next to it, atrocities, thefts, rapes.
Shortly after departure, three bands of pirates boarded the ship in one night. The first   pirates forced all the boat-people to drink a laxative and stole all their jewelry and valuables, all of them! The second pirate gang, finding nothing left to steal, separated the men from the women and took out their frustration on them. Terrible things happened to the women. My mother told me that she was spared, that she escaped rape because she had two small children clinging to her, my sister and I. I want to hope it is true. Finally a third band of Thai pirates wanted to sink the boat but some people managed to persuade them, in English, not to do so. I heard all these stories for the first time only when I was 25, when I returned to Vietnam with my mother and heard her telling all about it to her sisters. I was shocked.
The "Pulau Bidong" Crossing represents a beach in Malaysia, our arrival in a refugee camp where we were parked. People thought they were finally saved but we were greeted by armed militias who surrounded us with ropes to prevent us from fleeing into the city. Huge disillusionment. The Malaysian government had given the order to eliminate as many Vietnamese boat-people as possible because there were too many of us. We were told to take our things and get back on our boat which was out of fuel. They towed us to the open sea and cut the rope. Abandoning us in the middle of the sea, adrift without water.
And there according to my mother, after 4 or 5 days with nothing to drink, a cloud appeared out of nowhere, in a totally empty blue sky. When it was exactly over our boat, it released life-giving rain. It was obviously seen as a miracle. I painted this cloud of salvation in a symbolic way, a little roundish in form, as a child does, and I made it cry a few tears on a totally parched sea, as if this cloud was nourishing this sea. I was only one year old but this episode must have marked me a lot because my mother told me the first word I pronounced as a child was "Nước" which means "water".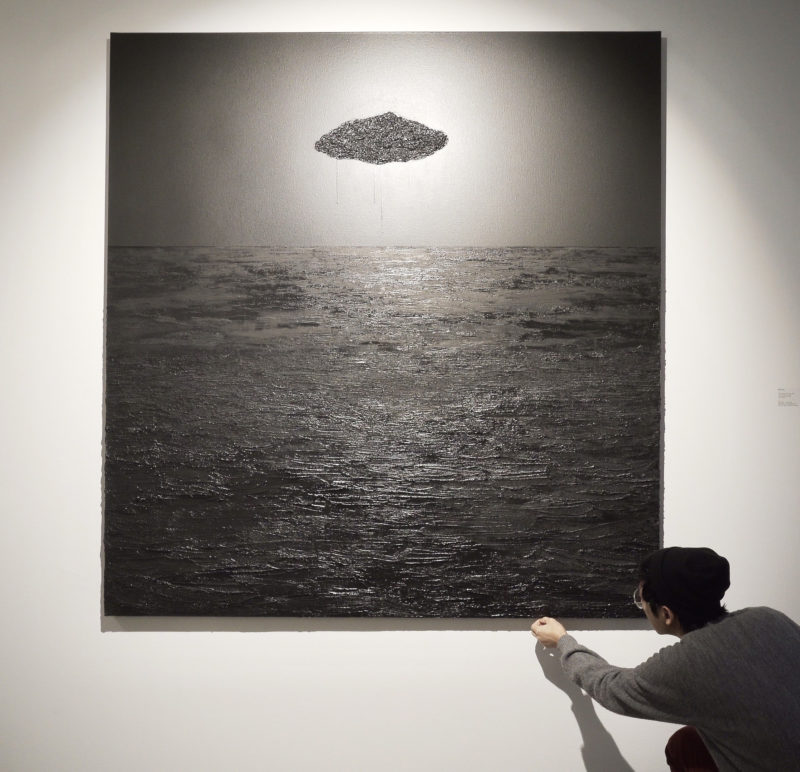 This experience that you could not possibly remember, since you were only one year old, is a terrible burden, how did you transcribe this heaviness on the canvas?
These family memories weighed on me a lot with an overshadowing silence that suppressed them for years. I am the fruit of this silence and so is my art. One of the first canvases I made almost cracked under its weight when we had to lift it, it was so heavy. I had accumulated a lot of material on the part that represents the sea, almost 45 to 50kg of oil paint, sculpted with a knife and a spatula. When the canvas almost broke, a technician had to be brought in to reinforce the structure with metal bars, making it even heavier!
During this exhibition in Vietnam, I prayed that the flimsy wall did not fall on the visitors from the weight of the painting! It was as if, inside of me, there were so many things that I wanted to express, that I had to pour all this on a canvas. As if I wanted to put down a weight that was too heavy for me. I didn't realize that it could be dangerous. Obviously I did not make this mistake again and I am now careful that the painting is not physically too heavy. But I kept this contrast between the excess material for the sea painted in oil and the uncluttered void of the sky painted in acrylic. In fact, when I paint, I have the gestures of a sculptor, I play with light and its reflections, it's 3D, it's bas-relief. I sculpt light with black oils. I have to manage mass movements of water and for that, there is no secret, it takes time, you have to be able to start over and over and that's what oil painting allows. It is a living material that moves over time, that continues to live, to dry at its own pace. It is alive, it must be respected, otherwise it thwarts its development.
Do you have the impression that there is a cathartic, therapeutic dimension in your work as an artist, for you and for others as well, that there is a personal impact but also maybe a collective one?
I have the impression that in this dark matter there is tremendous energy, a light waiting to be addressed and released. I work with this living, dark material, like a wound that belongs to us, to this community of people who share these fragmented memories … of a terrible journey through a magnificent sea, a landscape beyond good-and-evil, the witness, the setting of countless dramas, hopes and lost illusions, but also rescues and incredible miracles. The truth, the reality of what happened, I think is pretty unspeakable. Words are too small to describe this kind of crossing, to transcribe everything that has been experienced. With language, I can't really tell what I feel, what I can perceive from the stories my parents tell me or the other stories I heard.
Georges Braque said "art is the transformation of a wound into light" and yes sometimes I have the impression that my work expresses that, that with this black paste that I sculpt, I try to repair, to heal a kind of injury, an accident. Trauma never goes away, but you learn to live with it. Art goes through the emotions, through an interpretation, a reinterpretation which partially defeats the barriers of caution or weariness linked to this kind of subject. Also I don't show things directly. Everything happens in the head of the person who is watching. We know there is a story, but we don't know exactly what this story is, what this taboo is. You can only imagine it as I do. I always imagine it, because I will never get to the bottom of the story. Everything got lost in the water. But expressing that, releasing that silence through an artistic process, I know it has helped my family. As a lot of dramas are put into a box, when the box opens, immediately, it gets better. My brothers and sisters are grateful to me, they told me that indeed, they never wanted to see what was beneath it, somehow knowing that there was all this. But thanks to my work something inside them became lighter. Many people who have been boat-people or are children of boat-people tell me that after the exhibition, they want to come home and talk about it, to really dare to talk about the subject.
In this heavy and dark series, there is a thread of light, an opening towards another world that I represented in an abstract way in the last painting. It is a golden line between the sea and the horizon, which evokes a lot of things. Some see in it the promise of dawn, an island, a note of hope. I worked it with my knife like a wound, like a scar of light. It's a fairly enigmatic line for me that leads after all this darkness, to another dimension.
In the exhibition, you added at the end two small portraits, two faces of a woman and a man, both elderly, their eyes closed, full of wisdom and silent dignity. Can you explain their story to us?
During the first confinement in France, in March/April 2020, I could no longer access my workshop. So I bought two small canvases and let go of the abstract rule of non-representation that I had imposed on myself. So strangely, I did not paint seas. I wanted for a long time to make another interpretation of my painting because often in my waves I see wrinkled skins. And that's how this woman and this man appeared. It is as if I had embodied these presences that I feel when I paint, those who guide my hand. Often I have the impression of not being alone when I work, as if ghosts are inspiring, directing my movements. I listen and follow randomly, I don't try to control everything. Just as we meditate on graves, offer incense or a fruit platter to our ancestors, there I paid this tribute to my people, to those I know and do not know, to my parents first, who had the courage, the inner strength to face the ocean, to jump into the void, to embrace the unknown. I also thought of my grandfather who, surely with a broken heart, encouraged my mother to leave Vietnam with my father. My mother really didn't want to leave. But my grandfather told her "the place of a wife is with her husband and her children". And he certainly knew he was sending her maybe to her death and us also, in saying that.
What I like about these two paintings is that they remind me of where we are in the story, where we are in the genealogy. We are the result of other past stories. Often old people look like they are half asleep. They have their eyes closed, as if in introspection. They think back to everything they have experienced, moments of life resurface. They have an interior strength, an interiorization that we lack, because we are always a little too much over active and restless. It is a meditative state which is similar to the one I find myself in when I paint. Through these folds of paint and this rough and soft material, I wanted to represent the beauty of old age. This story does not belong to me alone. I have the impression that they are there to tell me "keep talking about us, talking about the people who not only made it through this crossing, but also, those who did not succeed. Because their energies remain in our memory". Our lives are similar to these waves that spring to life and die on the surface of a deep polymorphic sea. They flow according to the wind, to hidden currents, with our memories of light and darkness.
This article was translated from French with the extra help of Gary Granville.
---
Contributors' Bios
Bảo Vương was born in Vietnam just after the war. He was only one year old when his parents decided to leave Vietnam by sea. After spending a year in a refugee camp in Malaysia, his family finally reached France and settled there. After his bachelor, Bảo Vương graduated at the "Fine Art School of Toulon"  then at the "Art School of Avignon" (DNAP then DNSEP). After 30 years in France, he decided to go back to Vietnam and started to work. He started exhibiting his art in 2016 in Vietnam (Gallery Quynh, A Farm, l'Espace, Manzi ), then in France (A2Z Art Gallery, Art Fare ASIA NOW) and Singapore (Richard Koh Fine Art).
Bảo Vương currently lives and works in Paris. In France he is represented by A2Z Art Gallery Paris-Hong Kong. In 2021, he has exhibitions planned at Foires Internationales ART PARIS (April), ASIA NOW (November), Galerie A2Z in Paris (September), in La Haye in Netherlands at the Vietnam Art House (November).
Florence Tran is a documentary filmmaker based in Paris, France. She started her career in London, working on documentaries on Chinese history and Angkor civilization. She then directed films in many countries, most particularly in Tibet, Nepal, Bhutan, India and Egypt. She followed spiritual, political or scientific human adventures, investigated the dark side of neurosciences and tackled ancient Egyptian mysteries. She is now developing several projects related to her Vietnamese origins