I reminiscence on humid skies
& yearn for a place so far that I still call "home"
& question if I can claim it all in the same breath.
I smell the sticky, thick sap of jackfruit trees,
easily staining the skin in the playful way
farmers' tan lines embrace the arms & legs of my cousin.
I wonder if the land remembers the smell of bomb debris.
Waters tainted with Agent Orange are no longer the hue of xanh,
my ancestors' memories wished to bestow to us.
The same way I cannot erase the black & white videos
of Operation Rolling Thunder ravaging the land,
evidence enough to have been deemed
a humanitarian crisis.
How many acres of homeland must US imperialism touch
before they are satisfied with missing children & residual birth defects?
Who do we bill for the obstruction of humanity in war?
Did you know, in the history of the world,
the United States is the only country that ever used nuclear weapons?
"Pre-emptive" seems to be enough of a justification,
it can hold in an already tethered court,
& the weight of all the prematurely dead souls
are featherlight on the head of war heroes.
I see the crack breaking open my cousin's skin.
He shouldn't spray pesticide without layers of protection.
He warns me to always wash my fruit.
If that stuff poisons the earth & the skin is the largest organ on the body,
you can only imagine the seeping desecration of your landscape's power.
But in true farmer nature, we play in soil, fish in muddy ponds,
and take our afternoon naps under shady vú sữa trees,
the gentle breezes calming our breaths.
And we cross oceans countlessly
& make homes in lands
Equally fraught with poison & problems.
Remember, you have to keep farming.
Your mangoes are the best I've tasted
& you have a family to feed
& two beautiful, jubilant children to watch grow
& a lifetime of memories to tend to.
---
Contributor's Bio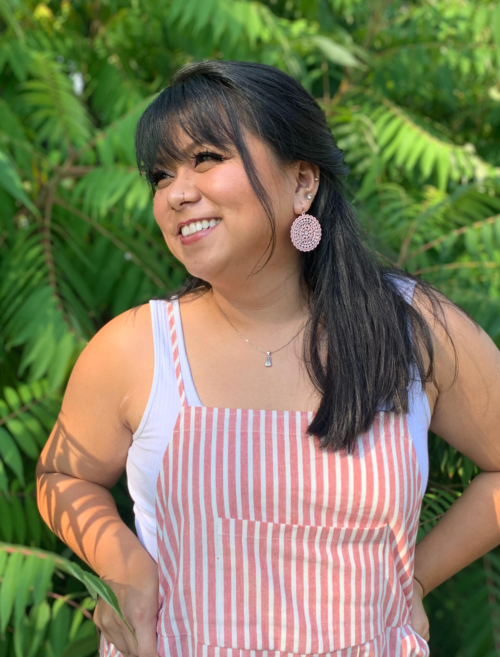 Y-Bình Nguyễn (she/they) is a proud daughter to American War in Vietnam refugees, descendent from a rural farming community in An Giang, Việt Nam, and situated in Lawrence, Massachusetts. She is currently the Literary Curator & Program Director at El Taller and Co-Founder & Literary Editor at Exposed Brick Literary Magazine.
Y-Bình's poetry and prose focuses on the poignant themes of transgenerational trauma & healing, critical compassion, queer coming of age love stories, diaspora hustles and bustles, eco-resistance sci-fi, and visionary fiction. As a passionate educator with a praxis of communal learning, one of Y-Binh's favorite places in the world to teach and learn is Mamelodi, South Africa. On sunny days, you can find her relearning how to grow food, immersed in works by creatives of color, and figuring out how to be the best role model for her younger sisters (Bảo Trân and pup Nieves). For updates visit y-binhnguyen.com