Mark your calendars! The Diasporic Vietnamese Artists Network (DVAN) is proud to announce the next episode of ÁCCENTED: Dialogues in Diaspora, co-sponsored by PIVOT, the Progressive Vietnamese Organization.
This episode of ÁCCENTED will feature a panel of leaders and scholars in the mental health field. James Huynh, Danny Thien Le, Dr. Yvonne Y. Kwan, and Dr. Thu Quach will join Pulitzer-prize winning author Viet Thanh Nguyen in a conversation centering on emotional well-being, health, centering on emotional well-being, health, and self care through the course of the pandemic. We'll explore the effects of anti-Asian violence and racism, intergenerational trauma, and bicultural/queer identities. DVAN hopes to create a safe, supportive space to educate the community, share resources, and break down stigma surrounding mental health.
The Zoom event takes place next Thursday, January 27th, 2022 at 6 pm PST / 9pm EST. Tickets are $5 and can be purchased here.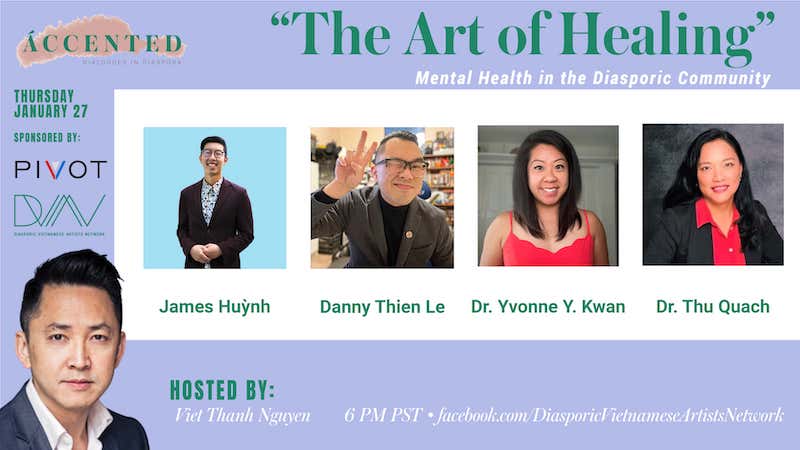 ABOUT THE GUESTS:
JAMES Huỳnh grew up in desert-turned-suburbia Fontana, CA and is the son of Vietnamese refugees who come from the city of Huế, Việt Nam. James is a PhD student in Community Health Sciences at the UCLA Fielding School of Public Health. He is also a Health Policy Research Scholar, a fellowship funded by the Robert Wood Johnson Foundation. His scholarly and activist commitments are to issues of health equity, racial capitalism, queer Asian/American community well-being, the social and political construction of family and kinship, and grassroots organizing. Prior to graduate school, James was a Fulbright Fellow in Việt Nam. Outside of academia, James is Chair of the Board of Directors of Viet Rainbow of Orange County (VROC), a grassroots organization that builds community and mobilizes intergenerationally primarily with LGBTQ+ Vietnamese Americans and their loved ones through research, education, and advocacy. James earned his MA in Asian American Studies and MPH in Community Health Sciences from UCLA and a BA in Human Biology from Stanford University.
DANNY THIEN LE is a Vietnamese American poet, community engager, and public librarian from San Jose, California. For the last 20 years his work has centered around AAPI causes, nonprofits, fashion, design, event organizing, and the creative arts. He has worked with numerous organizations in the Bay Area and beyond – most notably with Cukui, Universal Grammar, POW! WOW! San Jose, the Diasporic Vietnamese Artists Network (DVAN), and the APIA Spoken Word & Poetry Summit. Danny has used poetry and writing as a vehicle to build upon his own redefining Southeast Asian identity and to help others reclaim their own personal narratives through the art of storytelling. When he is not busy producing events, starting new collaborations, or working the reference desk at the Santa Clara City Library, he enjoys dancing, traveling, good food, eclectic music, and collecting rare books and recordings.
DR. YVONNE Y. KWAN is an assistant professor of Asian American Studies and the previous Director of the Ethnic Studies Collaborative at San Jose State University. Dr. Kwan led efforts in the implementation of the California State University Ethnic Studies Graduation Requirement. She currently leads the CSU-wide Asian American Studies Caucus and serves as a representative on the statewide-CSU Council on Ethnic Studies. In 2021, Dr. Kwan was also the lead organizer of the Southeast Asian American Studies Conference. Her research explores how social trauma may not be verbalized or articulated, but yet children of survivors can still develop the capacity to both identify with and experience the pain of previous generations. She also collaborates with the local San Jose community to document oral histories of Asian Americans and Pacific Islander elders and contemporaries from Santa Clara County.
DR. THU QUACH, Ph.D has been working in public health and health care for nearly 25 years. Her research, service, and advocacy work have been grounded in her own lived experience as a refugee from Vietnam, and the struggles her family faced in the healthcare system. Trained as an epidemiologist, she has conducted community-based research, focusing on Asian Americans and immigrant populations, including examining occupational exposures and health impacts among Vietnamese nail salon workers. This work was inspired by her own mother, who passed from cancer at the age of 58, after working as a cosmetologist for decades. These research findings have contributed to the seminal work of the California Healthy Nail Salon Collaborative, which has shaped policy changes and worker rights and safety.
Dr. Quach is the President at Asian Health Services, a federally qualified health center in Oakland serving 50,000 patients in English and 14 Asian languages. She is involved in local, statewide, and national research and policy efforts to promote health equity. In recent years, Dr. Quach has been leading the organization in addressing racial disparities in COVID-19, including starting up a culturally and linguistically competent community testing site, contact tracing targeting AAPIs, and vaccination efforts. In addition, she has been conducting groundbreaking research on COVID-19 impacts on the AAPI population and launched efforts to collect stories of language and digital barriers faced by the community during the pandemic.
In her personal capacity, she helped form a national 501c4 organization – PIVOT (Progressive Vietnamese American Organization), which engages and empowers Vietnamese Americans for a just and diverse America. Her greatest joy as well as her greatest challenge is raising her two sons to become strong and compassionate individuals, and to understand their cultural roots as Vietnamese and Japanese Americans.
Dr. Quach received her Bachelors of Art from U.C. Berkeley, her Master's in Public Health at U.C.L.A., and her Ph.D. in Epidemiology at U.C. Berkeley.
About the Sponsor:
PIVOT's (the Progressive Vietnamese American Organization) mission is to engage and empower Vietnamese Americans for a just and diverse America. The vision of PIVOT is to be a collective voice for progressive Vietnamese Americans, to engage and empower Vietnamese Americans through civic engagement and leadership development, and to support policies and candidates that are aligned with our values. To learn more about PIVOT and their work, please visit https://www.pivotnetwork.org/
About The Host:
Viet Thanh Nguyen is the author of The Sympathizer, Nothing Ever Dies: Vietnam and the Memory of War, The Refugees, and Race and Resistance: Literature, Politics and Asian America. His most recent book was Chicken of the Sea, written with his son Ellison. His most recent book is The Committed, the sequel to The Sympathizer.
About The Moderator:
Philip Nguyen is the emcee for ÁCCENTED: Dialogues in Diaspora presented by the Diasporic Vietnamese Artists Network (DVAN). He teaches Asian American Studies in the College of Ethnic Studies at San Francisco State University and is the Executive Director for the Vietnamese American Roundtable, a 501(c)(3) nonprofit organization based in San Jose, California. Philip serves as the President of the Union of North American Vietnamese Student Associations (UNAVSA) and as the Co-Chair of the Young Vietnamese Americans (YVA) Committee for PIVOT – The Progressive Vietnamese American Organization.
Silent Auction:
Check out our DVAN auction for an array of exciting offerings such as limited editions DVAN and PIVOT swag, a collection of herbal teas curated by Tea & Tho, and a 1-hour consultation for professional/graduate/undergraduate applications with Dr. Yvonne Kwan!
Instructions: