We are excited to announce the mentees for our 2022 inaugural SWHNM Mentorship Program. Congratulations to our 2022 cohort: Erin O'Brien, Lauren Bullock, Quyên Nguyễn-Hoàng, and Rachel TonThat!
Genevieve Erin O'Brien (they/them) is a Los Angeles based Queer Vietnamese/Irish/German artist, storyteller and chef. O'Brien holds an MFA in Performance from the School of the Art Institute of Chicago. O'Brien, once a butcher's apprentice, is also a private chef and owner of sausage enterprise Meat My Friends. Erin O'Brien is a fermentation fanatic, sourdough enthusiast, pasta maker and dumpling lover. www.erin-obrien.com
Erin O'Brien will be working with mentor Lily Hoang.
–
Lauren Bullock is a queer non-binary multiracial writer, performer, teacher, events organizer, and model. Lauren's work appears on AFROPUNK.com, Button Poetry, The Smithsonian Asian Pacific American Center, The Human Rights Campaign, and more. Lauren earned acclaim for pop culture commentary through editorials on Black Nerd Problems and serving as poetry editor for FreezeRay Poetry. To date, Lauren has organized 7 international and regional arts conferences or festivals, and 5 monthly series. Lauren's modeling work has been featured by publications such as Gmaro Magazine and Out-and-Out Magazine. When not creating Lauren enjoys fighting crime as a costumed vigilante of many aliases.
Lauren Bullock will be working with mentor Hoa Nguyen.
–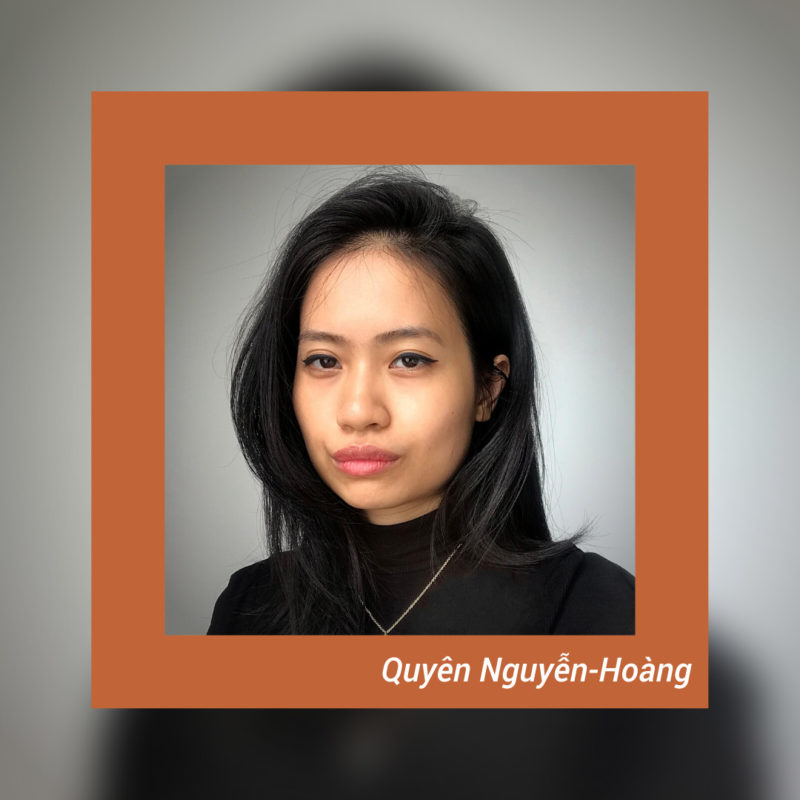 Quyên Nguyễn-Hoàng is a writer, translator and curator born in Hà Nội, Việt Nam. She holds a B.A. from Stanford University. Her work has appeared in Poetry magazine, The Margins, Jacket2 and various anthologies. Her publications include Masked Force, the catalogue to the exhibition of Võ An Khánh's wartime photographs that she curated in 2020, and the forthcoming English translation of Nguyễn Thanh Hiện's novel Chronicles of a Village.
Quyen will be working with mentor Vi Khi Nao.
–
Rachel TonThat is a conceptual artist and writer working with narrative structures around the themes of climate change, memory, and space-time. She is part of the art book duo, Oreades Press, with Irene Lee, and is member of the curatorial team of the Zurich off space, Egg. Her digital archive, Impermanent Earth, received funding from the International Project Fund of ZHdK, where she is currently studying. She will graduate with an MA in Fine Art in June 2022.
Rachel will be working with mentor Diana Khoi Nguyen.
–
Congratulations to our 2022 cohort! We look forward to being a part of these four writers' creative growth over the coming months. Remote mentorship meetings will begin in May.
*
SHORTLIST & LONGLIST FOR 2022 SWHNM MENTORSHIP PROGRAM
We also wish to congratulate those applicants who made it onto our Shortlist and Longlist:
Shortlist applicants made it to our final round of application review and interviews:
Kaitlan Bui
Nghi Lam
Kim Lam
Pham Lan Phuong
Longlist Applicants made it to our semi-final round of application review:
Hannah Keziah Agustin
Phoebe Bui
Maggie Thach Morshed
Betty Nguyen
Lilly Nguyen
Kimberly Nguyen
Rose Nguyễn
Melisa Casumbal-Salazar
Michelle Phuong Ting
Gin To
Chinh Van Tran
Chrysanthemum Tran
Teline Tran
Alyssa Tu

It was a tough decision for our mentors to select just 4 mentees out of the 80+ applications. We based our selection on the quality of applicants' work samples, combined with each mentee's articulation of reasons for wishing to be a part of our program, and our assessment of how formative the experience could be for the mentee at this particular juncture in their writing life. We are excited to engage with our mentees at what we hope will be a turning (or opening) point in their journeys as writers – and as writers of the Vietnamese diaspora. We also considered cohort dynamics and alignment with the collective ethos and mission of She Who Has No Master(s) as a whole.
We wish to express our gratitude to everyone who submitted applications to our inaugural program. We are heartened and energized by the enthusiastic response to this call for applications and also recognize, with some poignancy, the deep need your response points to. We hope you'll continue to follow along as we develop this mentorship program.
Also, stay tuned for other writing workshop offerings to come from DVAN, including a craft talk by Lily Hoang upcoming in May.
See our Workshops Page for more information.