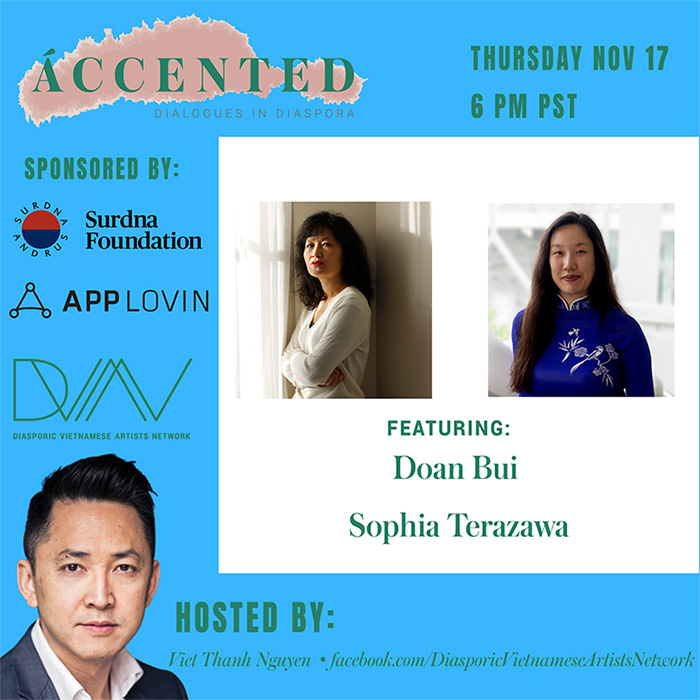 ÁCCENTED 23 | In the Spaces of Silence with Doan Bui and Sophia Terazawa
Welcome to the third ÁCCENTED show of the third season! French journalist Doan Bui and poet Sophia Terazawa will be conversing with host Viet Thanh Nguyen about their documents of resilience, upcoming projects and more.
This ÁCCENTED event is FREE and open to the public and will take place on Thursday, November 17th, 2022 at 6:00 p.m. PST, on Zoom.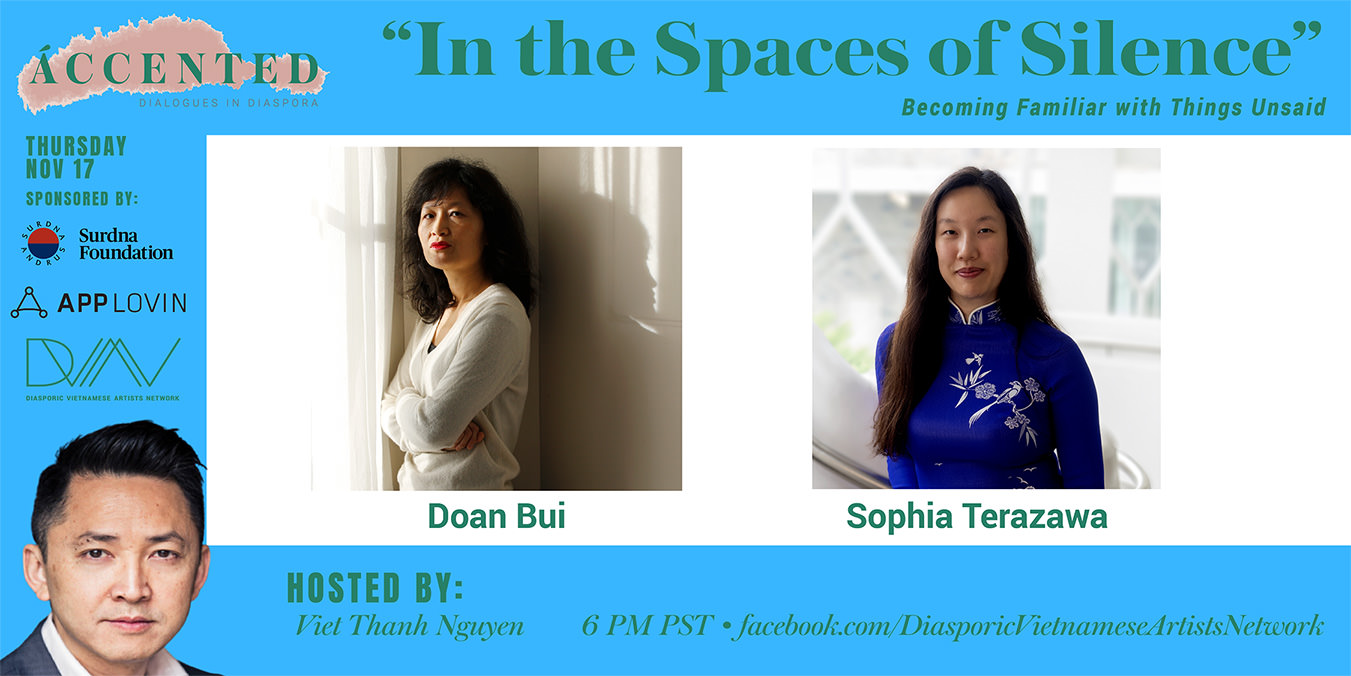 About the Guests:
DOAN BUI is a French writer and journalist. She was awarded in 2013 the Albert Londres Prize (French Pulitzer) for her work about refugees. In 2016, she published the memoir "le silence de mon père" (the silence of my father"), which obtained "prix de la porte dorée". She wrote 2 graphic novels with illustrator Leslie Plee (The latest about Fake news), one graphic short story "Vietnam told to my daughters" with Tiphaine Rivière. In 2022, she published her first fiction "La Tour".
SOPHIA TERAZAWA's newest poetry collection is Anon (Deep Vellum, 2023). Her debut, Winter Phoenix (Deep Vellum, 2021), was a finalist for CLMP's 2022 Firecracker Award and the 2021 Big Other Book Award. She has also published two chapbooks, I AM NOT A WAR (Essay Press), a winner of the 2015 Essay Press Digital Chapbook Contest, and Correspondent Medley (Factory Hollow Press), winner of the 2018 Tomaž Šalamun Prize. Additional honors include the University of Arizona's Bill Waller Award for Creative Nonfiction, LaVerne Harrell Clark Fiction Award, and Monique Wittig Writer's Scholarship, along with nominations for the Pushcart Prize and Best of the Net. Terazawa's work appears widely in journals and magazines, such as, The Offing, New Delta Review, The Iowa Review, and The Rumpus. She's a graduate of the University of Arizona's MFA program, where she also served as Poetry Editor for Sonora Review. Currently, she teaches poetry and creative writing at Virginia Tech. Her favorite color is purple.
About The Host:
VIET THANH NGUYEN is the author of The Sympathizer, Nothing Ever Dies: Vietnam and the Memory of War, The Refugees, Race and Resistance: Literature, Politics and Asian America, and Chicken of the Sea, written with his son Ellison. His most recent book is The Committed, the sequel to The Sympathizer.
Our Sponsors:
The Surdna Foundation seeks to foster sustainable communities in the United States — communities guided by principles of social justice and distinguished by healthy environments, inclusive economies, and thriving cultures. For over five generations, the Foundation has been governed largely by descendants of John E. Andrus and has developed a tradition of innovative service for those in need of help or opportunity.
AppLovin's leading marketing platform provides developers a powerful set of solutions to grow their mobile apps. AppLovin's technology platform enables developers to market, monetize, analyze and publish their apps. The company's first-party content includes over 200+ popular, engaging apps and its technology brings that content to millions of users around the world. AppLovin is headquartered in Palo Alto, California with several offices globally. Learn more at applovin.com.
Feel free to tag @weare_dvan in any Instagram or Facebook posts from the event tonight!
For more information about the Diasporic Vietnamese Artists Network, please visit dvan.org and @weare_dvan