ÁCCENTEDiRL | Writers in Diaspora
The Diasporic Vietnamese Artists Network (DVAN) is collaborating with the Smithsonian Asian Pacific American (APA) Center to host ÁCCENTEDiRL: Dialogues in Diaspora. This project blends DVAN's ÁCCENTED: Dialogues in Diaspora show with the Smithsonian APA Center's Heritage iRL to engage with audiences from across the world in intimate, lively conversations about culture, heritage, and narrative.
This past Spring 2021, ÁCCENTEDiRL has featured authors, artists, poets, and cultural producers across the Southeast Asian diaspora in a series of free virtual events on Facebook Live and YouTube, hosted by Pulitzer-prize winning author Viet Thanh Nguyen.
This final installation of ÁCCENTEDiRL will center the processes of writing, finding community through their work, and the experiences of writers scattered across diaspora. Grab a cocktail and join our star-studded panel with authors Thi Bui, Vincent Lam, Eric Nguyen, and Kim Thúy as we delve deeply into what it means to be diasporic.
Link to closed captioning: https://www.wordshare.com/player/APAC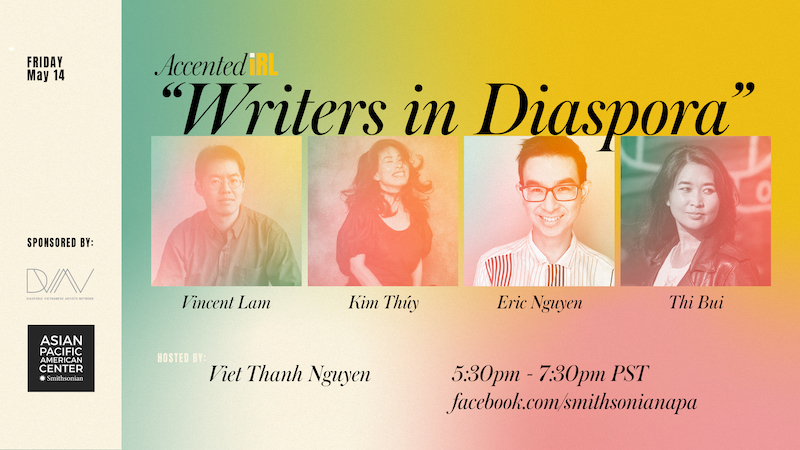 About the Guests:
Thi Bui was born in Vietnam and came to the United States in 1978 as part of the "boat people" wave of refugees fleeing Southeast Asia at the end of the Vietnam War. Her debut graphic memoir, The Best We Could Do (Abrams ComicArts, 2017) has been selected for an American Book Award, a Common Book for UCLA and other colleges and universities, an all-city read by Seattle and San Francisco public libraries, a National Book Critics Circle finalist in autobiography, and an Eisner Award finalist in reality-based comics. It made over thirty best of 2017 book lists, including Bill Gates' top five picks. She illustrated the picture book, A Different Pond, written by the poet Bao Phi (Capstone, 2017), for which she won a Caldecott Honor. With her son, Hien, she co-illustrated the children's book, Chicken of the Sea (McSweeney's, 2019), written by Pulitzer winner Viet Thanh Nguyen and his son, Ellison. Her short comics can be found online at The Nib, PEN America, and BOOM California. She is currently researching and drawing a work of graphic nonfiction about immigrant detention and deportation, to be published by One World, Random House.
Dr. Vincent Lam is from the expatriate Chinese community of Vietnam, and was born in Canada. He did his medical training in Toronto, worked as an emergency physician, and now is an addictions medicine physician. He is currently assisting with the COVID-19 vaccination rollout in Canada. Dr. Lam's first work of fiction, Bloodletting and Miraculous Cures, won the 2006 Scotiabank Giller Prize. His novel, The Headmaster's Wager, was shortlisted for the Governor General's Literary Award in 2012 and the Commonwealth Prize in 2013. His non-fiction guide to influenza pandemics, The Flu Pandemic And You, received a Special Recognition Award in 2007 from the American Medical Writers' Association. Dr. Lam is currently completing a novel which will be published in 2022.
Eric Nguyen earned an MFA in creative writing from McNeese State University in Louisiana. He has been awarded fellowships from Lambda Literary, Voices of Our Nation Arts (VONA), and the Tin House Writers Workshop. He is the editor in chief of diaCRITICS. He lives in Washington, DC. ​Things We Lost to the Water ​is his first novel.
Kim Thúy was born in Vietnam in 1968. At the age of 10 she left Vietnam along with a wave of refugees commonly referred to in the media as "the boat people" and settled with her family in Quebec, Canada. A graduate in translation and law, she has worked as a seamstress, interpreter, lawyer and chef-restaurant owner. She lives in Montreal and devotes her life to writing. Kim Thúy has received many awards, including the Governor General's Literary Award in 2010 for her novel Ru, and was one of the top 4 finalists of the Alternative Nobel Prize in 2018. Her books have sold more than 850,000 copies around the world and have been translated into 29 languages and distributed across 40 countries and territories.
About the Host:
Viet Thanh Nguyen is the author of The Sympathizer, Nothing Ever Dies: Vietnam and the Memory of War, The Refugees, and Race and Resistance: Literature, Politics and Asian America. His most recent book was Chicken of the Sea, written with his son Ellison. His next book is The Committed, the sequel to The Sympathizer.
About the Moderator:
Philip Nguyen is the producer of ÁCCENTED: Dialogues in Diaspora presented by the Diasporic Vietnamese Artists Network (DVAN). He teaches Asian American Studies in the College of Ethnic Studies at San Francisco State University and is the Community Organizing Manager for the Vietnamese American Roundtable, a 501(c)(3) nonprofit organization based in San Jose, California. Philip serves as the President of the Union of North American Vietnamese Student Associations (UNAVSA) and as the Co-Chair of the Young Vietnamese Americans (YVA) Committee for PIVOT – The Progressive Vietnamese American Organization.