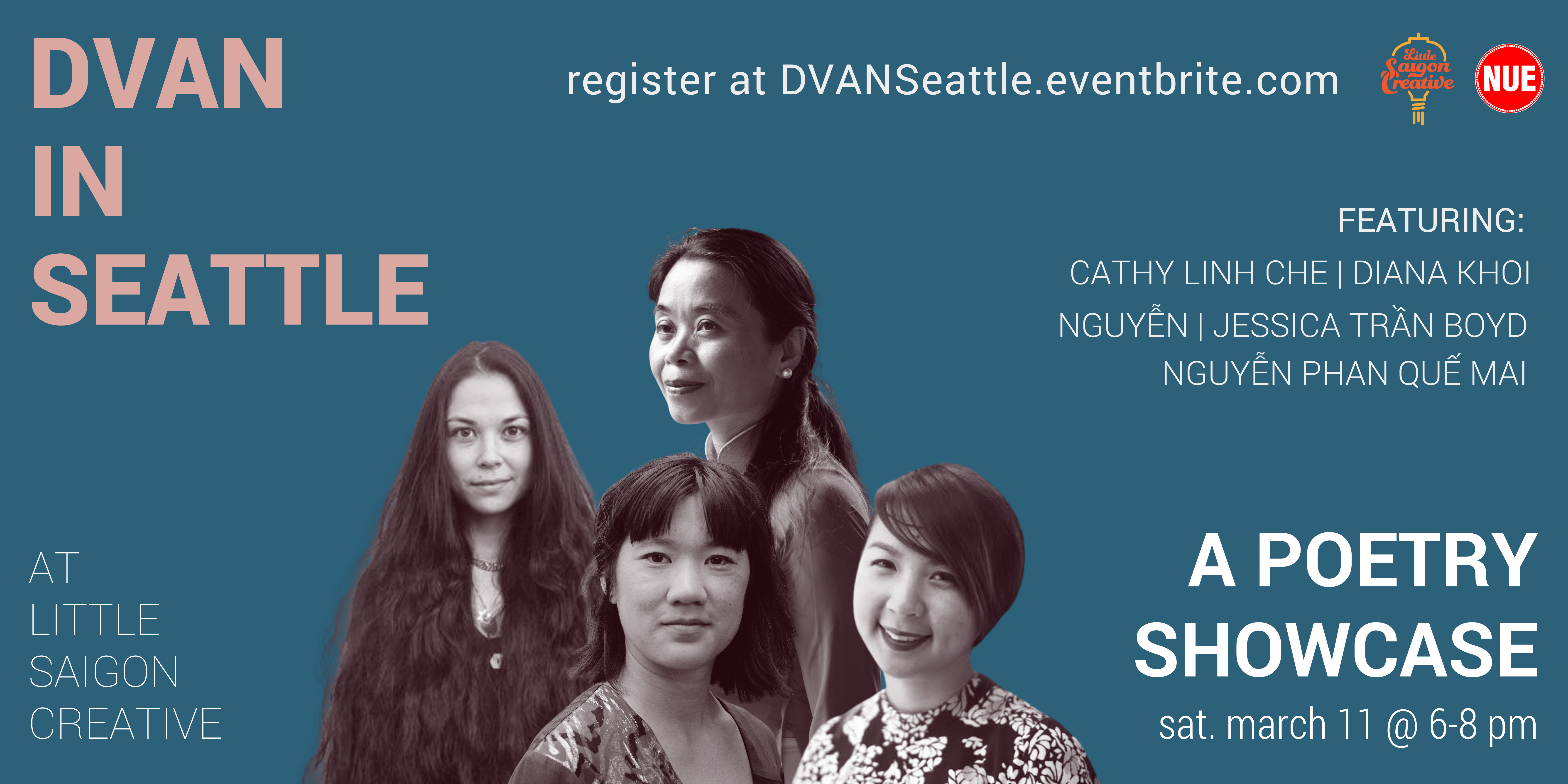 DVAN In Seattle: A Poetry Showcase
DVAN takes Seattle!
Join us Saturday, March 11, 2023 from 6-8:00pm at Little Saigon Creative for a Poetry Showcase hosted by the Diasporic Vietnamese Artists Network (DVAN)! Come and learn more about the important work DVAN does in celebrating and fostering diasporic Vietnamese literary voices, and see some of our poets in action! We are honored to be joined by Cathy Linh Che, Diana Khoi Nguyen, Jess Boyd, and Nguyễn Phan Quế Mai this evening for an intimate and intergenerational dialogue around Vietnamese American poetry. Their words will echo off the walls, and we will be reminded of why our stories matter.
There is a suggested donation of $10-$15. All funds will go towards DVAN's publishing series to publish books about the Vietnamese experience in order to fight against invisibility and misrepresentation. Register at DVANSeattle.eventbrite.com.
Thank you to our co-sponsors Friends of Little Saigon and asian-owned restaraunt Nue Seattle!
ABOUT THE HOST: Diasporic Vietnamese Artists Network
The Diasporic Vietnamese Artists Network (DVAN) celebrates and fosters diasporic Vietnamese literary voices. DVAN promotes nonfiction, fiction, and poetry to empower Vietnamese artists in the diaspora to inspire understanding and dialogue within our community, and with others. Our complex and diverse stories must be championed and passed on to current and future generations. We are refugees, immigrants, survivors, and descendants, and our stories must be heard.
ABOUT THE POETS:
Born and raised in Việt Nam, Dr. Nguyễn Phan Quế Mai is the author of The Mountains Sing, runner-up for the 2021 Dayton Literary Peace Prize, winner of the 2020 BookBrowse Best Debut Award, the 2021 International Book Awards, the 2021 PEN Oakland/Josephine Miles Literary Award, and the 2020 Lannan Literary Award Fellowship for Fiction. She has published twelve books of poetry, fiction, and nonfiction and has received some of the top literary prizes in Việt Nam. Her writing has been translated into twenty languages and has appeared in major publications, including the New York Times. She has a PhD in creative writing from Lancaster University. She is an advocate for the rights of disadvantaged groups in Việt Nam and has founded several scholarship programs, and she was named by Forbes Vietnam as one of twenty inspiring women of 2021. For more information, visit: www.nguyenphanquemai.com
Cathy Linh Che is the author of Split (Alice James Books), winner of the Kundiman Poetry Prize, the Norma Farber First Book Award from the Poetry Society of America, and the Best Poetry Book Award from the Association of Asian American Studies. She is also the co-author, with Kyle Lucia Wu, of the children's book A Is for Asian American (Haymarket Books), which will be published in May 2023. She has received awards from MacDowell, Sewanee Writers' Conference, and Djerassi, among others. She serves as Executive Director at Kundiman.
A poet and multimedia artist, Diana Khoi Nguyễn is the author of Ghost Of (Omnidawn 2018), which was selected by Terrance Hayes. In addition to winning the 92Y "Discovery" / Boston Review Poetry Contest, 2019 Kate Tufts Discovery Award, and Colorado Book Award, she was also a finalist for the National Book Award and L.A. Times Book Prize. A Kundiman fellow, she currently teaches in the Randolph College Low-Residency MFA and will be an Assistant Professor at the University of Pittsburgh this fall. dianakhoinguyen.com
Jessica Trần Boyd is a Vietnamese-Jewish Londoner who moved to Seattle to invest in, and work with, the Vietnamese American community. Before that, she worked at the National Football League as Head of Gender and Community Development creating workshops and trainings on domestic violence advocacy and male allyship. She founded "this is for mẹ", a digital magazine for the Vietnamese and Southeast Asian diaspora to discuss mothers, motherhood, motherlands, mother-tongues and family, and also provides culturally competent birth support to Southeast Asian birthing parents in her spare time. When she's not doing the above, you'll find her cultivating her Muay Thai skills so that she can teach the next generation of API womxn about self defense and how to embody their physical strength.
This event is co-sponsored by Nue Seattle and Friends of Little Saigon.
ABOUT FRIENDS OF LITTLE SAIGON:
Friends of Little Sài Gòn was established in 2011 at the start of massive redevelopment in Little Saigon. Our mission is to preserve and enhance Little Saigon's cultural, economic, and historic vitality.