What happened in March 2013: news and events relating to Vietnamese at home and in the diaspora.
It's time for our second subscriber drive. We're looking for 100 new subscribers for diaCRITICS, and we'll be giving away prizes to the 25th, 50th, 75th, and 100th new subscribers. Read more details.
---
Events
---
•
The San Francisco Global Vietnamese Film Festival (April 26-28, 2013) will feature over 20 films from all over the world—including Việt Nam, Cambodia, Canada, France, Japan, Czech Republic, and the United States. [AW]
---
•
The Project Viet Nam Foundation, a non-profit organization that works to improve health care in Viet Nam, is holding a fund raiser on April 20 from 5:30 to 9:30 p.m. at 17322 Murphy Ave. in Irvine, California.
---
•
Tour schedule for Anida Yoeu Ali's Generation Return: Art + Justice."
---
Viet Kieu in the news
---
• An author suggests that on the 50th anniversary of the American War, we should, "instead of a historical whitewash, . . . indulge in some long overdue soul-searching and ask the hard questions."

•
Norwegian Wood, directed by Tran Anh Hung was among the films shown at the Vietnamese International Film Festival (VIFF).
---
•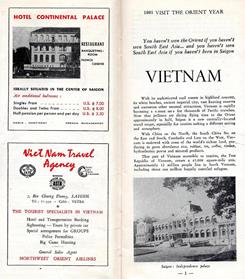 To encourage tourism in Vietnam, a 1961 brochure advertised "the doe-eyed shapely Vietnamese girls dressed in the most gracious way" to Americans.
---
•
Dawn Nguyen is indicted for lying about her gun purchases. [Photo by Jamie Germano]
---
•
Recently released tapes revealed President Lyndon B. Johnson had evidence that Nixon had sabotaged the Vietnam war peace talks, that Nixon was guilty of treason. [Photo by AP]
---
•
Designer Chloe Dao will co-produce and be a judge on the "Project Runway Vietnam," a spinoff of Lifetime's Project Runway with Heidi Klum. [NV2]
---
• Vietnamese-Canadian lawyer Khanh Vu Duc suggests "the Vietnamese people must collectively overcome their fear of the Communist Party" by means of civil disobedience.
---
•
Hear from two survivors of the 1975 "Operation Babylift" crash.
---
• A U.S. senator believes that child adoptions from Vietnam may begin again. Adoptions from Vietnam had stopped in 2008.
---
News about Vietnam
---
•
Monsanto, the company that produced Agent Orange for use in The American War, may be harming the Vietnamese population again. [Photo by Julian Abram Wainwright/European Press Agency]
---
•
A gay sitcom has unexpectedly become a nationwide hit in conservative Vietnam.
---
•
The first victim of the H5N1 Chinese bird flu virus in Vietnam is a four-year-old child.
---
• National Assembly Vice Chairwoman Nguyen Thi Kim Ngan suggested that Vietnam's government will need to accelerate economic structural reforms to boost the country's growth.
---
•
A dossier is underway to seek UNESCO recognition for the craft of folk woodcut painting as an intangible cultural heritage in need of urgent safeguarding.
---
•
Government officials have been seizing farmlands for development projects from farmers and have not been not compensating villagers at fair market value. [Photo by Reuters]
---
•
Vietnamese farmers who fought police officials were sentenced to jail terms. [NYT][Photos by Reuters]
---
•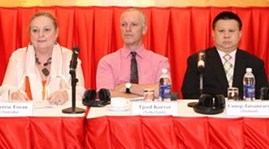 Sadly, the abortion rate in Vietnam is the fifth highest in the world.
---
•
Desperate for a cure, many agent orange victims in Thai Binh try Scientology's 'detox' program. [Photo by Na Son Nguyen , AP]
---
•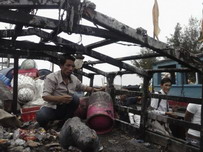 A Chinese naval vessel fired at a Vietnamese fishing boat in the Hoang Sa (Paracel) Islands. [NYT]
---
•
Escaped Vietnamese women still fear being re-captured by sex traffickers. [Photo by AFP]
---
•
Three of Vietnam's wealthiest women talk about their successes.
---
•
This is a story about former Ambassador Pete Peterson and his work to prevent accidental drowning in Vietnam.
---
• In Vietnam, the passion for sports is strong.
---
•
Read a story about Da Nang's past and its prospects for the future. [Photo by Mike Ives]
---
•
Vietnam's transgenders are pushing for laws that would recognize their rights to undergo sex-change operations and to select the gender on their I.D.s.
---
•
Reporters Without Borders, awarded its Netizen of the Year 2013 to Vietnamese blogger Huynh Ngoc Chenh. [RFA][Photo by AFP]
---
•
This is a heart-breaking story about young Vietnamese girls who are being trafficked into China and about Ta Ngoc Van who rescues them. [Photo by Phillip Martin / WGBH]
---
•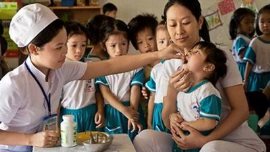 Survey finds Vietnamese children suffers from vitamin deficiencies. [Photo by Tuoi Tre]
---
•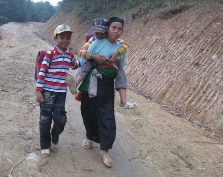 A dedicated grandmother in Thanh Hoa province carries her grandchild 6 km to school each day.
---
• Reporters Without Borders (RSF) lists Vietnam in its report, "Enemies of the Internet 2013."
---
•
Vietnamese are always at a disadvantage when doing business with the Chinese.
---
According to officials, Vietnamese read on average about 0.8 book per year (less than one book).
---
Other News
---
•
A study finds a person who speaks a tonal language, like Vietnamese, "might have a better ear for learning musical notes." [Photo by Tksteven (via Wikimedia Commons)]
---
• According to a new research, the birth month of a person affects his or her immune system development.
---
•
Singer Joan Baez is back in Vietnam.[Telegraph]
---
•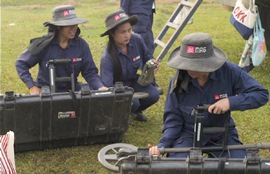 A reporter documents the work of UCT6, an all-female UXO clearance team working for the Mines Advisory Group (Mag). [Photo by Tessa Bunney/FT Magazine]
---
• Chinese military uses civilians as proxies in its harassment strategies over the territorial disputes in the East Sea.
---
• In another one of its many illegal ploys, China is opening the disputed Paracel islands to tourists–euphemism for the Chinese are invading and occupying the islands.
---
Special thanks to Viet Thanh Nguyen for providing many of the news items.