Vinh Nguyen shares with us Tung Vo's refugee story as he escapes Viet Nam in the mid-1980s and makes his way into Canada's underground fashion scene with his unique military-inspired menswear. 
Have you subscribed to diaCRITICS yet? Subscribe and win prizes! Read more details.
Shortly after graduating from the University of Alberta's Clothing & Textiles program in 2005 and interning in NYC, Tung Vo returned to his hometown, Calgary, and opened a small boutique. He named it Songkla, after the refugee camp in Thailand where he and his family ended up when they escaped Viet Nam in the mid-1980s. The shop, which sold designer brands as well as in-house, hand crafted pieces, became a symbol of arrival and success for the young designer and his family. And while there seems to be a profound incongruity between the abject experiences of refugees and the glamorous world of fashion, Vo explains that his tribute was both fitting and natural as it was meant to "acknowledge the struggles of my parents and countless others in the Vietnamese community to provide a future for their children."

This gesture of mooring the future to a segment of the past was an attempt to ensure that experiences of war and migration are never forgotten, are not effaced by a new narrative of individual success. Vo's personal history, however, was not invoked to tell a well-worn story of the "good immigrant" or the "model minority;" that is, to demonstrate how far and high he and his family had come. Rather, the past, filled with loss and struggle, was transformed into a future of hope and endless possibility. The refugee camp, which held those fleeing persecution and poverty, became a creative space that sheltered a new beginning, a new life that refused to abandon the shell of history. The future wore the coat of the past.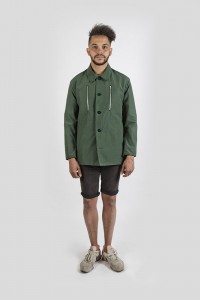 It was during this time as owner of Songkla that Vo honed his skills and developed the signature aesthetic that he is now well known for in the underground Canadian fashion scene. Combining the understated principle of restraint with elements of surprise, Vo's designs reference the functionalism and minimalism of military clothing while adding bold and unconventional details to classic or timeless pieces. His fascination with military design began early. He says, "growing up, my family never had much money so a lot of my clothing was procured through vintage shops. I gained an appreciation for vintage and surplus military clothing, particularly outerwear. The functionality and utilitarian aspect of military apparel now has a strong influence in my design work."
When it was time to move on and close Songkla, Vo became a designer at Mark's, one of Canada's biggest menswear companies. In 2012, he relocated to Vancouver to take up a post at Arcteryx, a top-end outdoor clothing design house. It was also during this time that Vo and a couple of friends collaborated to form Hors De Combat (literally, "outside the fight"), a small label dedicated to military-inspired menswear. On their webpage, the label, like Songkla before it, recalls the past in order to explain its present existence: "Taking a leap of faith and fleeing their home country; our parents' desire to escape conflict and pursue a better future has led us where we are today. Hors de Combat acknowledges the hardships and builds on the dream."
Once again, a history of war, displacement, and struggle gets grafted onto fashion statements – statements that express and define identity. Tung Vo's approach reminds us of a basic principle of fashion: that fashion, at its core, is humble. Like the refugee or immigrant's desire, fashion is about the search and yearning for "home," for a personal style with which one can be at ease in and feel comfort with. In other words, the right garments allow one to feel at home in one's own body.
Vinh Nguyen is a PhD Candidate in English and Cultural Studies at McMaster University. He lives in Toronto, Canada.
Do you enjoy reading diaCRITICS? Then please consider subscribing!
Please take the time to rate this post (above) and share it (below). Ratings for top posts are listed on the sidebar. Sharing (on email, Facebook, etc.) helps spread the word about diaCRITICS. And join the conversation and leave a comment! What do you think of Vo's refugee story? What's your take on military-inspired menswear? Tell us! We want to know!