August 2013 news and events updates relating to Vietnamese at home and in the diaspora.
It's time for our second subscriber drive. We're looking for 100 new subscribers for diaCRITICS, and we'll be giving away prizes to the 25th, 50th, 75th, and 100th new subscribers. Read more details.
---
Viet Kieu in the news
---
•
The evolution of several Vietnamese restaurants in the Atlantic City area are recounted. [Photo: Jessica Kourkounis]
---
•
Released details of the Vanessa Pham's death reveals how her kind gesture to a stranger ended her life.
---
•
An abandoned factory at Zone 9 is transformed into the new art hub in Hanoi. [Photo: Julie Vola]
---
•
Many art lovers in Hanoi hope Number 9 Tran Thanh Tong will become an arts district.
---
•
The U.S. Consul General in Ho Chi Minh City, Le Thanh An, ended his 3-year term.
---
•
The Vietnamese American communities push for improved human rights and free speech in Vietnam. [Photo: Bethany Mollenkof]
---
•
Behind the Moscow police government campaign that detained over 500 Vietnamese immigrants is "the xenophobia that is so prevalent in Moscow." [Photo: Sergey Ponomarev] [IHT]
---
• America is willing to overlook much of Vietnam's human right violations in order to advance America's political and economic positioning.

News about Vietnam
---
•
A Vietnamese father and son have been discovered living in a tree house deep in the jungle. See more photos, including the tree house. [Photo: Tuoi Tre][HP]
---
•
Vietnam's queen of hip-hop, Suboi, has found ways to get around censorship.
---
•
Leaders of the Buddhist, Catholic, Protestant, Cao Dai and Hoa Hao faiths in Vietnam are calling on Hanoi to keep its pledge to fully respects human rights.
---
•
Prime Minister Nguyen Tan Dung, in a move to further repress bloggers and social media users, signed a decree limiting the exchange of online information. [Photo: HP]
---
•
The US responds to the proposed internet law that will restrict online uses for Vietnamese citizens.
---
•
Five Vietnamese bloggers voiced their concerns about government restrictions of political expression to a Swedish diplomat in Hanoi. [Photo: Le Hong Phong]
---
•
An appeals court upheld the sentences for a Vietnamese shrimp farmer-turned-folk hero and for three of his family members. [Photos: Reuters]
---
•
Reporters Without Borders petitions for the immediate release of 35 imprisoned human rights activists.
---
•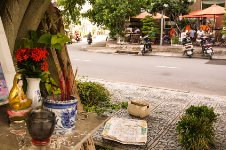 Rival religions don't incite attacks against each other.
---
•
Many LGBT members held the second gay pride parade with the hope of reducing prejudice and discrimination against their community.
---
•
Nguyen Van Hai, one of Vietnam's most prominent jailed dissidents, has ended his five-week long hunger strike.
---
•
Dishonest seed providers cheated hundreds of farmers by substituting U.S.-grade seeds with inferior Chinese seeds.
---
•
Contrary to polls in recent years, news reports indicate Vietnamese "appear to be less happy and less optimistic than they were."
---
•
Arsenal fans have been petitioning to end the club's association with the HAGL (Hoang Anh Gia Lai) Group–which has been accused of human rights abuses. [Photo: AFP]
---
•
VNN presents ten unique means of transport for tourists in Vietnam.
---
•
The meeting between presidents Truong Tan Sang and Barack Obama did little to ease Hanoi's repressive stance.
---
• The United Nations criticizes Vietnam for its execution of a convicted murderer.
---
Other News
---
•
Research findings suggest a cure for cancer may be found in the gastrointestinal tract. [Photo: Dr. Wei-Jie Zhou]
---
•
As Asia gains global dominance, energy is its Achilles' heel.
---
•
A new magazine for adult adoptees "challenge[s] the traditional narrative" by discussing race in the adoption experience. [Photo: Jennifer Simonson]
---
Special thanks to Viet Thanh Nguyen for providing many of the news items.
Peace!
RP