What happened in November 2013: news and events relating to Vietnamese at home and in the diaspora.
It's time for our second subscriber drive. We're looking for 100 new subscribers for diaCRITICS, and we'll be giving away prizes to the 25th, 50th, 75th, and 100th new subscribers. Read more details.
---
Viet Kieu in the news
---
• A Vietnamese American muslim convert pleads not guilty to terrorism charges. [KCAL][LAT][Image: Mona S. Edwards]
---
• Huy Fong Foods, maker of Sriracha hot sauce, is being sued.
---
• The organizers of the Little Saigon Tet Parade in Westminster have voted against allowing the Vietnamese LGBT group to participate in the 2014 Tet event.

News about Vietnam
---
• Severe floods triggered from a storm in south-central Vietnam have killed at least 31 people and left many thousands homeless. [WSJ]
---
• General Vo Nguyen Giap's death may "signals the final disappearance of moral decency" in Vietnam. [Photo: Doan Ky Thanh]
---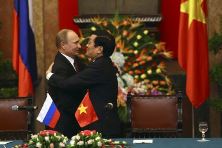 • Russia will continue to supply military hardware and will build Vietnam's first nuclear power plant. Also, Russia and Vietnam signed 15 cooperation agreements that are expected to double their trade by 2015. [Photo: Na Son Nguyen]
---
• Environmentalists successfully photographed an "Asian unicorns" in a remote Vietnam forest.
---
• The progress of Vietnam's digital economy is thwarted by an "'epidemic' of malware attacks."
---
• Two Vietnamese businessmen are sentenced to death for embezzling $25 million. [BB]
---
• Vietnam joins Cambodia in questioning Laos's Don Sahong dam project on the Mekong River in southern Laos.
---
• A draft law proposes to lift ban on gay marriage but to not formally recognize it.
---
• A Vietnamese national has been indicted in the U.S. for allegedly stealing and selling hundreds of thousands of Americans' personally identifiable information. [TD]
---
• For many students, their future hangs on a single test.
---
Other News
---
• Campaign groups protest the election of the five countries, including Vietnam and China, to the U.N. Human Rights Council. [RFA][[VOA]
---
• I recently discovered this interesting story from May 2013 that reveals another socio-cultural aspect of young Vietnamese.
Here's a few more news items from previous months that I had missed concerning:
• Vietnamese Americans and Agent Orange,
• Vietnamese Americans and political engagement, and
• Vietnamese Americans' reactions to Gen. Vo Nguyen Giap's death.
---
• Researchers and scientists have developed a way to study kidney diseases that may yield new strategies for restoring kidney function.
---
• A professor of English and journalism opines about Gen. Vo Nguyen Giap.
---
Special thanks to Viet Thanh Nguyen for providing many of the news items.
Peace!
RP