From June 5-11, 2018, the Djerassi Artists Program partnered with the Diasporic Vietnamese Artists Network (DVAN) to host a private writing retreat and "dialogues across borders" project involving ten writers, from four different continents, plus three "dialogues" moderators. The writers were given time and space to work on individual projects, as well as engage in dialogues about being writers in the diaspora. These dialogues will eventually be published in an anthology, Dialogues Across Borders: War and Race for Vietnamese Writers of the Diaspora (editors: Viet Thanh Nguyen, Isabelle Thuy Pelaud, and Anh Thang Dao). Below are some photographs and testimonials from our time together at the residency.
DVAN would like to acknowledge that this project would not have been possible without  invaluable support from partners and funders. We are grateful to the Djerassi Artists Residents program, Djerassi staff, and Director Margot Knight for offering us a beautiful place to convene and hosting us so generously. We are also thankful to the San Jose Museum of Art for hosting our "Creative Minds" dialogues event on June 9th, and to both Djerassi and SJMA for collaborating on making that event happen. The Diasporic Vietnamese Artists Network (DVAN) is run mostly on the power of its volunteers and dedication of its core members. Thank you to the moderators, Isabelle Thuy Pelaud, Anh Thang Dao, and Lan Duong; thank you to Philip Nguyen, Albert Yuen, and Minh Tsai, our multi-talented DVAN volunteers who acted as chefs, sous-chefs, writer-wranglers, spreadsheet-tenders, and more. Thank you to Viet Thanh Nguyen, for helping arrange venues. And special thanks to our donor, Teresa Zalcman (Do Thi Tuyet Nga), for the financial support that made it possible to bring together an international group of writers. 
The writers included: Aimee Phan (Berkeley, California), Anna Moï (Paris), Bao Phi (Minneapolis, Minnesota), Dao Strom (Portland, Oregon), Hoa Nguyen (Toronto), Monique Truong (New York),  Nam Le (Sydney), Nguyen Phan Que Mai (Jakarta), Thi Bui (Berkeley, California), and Viet Thanh Nguyen (Los Angeles, California).
The Dialogues Across Borders project is the vision of Isabelle Thuy Pelaud and Anh Thang Dao.
—DVAN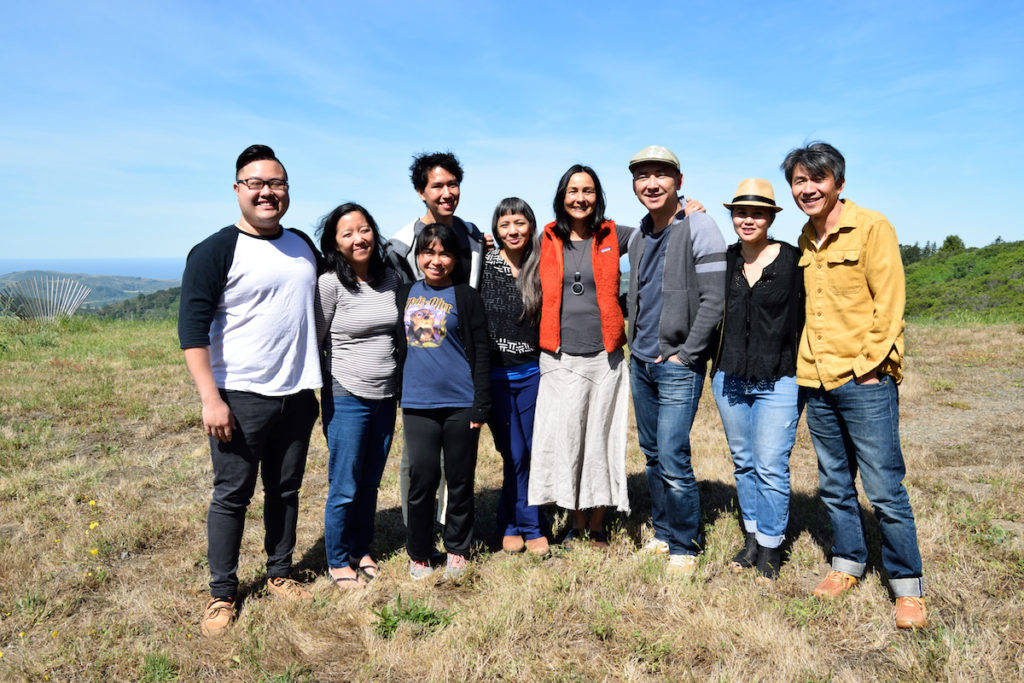 ---
From the writers… 
DAO STROM:
For seven days in June, we gathered. We wrote, we talked, we met (some of us for the first time), we shared dinners and post-dinner stories, walks among boulders and grass, to an old barn, to a cushioned stump in the woods. We knocked ticks out of our socks, we quietly watched deer graze in the meadow just beyond the Djerassi Artists' Barn windows. We watched, on just occasional days, the mist lift enough for the horizon line of the sea to become visible, floating–paradoxically, it would seem (as Bao Phi, one of the poets among us, observed)–above the ridge of mountains we were nestled amid. We visited sculptures left behind by other artists. We talked about writing and life, parenting, family histories, our children, our own childhoods, glimpsing snippets of what it was like to be of Vietnamese descent in a number of different geographies on various continents. We dialogued about the dynamics between margins and center, about poetics and plots, about power and race in America and representation and our own agency. We elaborated on publishing industry triumphs and woes. Our week, we agreed, felt historic: containing the past, and a present visibly shifting us into a future of our own new making. We seemed agreed on the endeavor of community and collaboration as ways forward, and on defining Vietnamese diasporic identity expansively and inclusively.
ANNA MOÏ:
For a few days, I claimed these hills, these bushes, these deers as mine. I was home, with writers of the Vietnamese diaspora – not all of them my friends, but all of them my kin. We shared ink and blood.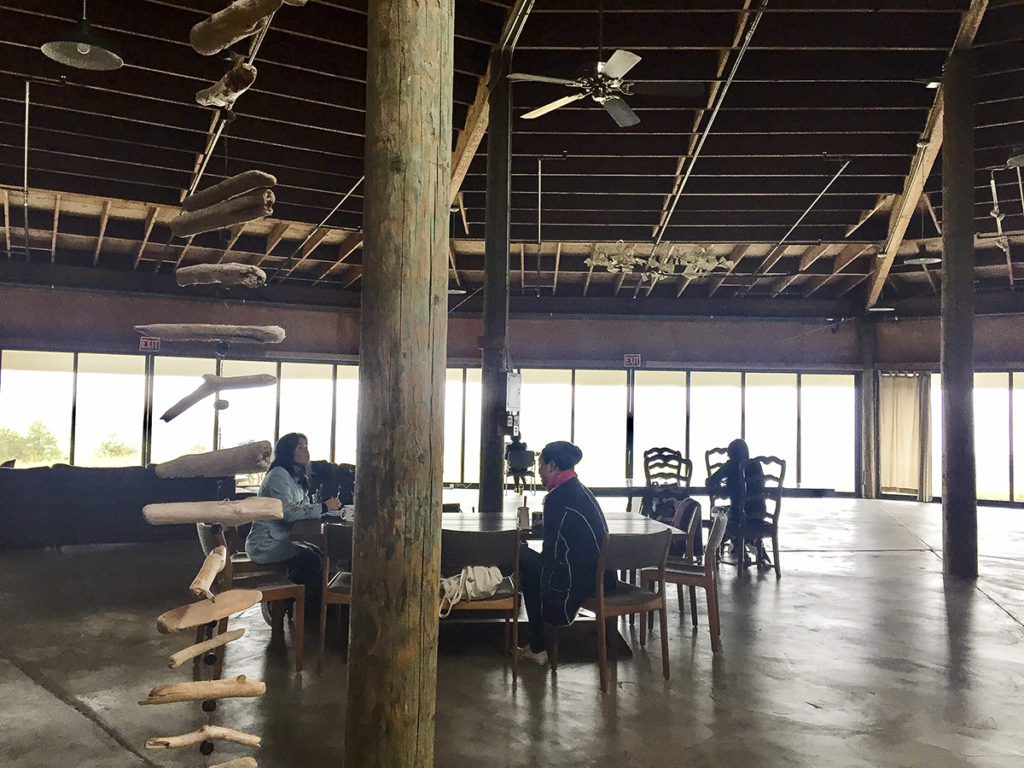 BAO PHI :
I've been in awe this entire week. Of the breathtaking landscape, of course: the rolling green hills, the mountains that hold us, the distant sea. Also, the almost unbelievable privilege I have of being here with writers I respect and admire. When I was very young, and early in my writing life, I would have never dared to fantasize about an opportunity like this. To listen, to learn, to hike alongside, to hear and to be nourished and to grow. I expect the experiences this week are effecting me in ways I don't yet understand. All I can do is breath in, be here, watch the birds fly sometimes on the air current, sometimes against it.
NAM LE :
Weeks later, I'm still thinking about that week's conversations, rethinking them, relitigating their arguments. The work goes on. I'm grateful to have met old friends and made new ones at Djerassi with whom to share this labour. Thank you, DVAN, for making it happen.
MONIQUE TRUONG:
Writing about Hedgebrook, a writing residency in Washington state, Gloria Steinem noted that it wasn't a "retreat" but a "forward." I echo this sentiment about DVAN's week at Djerassi. The plans for future projects and collaborations that emerged formally and informally out the conversations among the writers speak to a vibrant future for Vietnamese diasporic creativity and storytelling. We were forward looking not only for ourselves but also for the writers who are emerging and yet to tell their stories. I cannot wait to hear all of our stories.
VIET THANH NGUYEN:
I've worked on developing a Vietnamese American and diasporic artistic community since I was in college. First with Vietnamese American Student Publications at UC Berkeley. Then with Ink and Blood in graduate school, the predecessor to Diasporic Vietnamese Artists Network. So it was incredibly heartening to see DVAN stage a writing retreat and a symposium with ten diasporic Vietnamese writers, including a few I had only admired from afar. This gathering of writers was evidence that not all writing and reading has to be done in isolation or competition, but can also be carried out in a spirit of dialogue, collaboration, solidarity, and generosity. That's the model that DVAN puts forth, and I hope it inspires and influences many.
ISABELLE THUY PELAUD:
There is something very empowering and liberating to have the space and time to come together to write and discuss what is important to us, and define ourselves in our own terms. Thang and I envisioned this project because we strongly believe that a dialogue between Vietnamese writers of the diaspora can make visible how racial constructs and concepts associated with otherness, are formed. We also wanted for these discussions to inform current debates on immigration, especially in regard to refugees.
AIMEE PHAN:
It was such a privilege to be with so many other Vietnamese writers that I'd only read for years. It felt like summer camp with writers who shared many of my experiences as a Viet writer in the diaspora, and yet we were all so different. We wrote and ate and played together. We had so many conversations. I felt like I learned so much. I think it will take me some time to process all that I'd absorbed during our seven days together. This is the kind of retreat that I wished that every writer could experience.
NGUYEN PHAN QUE MAI:
'Một cây làm chẳng nên non, ba cây chụm lại nên hòn núi cao – A tree is just a tree, but three trees can unite to make a high mountain,' says a Vietnamese proverb. I witnessed how true this proverb is during my residency at Djerassi, through the energy and synergy I felt during our formal working sessions, during our walks through vast forests and meadows, during our pre and post dinner gatherings, and during our casual chats on the balcony during sunsets. Conversations kept flowing; conversations that opened doors to opportunities and possibilities. We walked away with four concrete team projects in the pipeline, and I believe many more are in the making. I am grateful for the writing vision that each writer on the program has shared with me. I am inspired by the enthusiasm of the audience members who attended our event at the San Jose Museum of Art. I am indebted to Viet Thanh Nguyen for the initiative of bringing us together, to DVAN for their incredible support, to Djerassi for being such a wonderful host, and to our generous sponsor, chị Tuyết Nga for making our gathering possible. This residency is just the beginning and I am excited in working together with DVAN in strengthening ties among Vietnamese writers across the globe.
Photo Credits: Bao Phi
SaveSave
SaveSaveSaveSave
SaveSaveSaveSave
SaveSave
SaveSave