Earlier this year, I curated an exhibition which opened on 29 April at Fairfield City Museum and Gallery (FCMG) in Sydney, Australia. It was simply titled MÌNH, an everyday word in Vietnamese which refers to our bodies and selves. It also means us: about who we are as individuals and how we exist together. The exhibition included diasporic artists and writers with Vietnamese and Vietnamese-Chinese heritage, and it was a curatorial opportunity which felt significant from the moment it was offered to me. What I didn't realise until long after I began working on it, was that MÌNH was just one of several exhibitions focused on the Vietnamese diaspora this year; that there were others undertaking similar curatorial work at the same time around the world.
In London, No Place Like Home (A Vietnamese exhibition) Part II ran from 19 April to 11 July at the Museum of the Home. Curated by KV Duong and Hoa Dung Clerget, it featured artists Hoa Dung Clerget, KV Duong, Duong Thuy Nguyen, Carô Gervay, Koa Pham, Ap Nguyen, Cường Minh Bá Phạm, and Minh Lan Tran. The exhibition was the first time Vietnamese diasporic artists were given space by a publicly funded institution in the United Kingdom. It followed on from No Place Like Home Part I, exhibited at the Canning Town Gallery in May 2022.
In Bratislava, Nhớ: Space Between One End and the Other ran from 6 September to 13 October. It was curated by Kvet Nguyen and Denisa Tomková for the KunstHalle Bratislava and included artists Maithu Bùi, Diana Cam Van Nguyen, Kimberly Nguyen, Kvet Nguyen, Minh Thang Pham, Anna Tran, Quynh Trang Tran, and Nhu Xuan Hua. Significantly, this was the first exhibition in Slovakia focused on the art of the Vietnamese diaspora.
In Sydney, I curated MÌNH in collaboration with FCMG, which ran from 29 April to 14 October. The exhibition featured 17 writers and artists: Dacchi Dang, Christina Huynh, Matt Huynh, Phương Ngô, Đình Huy Nguyễn, James Nguyen, Lucia Tường Vy Nguyễn, Lynn Nguyễn, Kim Phạm, Victoria Pham, Vivian Pham, Hoài Mành Tất, My Lệ Thi, Bic Tieu, Huyen Hac Helen Tran, Maria Trần, and Garry Trinh.
Unlike the others, MÌNH was actually not the first time an exhibition in an Australian public institution had focused on the Vietnamese diaspora. It was, however, the first time FCMG mounted such an exhibition. This is important given the museum is located in proximity to one of the largest Vietnamese communities in Australia.
It's worth noting that Textures of Remembrance: Vietnamese Artists and Writers Reflect on the Vietnamese Diaspora, was also exhibited this year until May at the Global Museum at San Francisco State University, continuing its multi-year tour of the United States which began in 2022 and ends in 2025. The travelling exhibit was created in partnership by the Diasporic Vietnamese Artists Network, Exhibit Envoy, and Oakland Asian Cultural Center and features art and writing from the DVAN community, including myself.
Looking at the exhibitions as a whole, Slovakia immediately stands out given its connection to Vietnam is a "socialist" one. Migration to the country was premised on labour and international education, rather than refugee resettlement as it was throughout the Anglophone world. Nonetheless there are still strong resonances of thought and experience, which I felt from reading what the curators wrote:
There are glimpses of trauma and loss in the works on display, but what unites these works overall, and what this exhibition focuses on, is our relationship to families. It looks for personal stories. What generational traumas do we carry within us? How does our relationship to family history inform and shape who we are? How do we preserve memories and how do they influence our present emotions?
One of Kvet Nguyen's and Denisa Tomková's aims with the exhibition was to encourage Slovakians to see their society as being more multicultural than it perceives itself to be, to assert the under-represented Vietnamese experience. In contrast, No Place Like Home had a different sensibility, given London is an overtly multicultural society. As artist Duong Thuy Nguyen wrote in her essay about the exhibition, it is a "thought-provoking exploration of the diversity and complexity of Vietnamese heritage art, knitting together history of inequality, environmental destruction, and authoritarianism with artists' own personal experiences and struggles." These global themes seem to speak to the transnational identities of the artists involved, with many having grown up in Vietnam, and all but one born outside of the UK.
When I lived in London in 2005-6, my encounters with Vietnamese people were few and far between. But over the past two decades, there has been a marked shift in the presence of the Vietnamese, which is also evident in the artistic community. In 2019, Summer Rolls by Tuyen Do was the first Vietnamese British play to ever be staged in the UK. Since then, there have also been other works like Looking For You | Tìm Hiểu (2021), which explored the Vietnamese British experience and beyond—travelling to Paris, Hanoi, and Sydney.
But perhaps it's MÌNH that's the odd one out because of how relatively established Vietnamese Australians seem to be in comparison, a sizeable community that is far from being an invisibilised minority. In the Fairfield area, where the museum is located, the largest single ethnic group are the Vietnamese, making up around 19.5% of the population—over 40,000— followed by Chinese at 13%—over 27,000. The latter figure almost certainly includes Chinese-Vietnamese people, which is why I insisted that MÌNH acknowledge how many who had migrated from Vietnam had Chinese roots. This facet of identity has often been omitted in the Australian context, our complexity flattened into binary hyphenated identities.
As I explained to Kenneth Nguyen on The Vietnamese podcast when speaking about curating the exhibition, "it wasn't just about showcasing writers and artists but it was also about acknowledging the history that comes before us." I wanted to create an intergenerational and cross-disciplinary artistic dialogue to explore the past forty years, as settlers on this ancient continent colonised by the British. History always matters, our own as well as what we become a part of.
Back in 2005, I attended a talk held at the nearby Liverpool Regional Museum, featuring Vietnamese American writer Andrew Lam. He had published a collection of writing titled Perfume Dreams: Reflections on the Vietnamese Diaspora (2005). Although I was born in Australia and had grown up deep in the Vietnamese community in Sydney, it wasn't until the mid-2000s that I started to understand I was part of a "diaspora", a word I previously understood as describing the Jewish people.
Curators Hoang Vo and Cuong Phu Le from Casula Powerhouse had invited Andrew Lam to speak as part of the public programming for The Fall of Saigon: Collected Fragments of Post 75 Generation (2005), one of the early exhibitions in Australia on Vietnamese artists. In the process of developing MÌNH, it felt vital to link to work which preceded it because, as Audre Lorde said, "continuity does not happen automatically, nor is it a passive process." There is a lineage, and my curatorial work picks up where others in Australia such as Hoang Vo, Cuong Phu Le and the late Dr. Boitran Beatty-Huynh left off. And just as Andrew Lam spoke in 2005, earlier this year I organised a literary panel with authors André Dao, Tracey Lien and Nguyễn Phan Quế Mai as part of the public programming for the exhibition. Held at Cabramatta Library, it was the first time there had ever been a talk in the area associated with the Sydney Writers' Festival, which began in the late 1990s.
MÌNH was a labour of love so I'm grateful it was well-received. Many who came were first-time visitors to FCMG, even though they lived close by. People from across the generations turned up, including young people who brought their parents. It received coverage from people who personally understood the value of the exhibition—writers like Tiffany Thanh-Thy Tran and Leo Chau, as well as an older Viet vlogger on his channel Hiển Chợ Trời Vlog. I was also invited to speak on SBS Vietnamese, and podcasts including A Seat at Our Table and The Vietnamese. Finally, an interesting article came out from artists James Nguyen and Victoria Pham which described their work featured in the exhibition: "How we're using the Vietnamese ethnic savings scheme 'Hụi' to buy back our cultural heritage." All of which  goes to show some of the in-roads we're making into media spaces, which even a few years ago wasn't the case.
In the aftermath of all this activity, questions still remain. I keep circling back to a key one posed at the start and which I attempted to answer with the exhibition: "mình là ai?" Another key question is why we need this kind of representation. In Anh Khoi Nguyen's coverage of No Place Like Home in The Conversation, he describes how such exhibitions are an example of "diasporic placemaking" and that there are tensions involved: "Diaspora placemaking is a story of connection," he writes. "But it is also a complicated story about who owns public spaces and decides who gets to use them."
Thinking in this way is useful when working with established artistic and cultural institutions, given the fraught histories with how these places have engaged with minoritised populations. How "people like us" are represented, if we are even considered at all. Group exhibitions focused on our artists are an important way to collectively organise, taking up public space in the process.
---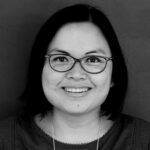 Sheila Ngọc Phạm is a writer, editor, curator and producer. She has written for a wide range of literary and mainstream publications, as well as for artistic and cultural institutions. Her curatorial work includes an exhibition of Đông Hồ paintings (2019) for the State Library of NSW, and most recently, MÌNH (2023) for Fairfield City Museum and Gallery. Sheila has held digital and editorial roles at the Australian Broadcasting Corporation and continues to produce radio documentaries and stories. Her most recent series was My Bilingual Family (2022) for SBS, a co-produced six-part series on raising bilingual children. Her previous radio features include Tongue Tied and Fluent (2019), The Lost Cinema of Tan Hiep (2016) and Saigon's Wartime Beat (2012). She is a contributing editor to diaCRITICS for stories of and from Australia. In 2022, she edited the series on Mothering and Language.