It is through an outsider's eyes that we have an extra chance to see how fortunate we are. Bilingual blogger and writer, Anvi Hoàng, had an opportunity to talk to Lantuat Nguen (or Nguyễn Lân Tuất in Vietnamese), a well-known Vietnamese Russian composer, about his first visit to the US. Lantuat's simple and honest comments about what he saw pushed open a window into both his world and ours. The Vietnamese article follows the English one.
Chính qua cái nhìn của người ngoài mà chúng ta có cơ hội nhận ra rằng mình may mắn đến mức nào. Nhà văn và blogger Anvi Hoàng có dịp trò chuyện với Nguyễn Lân Tuất, một nhà soạn nhạc Nga gốc Việt rất có tiếng cả hai nơi, về chuyến tham quan Mỹ lần đầu của ông. Những nhận xét chân thành mộc mạc của ông về những gì ông nhìn thấy ở Mỹ đã mở cánh cửa đưa ta vào thế giới của ông cũng như thế giới của chính chúng ta. Vui lòng đọc bài tiếng Việt bên dưới, sau bài tiếng Anh.
This post also features an illustration of Jiny Ung. diaCRITICS is thrilled to have her work grace some of our posts. Jiny Ung specializes in mold-making and animation. She has done production and design work for short films in Southeast Asia. Current animation projects focus on themes of guilt, loss, and queer heroes in the form of fruit-robot-animal hybrids.
[before we begin: like diaCRITICS? why not subscribe? see the options to the right, via feedburner, email, and networked blogs]
Lantuat Nguen is the first Vietnamese Russian ever to have received the title of "Honored Artist of the Russian Federation" – the highest honor possible for an artist presented by the Russian President. This title earned him privileges only the prestigious in Russia can enjoy, including premium healthcare and a yearly 2-week spa-like treatment health sabbatical at a state-owned facility reserved for government officials for extensive checkup.
Given the glittering, some rust shows on the other side of this old gold coin: his subsistent salary over the years has not allowed him to pay visit to the US as he wished. In 2011, however, things changed when the Novosibirsk Music Conservatory where Lantuat works was recognized as the third largest State level Conservatory and his salary doubled. Lantuat saved for a year to realize his dream visit to America in July 2012. This land of abundance surprised and shocked him from the ridiculous, to the sublime.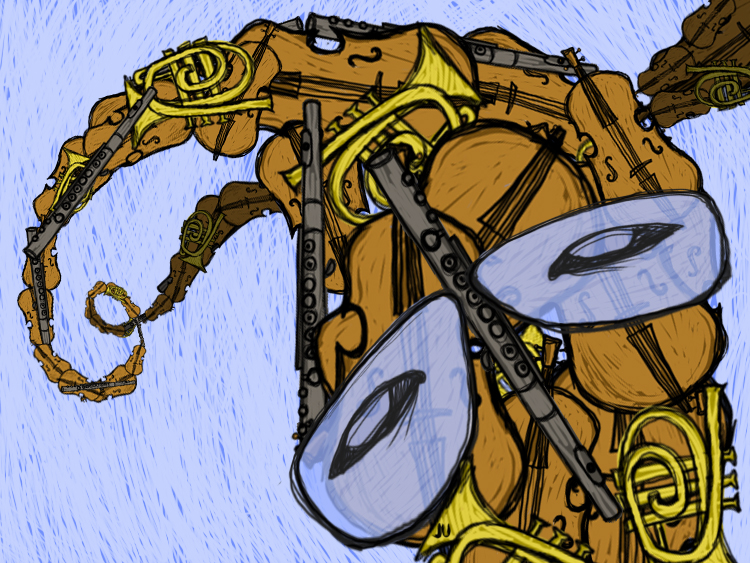 America
Not at all defensive or protective in face of new things, open-minded and confident 78 year-old Lantuat once setting foot on the U.S. land, his first stop being LA, could not stop complimenting the country and its people. His first impression of the country is that "America is a very progressive and truly hi-tech place." Checked. The people are very hard working – "Look at all the spotless streets and even the highways everywhere!" Lantuat said. Hmm…
Honestly, the association of "clean streets" and "hard-working" is the last thing that comes to mind. Normally in the US, clean streets have everything to do with money, don't they? With available budget, the city can hire anyone to do the cleaning wherever they want. Why did Lantuat say such a thing? Depending on how familiar you are with Vietnamese, French or Russian culture, there are some "interesting" explanation that follows suit. But I leave it up to your imagination.
On a side note, I'd add this: As a product of an educational and cultural mix of France, Việt Nam, and Russia, Lantuat is a "handful:" very sensitive, gallant, and romantic; original and creative, as a good composer's supposed to be; delightfully young at heart, from his daily contacts with 18-20 year-old music students in his teaching; efficient and modern, with his western musical techniques. Lantuat came to the former Soviet Union in 1959 when he was 25 and has kept his Vietnamese soul and some traits of traditional Vietnamese thoughts ever since. More than 50 years living in Russia, however, has made Lantuat very susceptible to changes. The mix of those young-old-modern influences makes him a very likeable person yet mysterious at the same time. He'd say things that require second guessing.
As we talked, very often Lantuat would say that as old as he is already having one foot in the grave, he is glad to be doing fine. Well, this is 21st century, 60 is the new 40; Lantuat is a very positive, agile and healthy person; everybody would guess he is in his fifties. It is strange to hear him talk about aging all the times. When asked to explain, Lantuat said, "Well, that is coquet!" [French adjective for "coquettish."] Who would have thought! But then you have to try to understand the French, or the French-educated Vietnamese.
To clear the air, Lantuat continued to say that, "It is not true everybody enjoys or wants to live old. Some people are only 60 but life seems to be over to them. That is why I really appreciate what Russia is doing for me: I can still teach at this old age. In Việt Nam, 70-75 is considered 'ancient.'" Besides, Lantuat admitted that Russia is not so well-off as America and pensions over there are small. As a result, retirees are usually worried about life in old age, about what they could do to supplement their pension. So not everybody is happy in retirement. The good news is the Russian government is taking measures to improve the situation so the seniors can have a more decent life.
As Lantuat revealed the context for his flirtation with aging and appreciation for what he has, I cannot help thinking that we in the US should count our blessings every day!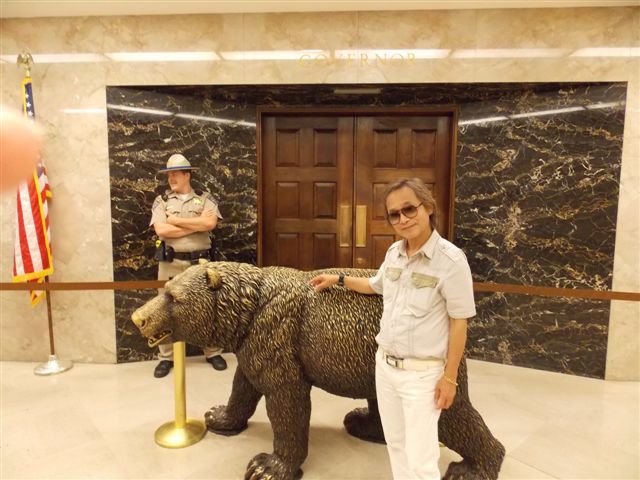 Americans
After more than a week in America, Lantuat visited Chicago. By this point, obviously infatuated with American prosperity and the organization of life here, and enthralled by the freedom American people take for granted, Lantuat was fascinated just by watching the people in Chicago. On the weekend, the outdoor theater at the Millennium Park was packed. Newborns and toddlers, young boys and girls, students and parents, they were sitting on the folding chairs they carried with them or lying on the blankets they spread over the grass, singing and dancing along the music and enjoying themselves. An everyday scene in the US. Observing people "free styling" on the concert ground, almost staring at them for minutes, Lantuat kept repeating to himself, "Incredible! I cannot believe people are free to do whatever they want here. They can sit or lie at their heart's content, in the public!"
If you are American, you have to stop and think for a while. And count more blessing.
And NO, not everybody can behave in whatever way they want in the public without being judged or, worse, harassed. In many places, people have to be very conscious of what they can and cannot do in the public.
Walking along the windy streets of Chicago, Lantuat was also shocked at the ethnic diversity here. He could not help thinking about the time he moved to Novosibirsk in 1983 for his new job. He recalled there was a strong reaction in the press about appointing an Asian to be Professor of Music in the Conservatory. It was a tough fight for him then to gradually gain the Russians' respect and trust. Two images of past and present collided. He said never before did he see so many people in so many skin colors and from so many ethnic groups living and working in one place like this. What can we say, this is America! 
But he was also taken aback by the number of overweight people he saw in America! Ouch!!!! Lantuat said Russian girls are the most beautiful in the world. Hmm…
For California
But then, Lantuat is not an ordinary tourist. As a very active and sociable person, his list of accolades in Russia includes Council Member of Novosibirsk, Adviser to the President's Representative on Matters of Race and Ethnicity, among others. He is a regular commentator on television and radio. He writes to the newspapers and gives interviews very often. So much so that more than two million people in Novosibirsk cannot say they don't know him. "Because of me," Lantuat said, "Russia knows that not all Vietnamese people here are marketers. I am a symbol of success for the Vietnamese in Siberia."
This proud attitude did not keep Lantuat from being so impressed at the prosperity of the Vietnamese in Orange County, Southern California. The Vietnamese community there have succeeded in establishing its own enclave in the bounty America – a phenomenon Lantuat considered possible only in the USA. To see the Vietnamese own their business and hire employees from different ethnic groups, and to see the overwhelming number of Vietnamese in one place, Lantuat was beaming.
As interesting as Chicago is, this beautiful city does not hold his heart. Lantuat already left part of his Vietnamese soul at Little Sài Gòn. "Chicago is impressive," Lantuat confided, "but Orange County is 'cute.'" He said the strong feeling he had for California urged him to create a composition for it – a song, perhaps. The creation process already started in his mind, as we were talking.
With this composition for California, Lantuat wanted to say: "I'll be back!"
Listen to music by Lantuat.
The Vietnamese version of this article has been published by The Vien Dong Daily News.
Anvi Hoàng grew up in Vietnam and received her bachelor degree from the National University in Hồ Chí Minh city. She came to the US for graduate studies and have found happiness in writing. She makes it one aim to celebrate Vietnamese culture in her writing. A bilingual writer in English and Vietnamese, Anvi enjoys exploring the in-between worlds she is in, and loves water. She lives in Bloomington, IN.
____________________________________________________________
 Do you enjoy reading diaCRITICS? Then please consider subscribing!
Please take the time to rate this post (above) and share it (below). Ratings for top posts are listed on the sidebar. Sharing (on email, Facebook, etc.) helps spread the word about diaCRITICS. And join the conversation and leave a comment!
If you were in Lantuat's shoes and should a moving opportunity land on your lap, could you possibly see the US as your new home? 
____________________________________________________________
Bài viết này có dùng hình minh họa của Jiny Ung. diaCRITICS hân hạnh có Jiny Ung là nhà minh họa. Jiny Ung chuyên về nghệ thuật chế tác khuôn và vẽ hoạt hình. Cô đã thực hiện việc thiết kế và sản xuất cho các bộ phim ngắn ở Đông Nam Á. Các dự án phim hoạt hình hiện tại của cô tập trung vào các chủ đề: về tội lỗi, mất mát, và các nhân vật anh hùng quia (queer) dưới hình dạng tích hợp động vật-robot-trái cây.
Nghệ sĩ Công Huân Nga lần đầu thăm Mỹ
Nguyễn Lân Tuất, Nghệ sĩ Siberia với tâm hồn Huế cổ, là người Việt Nam đầu tiên được Tổng thống Nga phong tặng danh hiệu Nghệ sĩ Công Huân. Tháng 7 năm 2012 vừa qua Lân Tuất đi chơi thăm nước Mỹ. Những nhận xét của ông về Mỹ rất thú vị vì qua chúng người ta vừa thấy được suy nghĩ của một người Việt Nam ở nước ngoài vừa thấy được sự khác biệt giữa các nền văn hóa.
Nước Mỹ và người Mỹ 
Trong lúc phản ứng rất bình thường của con người ta trước những gì mới và lạ là rút lui, tự vệ, Lân Tuất 78 tuổi nhưng suy nghĩ rất cởi mở. Đi thăm nước Mỹ lần đầu, thấy gì mới và hay là ông trầm trồ và khen ngay. Phải là người tự tin vào bản thân và rộng lượng với người khác mới xử sự được như vậy.
Lân Tuất bảo ấn tượng đầu tiên của ông về nước Mỹ là: đây quả là đất nước tiên tiến về mặt kỹ thuật, và người Mỹ làm việc chăm chỉ quá – đường sá trong thành phố và cả đường xa lộ, ở đâu cũng sạch sẽ. Người Mỹ cũng rất thân thiện và cởi mở. Việc người Mỹ thân thiện thì dễ hiểu rồi, nhưng sao nhìn đường phố sạch lại nói người dân làm việc chăm? Chẳng phải điều đó chỉ liên quan đến vấn đề tiền bạc hay sao. Có nhiều tiền, thuê người ta lau đường thì người ta chùi thôi. Mỹ là xứ sở vật chất mà, đây là cách suy nghĩ bình thường ở Mỹ. Lân Tuất nhìn thấy cùng một sự việc nhưng lại nghĩ khác, điều này cho thấy sự khác biệt trong cách suy nghĩ của người Nga/người Việt với người Mỹ.
Lân Tuất cũng đặc biệt ở chỗ con người ông là tổng hợp của nhiều nền giáo dục và văn hóa khác nhau: Pháp, Nga, Việt. Ông rất nhạy cảm, lãng mạn và ga lăng kiểu Pháp, suy nghĩ khác người (nếu không thì không sáng tác được), đi dạy học và thường xuyên tiếp xúc với sinh viên trẻ ở Nga nên tâm hồn luôn trẻ, nhạc ông viết dùng kỹ thuật hiện đại rất cao. Nhưng ông 78 tuổi, rất tự hào là người Việt Nam, cũng có những suy nghĩ truyền thống Việt Nam. Ông lại là người Bắc, cách xử sự và dùng tiếng Việt có nhiều chỗ khác người Nam và người Trung. Thế là sự pha trộn nhiều yếu tố văn hóa vừa hiện đại vừa truyền thống, vừa trẻ vừa già trong con người Lân Tuất làm cho ông vừa gần gũi, vừa… khó đoán. Đôi lúc ông nói ra những câu mà người nghe không biết nên hiểu theo kiểu gì.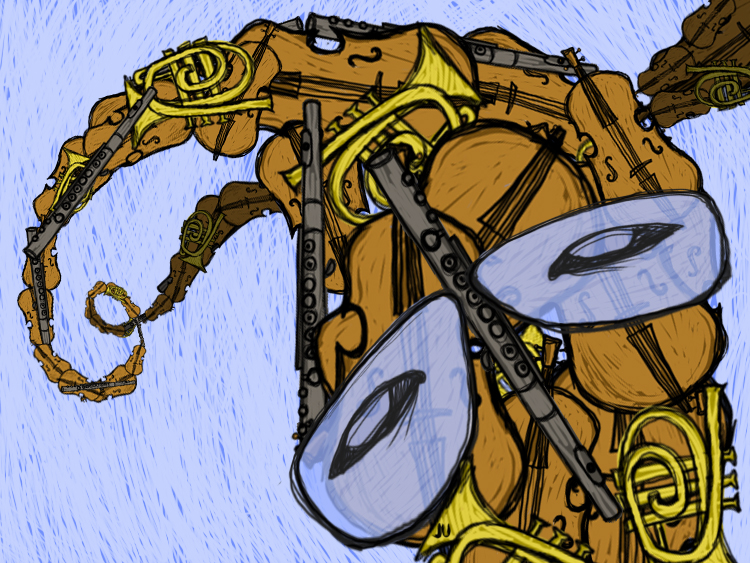 Ví dụ trong lúc nói chuyện ông hay bảo rằng, "tuổi mình bây giờ gần đất xa trời rồi, được như vầy là rất mừng". Nghe qua thì không thấy gì lạ, nhưng nghĩ lại thì ở thế kỷ 21 này, con người ta sống lâu hơn và khỏe hơn. 60 tuổi ở Mỹ bây giờ được xem như mới 40. Vả lại, Lân Tuất rất khỏe mạnh, nhìn không thể đoán ông 78, cách suy nghĩ và tâm hồn lại rất trẻ, không lý gì mà cứ "than già" mãi. Hỏi gặng ra thì ông bảo: "Cái đó là coquette, nói cho oai ấy mà!" (Hãy tưởng tượng giọng Bắc ngọt sợt của ông khi nói câu này!) Rồi ông giải thích thêm:
"Tất nhiên ai cũng muốn sống lâu. Nhưng câu nói đó không đúng, có nhiều người mới 60 tuổi, không phải là chờ chết nhưng cuộc đời không là gì nữa. Cho nên tôi rất rất rất cảm ơn nước Nga là bây giờ đến tuổi cổ lai hy gần 80 mà vẫn còn được làm việc – trước đây bên mình 70-75 là thượng thọ rồi. Kinh tế Nga không được như Mỹ nên lương hưu thấp. Người già lo nhất là về hưu phải kiếm thêm gì làm để sống. Do đó không phải người già nào cũng hoan hỉ là mình được sống trong tuổi già. Đó là cái khổ. Bây giờ chính phủ Nga đang cố gắng làm thế nào tăng lương của người già lên để người ta sống được tử tế hơn".
Thế đấy, Lân Tuất biết ơn cuộc đời và hoan nghênh nước Mỹ như thế. Nhưng khi hỏi liệu ông có muốn sống ở Mỹ không, Lân Tuất bảo với cương vị hiện giờ của ông ở Nga, ông chỉ sống ở Nga thôi.
Riêng cho California
Hiện tại, Lân Tuất là Nghị viên Viện Xã hội ở Novosibirsk, rồi Cố vấn về Vấn đề Quan hệ dân tộc vùng Siberia cho Đại diện Tổng thống Nga. Tất cả không phải một sớm một chiều là được đâu. Lân Tuất tâm sự: "Lúc tôi mới đến Novosibirsk để dạy học, người ta phản ứng rất mạnh trên báo chí. Tôi biết mình phải cố gắng chứng tỏ mình, đến lúc họ phải công nhận để thằng da vàng mũi tẹt dạy con cháu họ."
Từ chỗ được tôn trọng về âm nhạc, Lân Tuất mở rộng dần vai trò xã hội của mình. Để chuyện đó xảy ra, ông nói phải có "sự tích cực trong đời sống xã hội của mình. Tôi thường lên đài truyền hình, thường xuyên viết báo, thường xuyên cho phỏng vấn." Nói chung lúc nào cũng làm thêm những việc ngoài chuyên môn của mình. Đến nỗi ở Novosibirsk, hơn hai triệu dân, "không thể nói là không biết tôi. Vì tôi mà nước Nga biết rằng không phải người Việt Nam nào cũng đi chợ trời. Họ biết tôi tiêu biểu cho người Việt Nam thành công ở Siberia. Tôi không giỏi chính trị, cái chính là mình muốn đề cao người Việt Nam." Đó là niềm tự hào của Lân Tuất ở nước Nga.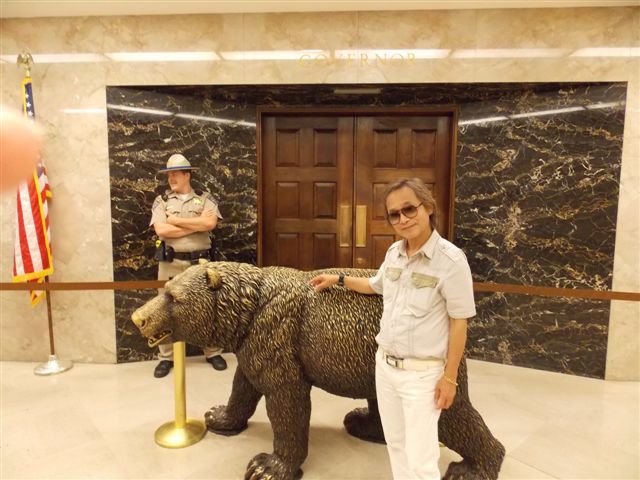 Đến Mỹ, Lân Tuất có ấn tuợng rất mạnh về cộng đồng người Việt ở California mà ông cho là niềm tự hào của người Việt trên đất Mỹ. Ông nói người mình có nhiều cộng đồng, nhiều thành phố riêng như thế, trên một nước Mỹ rộng lớn như thế – đây là chuyện đặc biệt chỉ có ở Mỹ chứ không nơi nào khác trên thế giới. Biết người Việt Nam thuê người Mễ làm việc cho mình, thấy người Việt Nam đi "hiên ngang" trên đường phố Little Sài Gòn, trong khi người Mỹ trắng khép nép làm Lân Tuất mĩm cười thú vị. Ông biết người Việt ở Mỹ làm giàu rất giỏi, có nhiều nhà khoa học, toán học tài ba, và ông hy vọng những nhân vật đặc biệt như vậy sẽ lợi dụng điều đó để giành một tiếng nói về chính trị cao hơn nữa cho cộng đồng người Việt trong chính phủ Mỹ.
Lân Tuất đã đi chơi Chicago và không ngớt lời ca ngợi thành phố mùa hè đẹp nhất nước Mỹ này, nhưng ông không phải là một khách du lịch bình thường. Những tòa nhà cao tầng đẹp cao ngút mắt ở Chicago, công viên Millennium với kiến trúc thác nước in mặt người và bồn phun nước vĩ đại, trái đậu gương (the Bean) không "nắm" trái tim ông. Với tấm lòng muốn đề cao người Việt Nam, Lân Tuất chỉ "động lòng" với California thôi. Ông bảo Chicago đẹp thật, nhưng California mới "dễ thương". (Lại nữa, phải hiểu chữ "dễ thương" này theo nghĩa lời ca tụng hết cỡ). Vì tình cảm đặc biệt này đối với California mà Lân Tuất "bật mí" rằng ông sẽ có một sáng tác về California trong tương lai. Lân Tuất muốn nói rằng: California hãy đợi đấy, "tôi sẽ trở lại!"
Nghe nhạc của Lân Tuất ở đây.
Bài viết đã được đăng trên Nhật Báo Viễn Đông.
Anvi Hoàng sinh trưởng tại Việt Nam, tốt nghiệp Đại Học Khoa Học Xã Hội và Nhân Văn, sang Mỹ học cao học và rồi tìm thấy niềm vui trong việc viết lách tự do. Anvi viết thuần thục cả tiếng Anh và tiếng Việt. Viết để tung hô văn hóa Việt Nam và viết về sự thay đổi. Anvi thích khám phá thế giới 'chân trong chân ngoài' mà cô đang sống, và thích nước. Cô sống ở thành phố Bloomington, thuộc tiểu bang Indiana.
____________________________________________________________
Bạn có thích đọc diaCRITICS không? Nếu có thì xin mờiđăng ký nhận bài ở đây.
Vui lòng bỏ chút thời gian chia sẻ bài này. Chia sẻ (qua email, Facebook, v.v.) giúp quảng bá diaCRITICS. Mời bạn tham gia vào câu chuyện và để lại lời bàn.
Nếu bạn ở trong địa vị của Lân Tuất hiện tại và có cơ hội đi, liệu bạn có muốn lập nghiệp ở Mỹ không?
____________________________________________________________