What will Vietnam look like in 50 years? Tiffany Chung's artworks examines the complexity of urban development and transformation in developing and post-industrial cities. diaCRITIC Lien Truong introduces and reviews her exhibitions, The Galápagos Project: On The Brink of our Master Plans and An Archaeology Project for Future Remembrance.
Have you subscribed to diaCRITICS yet? Subscribe and win prizes! Read more details.
I arrived in Ho Chi Minh City just in time to catch the last day of Tiffany Chung's solo exhibitions at both Galerie Quynh locations in January.  The Galápagos Project: On The Brink of our Master Plans was at 65 De Tham Street, District 1, and An Archaeology Project for Future Remembrance at 151/3 Dong Khoi Street, District 1.
Lucky me. While I was able to see her map drawings in 2012 at the San Francisco Museum of Modern Art's Exhibition: Six Lines of Flight, I have never had the opportunity to see her installation work, and was anticipating seeing it in person.  The exhibitions at Galerie Quynh show Chung's comprehensive examination of shifting geographies through her impressive range of creative forms: video, drawing and installation. From Chung's studies on the decline and disappearance of towns and cities due to deindustrialization, demographic change, land development, environmental catastrophe and extreme climate impact, the work investigates the complexity of urban progress and transformation in developing and post-industrial countries.

Based on research in collaboration with Erik Harms, Assistant Professor of Anthropology, Yale University, An Archaeology Project for Future Remembrance reflects on Thu Thiem, the 657-hectare master-planned new urban area in Ho Chi Minh City over the Saigon River.  The exhibition at Dong Khoi curiously probes into the social relevance of Thu Thiem, and the casualties of undertaking such a massive utopian megaproject.  Officials evicted thousands, a collection of neighborhoods, a vibrant urban community filled with architectural dwellings for families, religious worship, communities, and schools.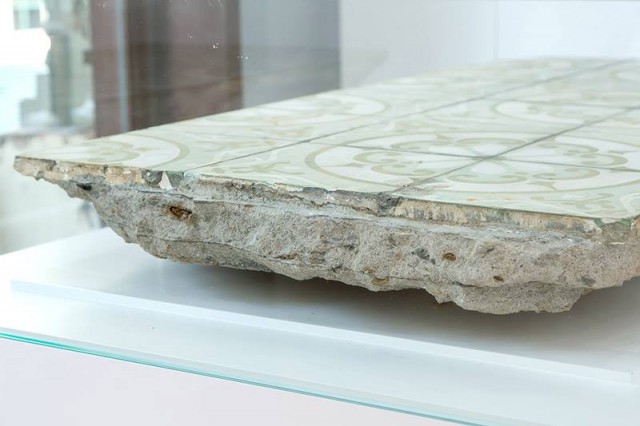 Encased under museum-like containers, we are confronted with items Chung has excavated from this late riverside district in Ho Chi Minh City, such as remnants of their homes, windows and a concrete slab from a foundation measuring 50 by 25 inches.  The installation is effective.  In its glass box, the slab looks ancient and full of history, like a precious relic that houses generations of narratives.  It is dirty, beautiful, and broken, rescued by Chung and given precious salvation inside a pristine coffin.
Both galleries showcased Chung's map drawings. These mixed media works on vellum and paper investigate how political and environmental traumas alter landscapes through time. At De Tham gallery downstairs, Chung had a two-channel video installation portraying an allegorical fantasy imagining the end of the human race.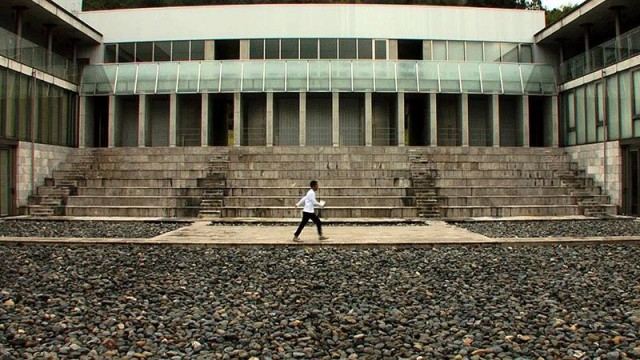 Upstairs, her widely acclaimed 'floating town' that premiered at the Singapore Biennale in 2011 was installed. Titled Stored in a Jar: monsoon, drowning fish, color of water, and the floating world, the work was created in response to the extreme flood prediction in 2050 of Ho Chi Minh City and the lower Mekong basin and the rising of sea levels due to global warming. Constructing an 'alternative urbanism' based on existing vernacular architectural designs of floating villages such as Tonle Sap Lake (Cambodia), Halong Bay (Vietnam), Sanglaburi (Thailand), Srinagar (India), and traditional farmhouses in Gifu and Yamaguchi, Japan, Chung has modified the architectural styles to build a 1:50 scale model of a 'floating town'.
Referencing urban planning, modern design and the playfulness of Guy Debord's psychogeography, Chung's installation takes the very real threat of environmental disaster into an enticing, miniature surrealist environment, so meticulously crafted one cannot help but imagine its life-size fruition. The modern, clear floating urban islands present communities in a range of traditional architectural forms: with smart modifications. The wooden boats and farmhouses are fused with solar panels, vertical and rooftop gardens, and rainwater harvesting system.  The installation confronts the value of self-sustainability and the global environmental movement within the utopian ideal.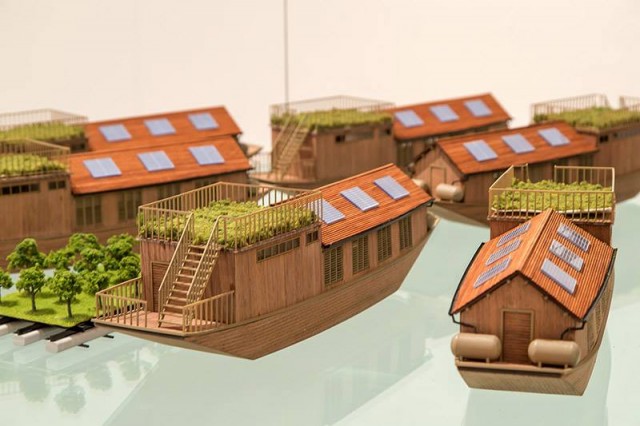 Her work creates fantastic allegories to the fluctuating geography throughout history, based on political decisions.  One of the most potent aspects of Chung's art is its timeliness. The context surrounding her work is happening now and her content is ever mindful of the rapid growth in Vietnam, a country whose development and economy are progressing at an incredible pace. Ho Chi Minh City's population has almost doubled in 20 years as young adults from rural towns, international developers and expats flock to take part in the city's booming economic wealth, a triumph of capitalism.  Modernization is in full force. Collectively, Chung's exhibitions pose poignant and candid questions to the social and political processes inside an expanding economy, motivated by ideas and ideals of advancement. In a world driven by power, money and influence, very real issues of environmental changes and catastrophes exist. Cities must invest in urban planning to accommodate for the massive influx of population and business. Chung's art speculates over the values that guide those decisions, while presenting striking inventive alternative models. Eric Harms calls this examination under her creative lens "Fantasy Futurism." Tiffany Chung's work interrogates the breach between the utopian ideal and utopian illusions.
Works from ' an archaeology project for future remembrance' will be included in ' My Voice Would Reach You: Nine Contemporary Artists from Asia' at the Museum of Fine Arts, Houston. This exhibition is sponsored in collaboration with Rice University's Chao Center for Asian Studies, and opens April 12, 2014.
Lien Truong lives and works in Northern California, where she teaches painting and drawing at Humboldt State University. Her artwork has been exhibited in numerous venues, including The National Portrait Gallery; National Centre for Contemporary Arts, Moscow, Russia; and Galerie Quynh in HCMC, Vietnam.  More info here.
Do you enjoy reading diaCRITICS? Then please consider subscribing!
Please take the time to share this post. Sharing (on email, Facebook, etc.) helps spread the word about diaCRITICS. Join the conversation and leave a comment! What do you think of Tiffany Chung's creative installations? Do they pose legitimate questions regarding the transformation of Vietnam?