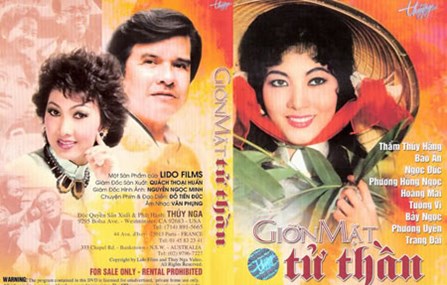 In Thuy Linh's most recent post in her column, she highlights the use of music and romance in Southern films in the pre-1975 era in Vietnam.
Have you subscribed to diaCRITICS yet? Subscribe and win prizes! Read more details.
Though there isn't anything outstanding in the pre-1975 commercial movies made in the south, I enjoy watching them. Skillfully done, these movies are much more coherent, interesting and in general better than many contemporary films.
They testify to a robust cinema tradition distinctive from the northern, state-funded war movies of the same period. In the case of comedies, I see the southern brand of humor, with their so-called vulgar jokes being earthy, funny, and charming rather than gross and offensive like in many movies these days.
In them, war and everything else provide a backdrop for romance, often triangular love stories. The romantic stories may be simplistic at times (romantic couples just walk around in an outdoor setting and talk), but the acting, dialogues, and dubbed voices of the actors are good, making the stories believable.
Compared to those dubbed voices, the voices of some actors in this age of on-set recording are bad. They sound flat, monotonous, emotionless, and not even loud and clear. Like those of Do Thi Hai Yen, Dustin Nguyen, and Johnny Tri Nguyen.
Watching pre-1975 southern commercial cinema is to listen to the sound, the music performed as part of the story or incorporated into the soundtrack, which features all sorts of good, popular music ranging from local folk to western music to contemporary Vietnamese songs. In contrast, the northern movies of the period – films like Hai Ninh's 1974 Em be Ha Noi (literally, Hanoi Girl) about the American bombing of North Vietnam in 1972 – are more noted for their stylized cinematography.
Talking about music, there is perhaps no movie more dedicated to the power of songs than Ly Duc Thu's 1973 romance Nang chieu (literally, Sunshine), a joint Vietnamese-Hong Kong production (though this movie is widely attributed to Le Mong Hoang, for some reason it is Thu's name that appears as director in the credits).

Inspired by musician Le Trong Nguyen's well-known song of the same name, the film is all about this great work of music, though we also hear another famous song by another musician. You can listen to one good version of Le Trong Nguyen's song here.
The movie is happier than the song, which is about a man returning to his home village one late afternoon and reminiscing about his former lover, a gentle girl whom he does not know where to find now. Lieutenant Thai, the movie's hero, is more fortunate. He falls in love with Hien, a boatwoman, when his platoon passes through her village in Hue. Her cousin, Cuc, also falls in love with Thai and incites Master Tu Thien, the village's rich, bad guy who likes Hien, to rape her after Thai's platoon leaves. Hien manages to escape from Thien's clutches, but her reputation is ruined. And she does not receive any word from Thai as he promised because Cuc burns all of his letters before they reach Hien.
When Hien learns about Cuc's feelings for Thai and her foul deeds, she forgives her and decides to become a Buddhist nun.
This is a simple, artless, endearing movie with shots showing off Hue's beauty. It has a simple way of promoting its songs, besides incorporating them into the soundtrack. Thai is musical and often carries his guitar around. Twice he plays his guitar around other characters. Thai sings Nang chieu twice, once with the guitar and the other time during a performance on stage for the villagers before his platoon leaves.
For all of its simplicity, the script manages to be convincing enough to make the movie not too fluffy. In fact, it makes me think it should not be too difficult to make a good commercial film to promote local tourism, music, or whatever.
Hai Lua (literally Country Bumpkin), one of the movies released this past Tet (Lunar New Year festival), tried to promote Vietnamese-Cambodian tourism but the touristic scenes were crudely done (in one scene, the Cambodian girl simply walks and presents the landscapes to other characters like a tour guide).
Partially state-funded Va anh se tro lai (Then I Will Return) promotes the beautiful sceneries of the northern mountains a bit more subtly. But the script is still too obviously promotional and repetitive: all three of the foreign tourists who come to Vietnam fall in love with local girls and two of them make the girls pregnant. By comparison, Nang chieu's script feels authentic.
Another movie that contemporary filmmakers can learn from is Do Tien Duc's 1975 thriller Gion mat tu than (literally, Playing with Death), which was not released in Vietnam because of the fall of Saigon in the same year.
This is an intelligent, skillfully structured movie. Alternating between indoor scenes of the suffocating, trapped reality of the present, memories of a happy, romantic past amidst beautiful nature, and nightmarish visions of the present and future of a tormented heroine, the movie poses an interesting question: what if you accidentally kill your husband and have to find a way to hide his body?
Tham Thuy Hang, the big movie star of the times, played Hanh, a wife who spends most of her time inside a rented room waiting for her husband, Phuc, a smuggler, to return from his trips (put together, the names of the couple are ironically "hanh phuc", or happiness in Vietnamese). One day he returns to her delight. He brings back a scarf which he jokes belongs to a lover. Hanh angrily picks up his gun and threatens to shoot him. He jokes that there is no bullet inside the gun. She pulls the trigger nonetheless and, to her astonishment, kills Phuc.
For the rest of the movie, Hanh is tortured. On one hand, she has to come to terms with the reality that her husband is dead and she killed him. On the other hand, she is constantly bothered by one person or another who knocks at her door: the old landlord who on one occasion wants to know why Phuc has not come down to drink with him, and on another why there is a stink seemingly from Phuc's room; Phuc's male friends; Hanh's own female friend; and, finally, the police who come for a residence check.
As the film unfolds, we see in three flashbacks the love story of the couple: Hanh has run away to the highlands to live with Phuc because her parents do not approve of him since he is poor. So Phuc often goes on long, dangerous smuggling trips to make money to prove himself. Even when Hanh hears her mother is ill, she does not leave Phuc. Nor does she have the heart to leave his body and run away from the crime scene despite having the chance.
Though the general mood of the movie is serious, there is comic relief, especially in form of the skinny old landlord and his wife. He likes to sleep in a coffin and his wife frequents the graveyard just for fun.
As finely drawn comic characters, they provide a nice contrast with Hanh and Phuc, because despite their sepulchral predilection, this old couple are filled with a zest for life and much further removed from death than their younger counterparts.
The movie does not scare by any means, though Hanh's heavily made-up eyebrows and eyeliners may look quite scary. Instead, Hanh is a loving person and the film is an intensely psychological one which does not give her much relief. She is as trapped at the end of the movie as she is in the beginning. There is just no miracle to bring her husband and paradise back.
Thuy Linh lives and works in Hanoi. She graduated from UMass Boston with a BA in English and has a Certificate in Screenwriting from the Film Studies Program, a 10-month program of the Hanoi University of Social Sciences and Humanities (in partnership with the Ford Foundation).
She is a translator/reporter/editor for various English newspapers in Hanoi and HCMC such as VietNamNet, Saigon Times, Sai Gon Giai Phong, and Tuoi Tre. At present, she works as a translator/editor for the "fiction" section (translates and edits contemporary Vietnamese short stories) and a film critic for Thanh Nien.
________________________________________________________
Do you enjoy reading diaCRITICS? Then please consider subscribing!
Please take the time to share this post. Sharing (on email, Facebook, etc.) helps spread the word about diaCRITICS. Join the conversation and leave a comment! If you have seen any of these Southern films, what did you think about them? 
________________________________________________________