MEMORY'S LONELY BREATH, the collected films of Vu Pham, will be screening at the NW Film Center in Portland, Oregon on Jan. 26, 2017, at 7 PM. Tickets and info available here.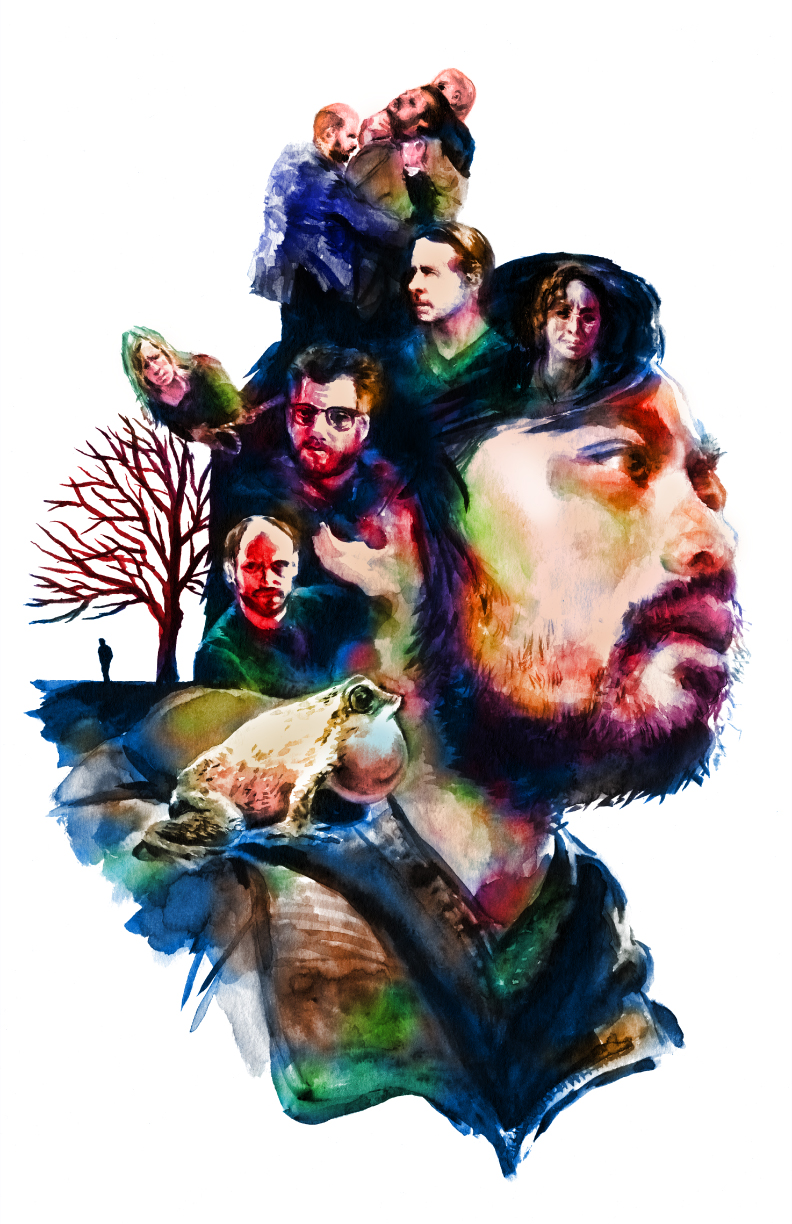 The films of Vu Pham are not comfort food. They are not pleasing or fun or reassuring or even inspiring, if you abide by any of the common definitions associated with those words. They are not beautiful, not at least in the sense of a filmmaker attempting to beautify his characters and settings (and thus seduce the viewer); nor are they gratuitously bleak or world-condemning. Rather, I would call his films uncompromising, unapologetic, honest, perhaps also unabashed: much like the personality and creative vision informing them.
As a fellow artist and writer who has been following Vu Pham's work for several years now, I know that his storytelling – as he himself has said – comes out of very true place. Of pain, observation, experience. And these degrees, especially of pain and experience, are not unrelated – are at times quite privy – to the specific-yet-hard-to-delineate textures of trauma that come with being Vietnamese in a western land. In Pham's own words: "My films are ultimately nothing more than a means to sort out my own memories and experiences. I do not seek to save the world or anything in it." This, I believe, is as honest and unpretentious an aspiration as any artist can have.
And some of us may recognize (whether we wish to or not) pieces of ourselves in this filmic world, which lies a little beyond the pale and beyond (easy) comprehension, a world that is small and real and strange; that incubates at the same time depletes; that is both psychological and void. Some might also perceive a heart, buried and damaged but still beating, beneath the monster face collapsed on the living room floor of this world.
On Jan. 26, 2017, a feature-length triptych of Vu Pham's short films, LOVE IS STRONG, will screen alongside his latest short film, THE CUTTING SHADOW. The event is presented by the NW Film Center, with funding provided by the Regional Arts & Culture Council (RACC), in Portland, Oregon. The whole program runs under the title of MEMORY'S LONELY BREATH, and if you are in the Portland area you can catch them here:
NW FILM CENTER Northwest Tracking
MEMORY'S LONELY BREATH
Films by Vu Pham:
THE CUTTING SHADOW (16 min.)
LOVE IS STRONG (87 min.)
Total Runtime: 104 Minutes
THURSDAY, JANUARY 26, 2017
Doors 6:30PM / Show 7:00PM
Q&A (of the lively variety) with cast and crew to follow
Whitsell Auditorium
1219 SW Park Avenue
Portland, Oregon 97205
More from Pham's artist statement here:
I have often been asked by those closest to me, why I am so profoundly committed to brutalizing others with emotionally crippling nightmares that I call films. These queries have been met with silence. Because my films have been made possible only through the generous support of so many friends, family, artists, technicians, and patrons of the arts, I feel that breaking this silence and uttering a few remarks is the least I can do.
First, admittedly, I am masochistic—not because it sounds devastatingly cool to say this within the artistic realm—but because significant personal pain and heartache is how I have come to learn about the world from a young age. Second, despite what it may look like, I am not interested in the mutual feelings of discomfort in another person as much as I am interested in the searing, stirring, churning, seas of cerebral and visceral activity in all people when they are confronted with something that they cannot make sense of; something absolutely impenetrable. Jacques Lacan called this The Real. I call it "holy f—– shit."
Needless to say, the privilege of making a film is a uniquely personal process for me. It is an unconscious poetry whose deep arch stretches across the seasons of emotions and raises on its back the distant flicker of a memory. The stories and characters are the prismatic fallout of particular memories: a cassette tape cradling my mother's undulating voice as she reads literary passages during a bitter American winter, the tyrant who dictated how I grieved her death as a child, my domestic failures as a young man, and the sobering silence of shattered ideals while living on a commune. The seat of these reflections is perpetually sliding within the nexus of sensation, emotion, memory, idea, and story. There are times that I am captured by an emotion that then takes flight as story and then alights as memory. Other times I am captured by a memory that takes flight as story and then alights as emotion. I cannot govern the ineffable summoning. I can only listen to what is inside myself, remember, and react.
—
MEMORY'S LONELY BREATH: Films by Vu Pham
THE CUTTING SHADOW
Runtime: 16 Minutes 55 Seconds
Writer, Director, Producer, Lead Actor: VU PHAM
Co-Director, Editor: JOE X. JIANG
Cast: DONNY PERSONS, LONG X. NGUYEN, CASEY PFEIFER, and LARRY JOHNSON
Executive Producer: KENNETH BUDDE
Producers: TEO GUARDINO, DONNY PERSONS, and MICHELLE MARIE MATHEWS
Synopsis:
A man accepts an opportunity from the cartel to rise up in the underworld while his forsaken lover delivers cruel moral lessons from behind the veil of contempt. That very night, the couple meets with unexpected visitors, Vietnamese immigrant brothers who are cast into the dark seas of American life. One particular brother's affection for the woman entangles him in her machinations and mayhem is visited upon the group. Around the corner from this chaos awaits a revelation that reveals the secret architecture behind their thin walls of reality.
LOVE IS STRONG: A Cinematic Triptych
Runtime: 87 Minutes 20 Seconds
Writer, Director, Producer, Lead Actor: VU PHAM
Cast: LINDSAE KLEIN, MATTHEW DIBIASIO, DARCY MILLER, BRIAN KOCH, PATRICK GREEN, TODD ROBINSON, and GARLAND LYONS
Production Credits: VARIOUS
Synopsis:
Each of the films in this cinematic triptych probes the apogees of passion through characters that are tormented by the irreconcilable forms of "love." Where the Flowers Fell looks at the psychic disintegration of a detached actress following the death of her mother. Sudden Stars in the Night Zoo delves into the existential crisis of a working-class man as he is brought tumbling back into reality by his tormented wife. The True Color of Hunger follows the clashing values of two individuals united by social radicalism and torn apart by a mystifying betrayal.
---
CONTRIBUTOR BIO
Dao Strom is the literary series editor for diaCRITICS. She is the author of three books: We Were Meant To Be a Gentle People, an experimental memoir accompanied by an album, East/West; The Gentle Order of Girls and Boys, a collection of stories; and Grass Roof, Tin Roof, a novel. She is also a writer of songs.
---
Please take the time to rate this post (above) and share it (below). Ratings for top posts are listed on the sidebar. Sharing (on email, Facebook, etc.) helps spread the word about diaCRITICS. And join the conversation and leave a comment!