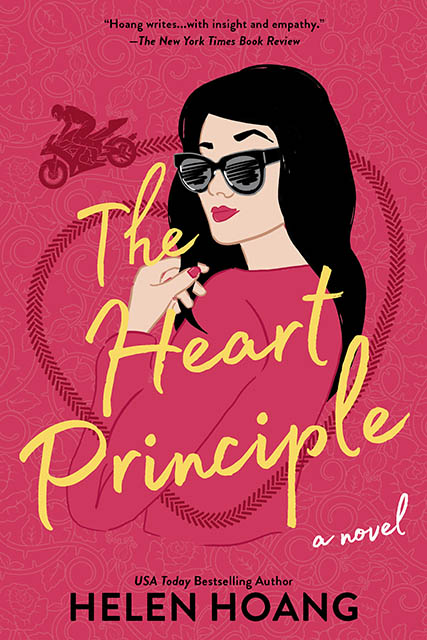 In the midst of the COVID-19 pandemic, Helen Hoang has given fans of her work something to hold onto in moments of darkness: The Heart Principal. Hoang's third novel is part-fiction, part-memoir. On the surface, it is a love story about two people, Anna and Quan, both struggling under the weight of their experiences and expectations. When they find themselves on a dating app and then find each other, their unlikely paths collide and the weight of their individual burdens feel less heavy. At its core, however, The Heart Principle is a story about identities rebuilt after loss, mental health, neurodivergency, the burden of caretaking (both of oneself, and of the ones we love), culture and family. 
The Heart Principle's dedication sets the tone for the entire book and reads as follows:
"Dedicated to all the caregivers out there: those who care because they want to, those who care because they have no choice, and especially the medical professionals during the COVID-19 pandemic, every single one."
Anna Sun is a Chinese American violinist who is catapulted to success after a YouTube video of her performing goes viral, only the piece she was performing was intended for someone else, someone who was in a car accident and unable to play. Plagued by guilt, shame and the pressure of fame, hyper-visibility and expectation, Anna gets stuck in a cycle of musical self-flagellation.
Anna has an older sister who models an unattainable level of Chinese-ness and only offers Anna very tough, berating love. The two have such a large age gap that at times it feels like her sister is also her mother. Anna, on the other hand, speaks faltering Chinese and has an unshakeable sense of not being Chinese enough or living up to her family's cultural expectations. One thing her family believes she does get right, though, is her boyfriend Julian. Julian is a clean-cut Chinese American, who is also a Harvard and Stanford business graduate and investment banker. He pleases Anna's family and makes sure that Anna pleases him; Anna however, is left wanting. When they are together, Anna is dissociative and miserable underneath a well-practiced smile. After one such encounter, Julian announces that they should open up their relationship and see other people before the inevitable—they settle down.
This loss of a relationship propels Anna onto a dating app and straight into Quan Diep.
Quan is a dynamic Vietnamese American man cloaked in tattoos, an armour made of ink that protects a sensitive individual trying to navigate his internal and external worlds after moving through testicular cancer. Unlike Anna, Quan is close with his family and co-founded his business with his best friend and cousin. Together with his brother and cousin, he teaches martial arts to children, frequently picks up nourishing home cooked food from his mother and rides a motorbike—it's obviously hard to dislike him. 
I found Anna and Quan likeable from the get-go, comforted by the many and different ways they both fail to live up to people's expectations of them and their struggles with new identities. In the beginning of the book, Anna describes how her big sister is almost quadrilingual, speaking English, Cantonese, Mandarin, and a rare dialect from the South of China, whilst Anna only speaks English fluently. Quan on the other hand, is recovering mentally from testicular cancer and the way his body looks post-surgery. He struggles to align his sense of self with his changed body and has fears about how he will be perceived by those who expect strength and happiness from him.
Anna and Quan's relationship is sweet, persisting, affirming and fraught with emotional and sexual tension. Readers will get to experience their romance unfold in a way that feels authentic and hopeful, though they might be left wanting more closure and depth at the end of the novel. My hope is that Hoang secretly has a fourth book up her sleeve.
When Anna's father has a debilitating stroke and her family decide to bring him home for end-of-life care, Anna becomes consumed by caretaking, a family expectation which quickly chips away at her mental health. Simultaneously, Quan is brought deeper into Anna's world and the complexities of her family.
When Anna's mother first meets Quan, she wants to know how to spell his name in order to determine his Asian heritage. Quan is unsurprised by this and quickly puts her out of her misery, sharing with the reader that he already knew he was the "wrong" kind of Asian for the Sun family: Vietnamese. It was refreshing for a book described as a romance to touch upon topics such as racial dynamics in the Asian community. I would have loved to see more of how this tension evolved and played out between Anna and Quan's families. 
One thing that the book did really get its teeth into was people-pleasing and the family dynamics surrounding filial piety. I appreciated the way Hoang gave Anna a layered experience of filial piety through the relationships with her elder sister and mother, whilst somewhat challenging stereotypes around dominant Asian father figures by painting a complex yet tender relationship between Anna and her dad. Through Quan's character, Hoang further explores masculinity. Where Asian men are often emasculated by contemporary Western media, Hoang ensures that the Vietnamese male leads in her books are always wrapped in a masculinity that appeals to all of her readers. Quan therefore has markers of acceptable white masculinity: former ladies' man, leather jackets, motorbike, athletic body etc. However, Hoang also gives Quan character traits slightly outside of the cookie cutter male heart throb: he runs a clothing business which designs clothes for children, he questions his own masculinity, he perpetually models sexual consent, he takes a backseat to Anna's character.
One of the most poignant parts of the novel is Hoang's author's note, where she highlights the parallels between her life and Anna's, sharing about her mother's battle with lung cancer and her family's choice to bring her home for care. Hoang writes that "caregiving is hard," especially when "there's a conversation about caregiving that society isn't having". Hoang plainly shares her experience of suicidal ideation, using her story and Anna's to unflinchingly show us just how "real and serious caregiver burnout is."
While this book is so much more than a romance novel, it is an important addition to the romance canon, ensuring that readers of all races are fantasizing about Asian bodies, while also making them aware of just how much care bodies need and who is left to care for those bodies when it's all been said and done. Caretaking continues to exist in invisible, liminal spaces, but this book brings the conversation a little more into the public sphere, and I am sure it will be a comfort (in more ways than one) as the nights get longer and the COVID-19 pandemic continues to ebb and flow.
The Heart Principle
by Helen Hoang
Berkley, $16
---
Contributor's Bio
Jess Boyd (she/her) is a Vietnamese Jewish Londoner who parents, writes, edits and researches from Seattle. She hasn't slept well in almost two years, and her drink of choice is Red Boat Fish Sauce. Jess is recovering from White feminism and learning to soften, love, parent and make home/community with pride. Jess speaks questionable Vietnamese, Thai, Isaan, Laotian, French and Spanish. Her bà ngoại thinks her Vietnamese accent is hilarious. Jess is the founder of this is for mẹ, a multimedia storytelling platform focused on motherhood, motherlands, mother-tongues and family