diaCRITICS is excited to reprint this review of Dinh Q. Lê's show at Shoshana Wayne Gallery in Santa Monica, California, written by Leah Ollman and originally published in the Arts & Culture section of the Los Angeles Times. Lê's work has been celebrated by art critics and museum collections far and wide, so this glowing review is not surprising.  Best known for his woven-photograph-montages conjuring both history and memory, the fine arts photographer was born in 1968 in Hà Tiên, a Vietnamese town near the border with Cambodia. After moving to the U.S. at age 11, today he works between the U.S. and Viet Nam. In 2011, diaCRITICS featured an interview of Lê with Tom DiChristopher and a review of Lê's show Erasure written by the late curator and art historian BoiTran Huynh-Beattie. 
[before we begin: have you heard about our subscriber drive? win an iPod and other prizes!]
In one of many stunning works in Dinh Q. Lê's show at Shoshana Wayne, the portrait of a victim of the Khmer Rouge is interlaced with an image of one of the overgrown temples of Angkor Wat. Lê slices photographs into strips and weaves them together, one image becoming warp and another weft, the two pictures fusing into a riveting, oscillating hybrid. The hair of the young Cambodian girl merges with the long, meandering tree roots that cling to the temple walls. Old and new, near and far converge, faith overlaps with loss, the sacred melts into the profane.
The Vietnamese-born, American-trained Lê has been weaving with photographs for more than two decades. His technique is dense with metaphoric possibility; it asserts the fundamental interconnectedness of people and place. It is deeply humane work and also profoundly beautiful, manifesting the evidentiary power of photography, the tactile richness of sculpture and a painterly sensuousness of tone, color and gesture.
In these mournful yet gorgeous recent works, Lê extends his longstanding focus on Cambodia while also addressing the civilization of Sumer, pairing images of ancient carvings with portraits of contemporary citizens of the same area, now Iraq. He stacks and clusters images, mixing straight and woven photographs, which amplifies the pictures' internal sense of movement, their fragmentation and layering.
Lê's woven images cohere from a distance and dissolve into pixellated pattern up close, enacting a charged marriage between one of the oldest forms of object-making and one of the newest picture-making technologies.
Dinh Q. Lê, Shoshana Wayne Gallery, Bergamot Station, 2525 Michigan Ave., Santa Monica, through July 14. Closed Sunday and Monday.
—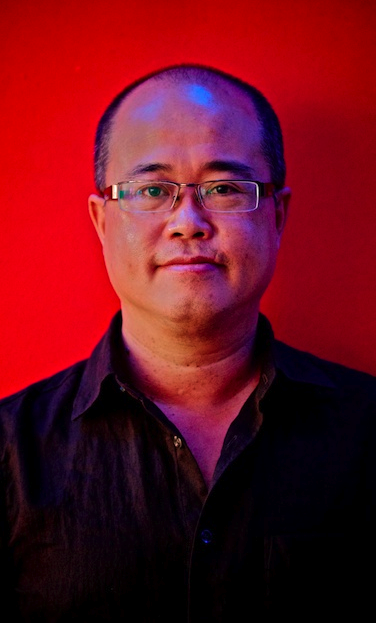 Dinh Q. Lê was born in Hà Tiên in 1968. His family escaped by boat and then settled in 1989 in the US where Dinh completed his education; he obtained MA in photography at School of Visual Arts, New York in 1993.  Lê has been included in most prestigious biennales and triennials around the globe, to name a few: the Bienale Cuvée in Austria in 2009, the 2nd Singapore Biennale in 2008; the 5th Asia-Pacific Triennial of Contemporary Art at Queensland Art Gallery, Brisbane, Australia and the 6th Gwangju Biennial in 2006; the 50th Venice Biennale in 2003.  Lê is the first Vietnamese name to have a solo show at Museum of Modern Art, New York, in 2010. He is the co-founder of The Vietnam Foundation for the Arts in Los Angeles and Sàn Art in Ho Chi Minh City. For his work and efforts in cultural programs, he was awarded the Prince Claus Award in 2010.
—
Do you enjoy reading diaCRITICS? Then please consider subscribing!
Please take the time to rate this post (above) and share it (below). Ratings for top posts are listed on the sidebar. Sharing (on email, Facebook, etc.) helps spread the word about diaCRITICS. And join the conversation and leave a comment! Have you seen Lê's work? What do you think of his innovative technique of woven-photo-montage, and his engagement with memory and history?